Last Updated: 2011.02.17
A New Standard in Casual Pants from UNIQLO: The Rechino and Recargo Lines
UNIQLO CO., LTD.
to Japanese
UNIQLO is launching a focused, fashion foray this spring with its new line of chinos and cargo pants. UNIQLO is giving these classic pants a new twist under the new and aptly named Rechino and Recargo lineups. These pants have been updated UNIQLO style in way to suit the times in which we live. With a renewed emphasis on simplicity, naturalness and economy, the clean silhouettes of these pants are easy to mix and match with just about any style you can imagine.
Redefining the Chinos and Cargos with Clean Silhouettes
From their Ivy-League origins in the 1960s, today chino pants have become a core item and an essential component of any wardrobe. Cargo pants have charted a different trajectory, evolving from a work pant to fashion item. However, chino and cargo pants are both casual fashion standards and the go-to favorites of many people.

While these fashion staples have aged well there are more than a few people that feel that they have slipped behind the times. With this new lineup of chino pants and cargo pants, UNIQLO has updated and redefined these classics with characteristic UNIQLO flare and brought them in line with today's world. Say hello to the Rechino and Recargo product lines. With a design that emphasizes simplicity and economy, these pants and their clean lines are clearly in step with the times.
Women's Rechino and Recargo Lineup
Boyfriend Fit Chino Pants
The slimmer hems makes for a gorgeous feminine line. Moreover, that these bottoms are designed to give the wearer a clean line even when they are rolled up.
Boyfriend Fit Cargo Pants
With a feminine silhouette that is not excessively loose, these pants offer a fit that feels just right. Not only that, but these bottoms can be enjoyed two ways--roll them up to wear a la shorts that extend just below the knees by securing the hem with the side belts.
Skinny Fit Cargo Pants
These skinny type cargos make legs look great by making them look longer and more beautiful. Even the size, position and shape of the side pockets are painstakingly devised to ensure uninterrupted clean and beautiful lines. Stretchable fabric is incorporated to ensure the ultimate in comfort.
Men's Rechino and Recargo Lineup
Vintage Chino Flat Front Pants
Featuring a sun-dried finish that is painstakingly achieved, these pants offer a well-worn look and a softness you would expect from such a garment. These basic chino pants can be worn in any number of ways.
Washed Chino Flat Front Pants
Made with a special wash treatment, these are extremely soft. The slim hems and a sharp, clean-fitting waist result in a sharp, elegant silhouette.
Style Up Cargo Pants
These style-up pants have a crisp look around the hips. Particular attention was lavished on getting details of these cargo pants just right, yielding a silhouette that makes the wearers' legs appear longer. Thanks to a stretchable fabric, easy of movement is achieved even with the slim design.
Rechino and Recargo Series Lineup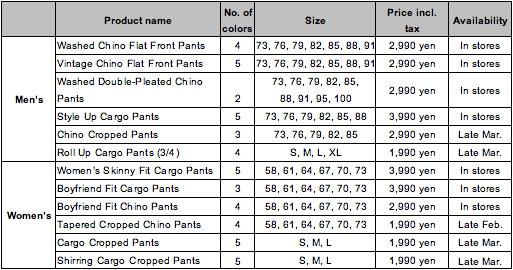 Top of page