Last Updated: 2010.11.02
Highly Anticipated Launch Of UNIQLO's First Malaysia Location Set for Nov. 4
UNIQLO Fahrenheit 88 Store: Highly Anticipated Launch
Of UNIQLO's First Malaysia Location Set for Nov. 4
UNIQLO CO., LTD.
to Japanese
UNIQLO will launch its first store in Malaysia when the Fahrenheit 88 store opens its doors in Kuala Lumpur on November 4. The highly anticipated store, a large-format location boasting the largest sales area of any UNIQLO store in Southeast Asia, will thoroughly showcase UNIQLO's wide range of high-quality clothing.
UNIQLO's most spacious store in Southeast Asia
UNIQLO continues its global expansion with the opening of its first store in Malaysia, the UNIQLO Fahrenheit 88 Store, on Thursday, November 4, 2010 at 11 a.m. The new store--located in the Fahrenheit 88 Mall in Bukit Bintang, the most vibrant commercial district in the national capital of Kuala Lumpur--will feature a 2,140-sqm, three-level retail space and an impressive selection of UNIQLO products. The Fahrenheit 88 store, which promises to dazzle customers with its clean, white interior, will feature seasonal and promotional items on the first floor, women's wear on the second floor and men's wear on the third floor.

The store will offer a number of promotional bargains to mark the opening launch. The UT line of graphic T-shirts will sell for 29.90 Malaysian ringgit (RM), down from the regular retail price of RM59.90, while the UJ line of jeans will sell for RM49.90, discounted from the retail price of RM99.90. Fall and winter fleece jackets, meanwhile, will sell for RM49.90, down from the regular price of RM79.90. Malaysian shoppers will also have an opportunity to check out the acclaimed +J Collection, which was developed in collaboration with renowned fashion designer Ms. Jil Sander.

Just a year and a half after the first UNIQLO store opened in Singapore, the launch of the UNIQLO Fahrenheit 88 Store in Kuala Lumpur, Malaysia underscores UNIQLO's rapid expansion in Southeast Asia. The store opening also highlights UNIQLO's broader push to globalize, as the company aims to become a favored brand among Malaysians and consumers throughout the world.
■ UNIQLO Fahrenheit 88 Store Overview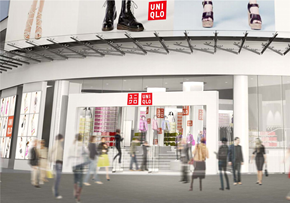 Open:
November 4, 2010 (Thur.)
Address:
No 179 Jalan Bukit Bintang 55100
Kuala Lumpur
Sales floor:
Nearly 2,140 square meters
Products:
Men's and Women's wear
Business
hours:

11 a.m. to 9 p.m.
■ UNIQLO (MALAYSIA) SDN BHD
Location:
Kuala Lumpur, Malaysia
Representative:
Satoshi Onoguchi
Note: An individual from DNP Clothing Sdn Bhd will also join the team as a representative.
Established:
June 2010
Business:
Operation of UNIQLO stores and retail sales of UNIQLO products
Paid-in capital:
18.8 million ringgit (Approximately 540 million yen)

Top of page