Last Updated: 2010.05.06
The New UNIQLO BRA TOP
So comfortable, so many ways to wear it
The New UNIQLO BRA TOP
-Watch for the TV commercial featuring Yu Yamada-
UNIQLO CO., LTD.
to Japanese
UNIQLO's BRA TOP, the top with support cups built in, has become a customer favorite and and one of UNIQLO's representative items since it's 2008 introduction. The NEW BRA TOP for 2010 has improved construction in the bra cup area, making it even more comfortable than the original. The NEW BRA TOP line features an amazing 40 items (a total of 176 different colors and patterns), twice the number of variations as the previous incarnation. It is the top that fits into any lifestyle - it's perfect for travel, a stylish way to workout or even a great look for a date.
The NEW BRA TOP commercial features Yu Yamada, the third BRA TOP Girl to date. The commercial really leaves an impression, employing images of Yamada's radiant and beautiful back to tell the story of why the NEW BRA TOP is so amazing.
The NEW BRA TOP from UNIQLO
The UNIQLO BRA TOP is the top with the bra cup built right in. Since it debuted in 2008, women have really embraced the BRA TOP, an item that combines a release from the stress of wearing a bra and a feeling so free you'll wonder if you really have a bra on. The Spring 2010 bra top was designed with the theme "More freedom to be without. The NEW BRA TOP." Anytime and anywhere, UNIQLO gives you the freedom to be without bra.
The BRA TOP has been redone
The NEW BRA TOP for 2010 features improvements around the cup.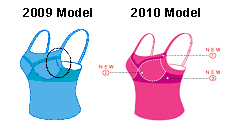 ① The upper part of the cup is now directly connected to the strap, giving you more lift, a more shapely bust line and improved comfort.
② The cup is lighter and softer than before, to snugly fit a wide variety of bust shapes.
③ The side is now made of two separate pieces, giving you the best possible support and a beautiful silhouette.
Yu Yamada - the NEW BRA TOP Girl for 2010 and third BRA TOP Girl
Actress and model Yu Yamada will be the featured personality for this campaign, gracing ads online, in-store and on TV.
So many ways to wear it
The NEW BRA TOP for 2010 is available in 40 different styles (a total of 176 colors and patterns), about twice as many as last year, and five bodice types: camisole, tank top, tube top, tunic and dress. We created tunics and dresses in five times the colors and patterns of last year, giving you so many more ways to wear them. In addition to the wealth of colors and patterns including animal print and checks, the dresses are available in many different materials, so you can wear the NEW BRA TOP anytime, anywhere.
Putting it on: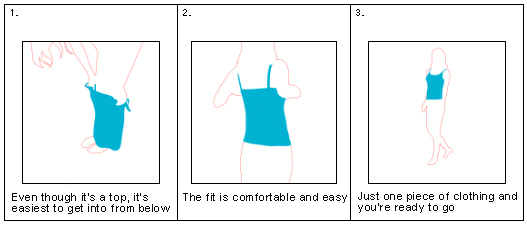 Top of page