Last Updated: 2010.04.27
g.u. Starts Doing Business Online The g.u. Online Store Opens Tuesday, April 27
GOV RETAILING CO., LTD.
to Japanese
Bringing more freedom to the world of fashion, g.u. will open it's highly anticipated online store at 1 p.m. on Tuesday, April 27. With the arrival of this online store, g.u. will be able to provide products to customers anywhere in Japan.
■ g.u. is starting an online store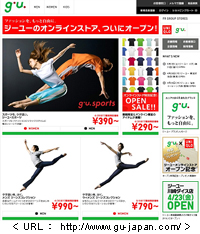 The g.u. brand was established in 2006 under the FR Group, which is also home to the UNIQLO brand. g.u., which currently operates 110 stores across Japan, will be launching an online store at 1 p.m. on Tuesday, April 27 to further our aim of achieving ¥50 billion in sales and 200 stores by 2013. Through the online store, customers all over Japan will come to realize that g.u. products combine amazingly low prices with reliable product quality the latest trends.
■ g.u. and UNIQLO: two stores, one cart
Customers will be able to move freely between the UNIQLO and g.u. online stores. It will be possible to purchase items from the two stores from the same shopping cart, really turning the fun of shopping and up a notch.
■ Opening sale to commemorate the site launch
The four-day opening sale will be held from April 27 to 30, offering shoppers a chance to pick up their favorite g.u. items at special prices, including women's and men's t-shirts for ¥390 down from ¥490, and men's polo shirts for ¥990, down from ¥1,490.
In addition, a three-day online campaign will be held from April 27 and 29 where a total of 3,000 people (1,000 per day) will receive a special mini tote bag when purchasing over ¥6,300, which include at least one g.u. item.
■ Online store limited edition items
Some limited edition items will be available to commemorate the launch of the g.u. online store. A must-have for the coming season, a special limited edition collection of eight women's tunics will be available for the amazingly low price of ¥990.

Top of page