Last Updated: 2010.03.18
First UNIQLO store in Russia, UNIQLO ATRIUM Store, opens on April 2nd
FAST RETAILING CO., LTD.
to Japanese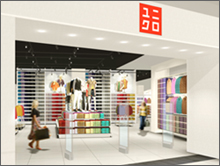 UNIQLO will open its first store in Russia, the UNIQLO ATRIUM on April 2nd, 2010. The ATRIUM shopping center already houses some of the world's most powerful fashion brands. By opening our store in Moscow's top shopping center in terms of customer attraction and brand visibility, we will be able to transmit UNIQLO, the global brand from Japan, across the whole of Russia.


UNIQLO, the global brand from Japan, opens its first Russian store at last
UNIQLO is pressing ahead with its global expansion with the opening of global flagship stores in Paris, London and New York and the opening of multiple stores in China and South Korea. At the end February 2010, UNIQLO had a total number of 916 stores worldwide, 125 of which were stores located outside of Japan. UNIQLO believes the carving of new markets outside of Japan is vital to ensure expansive future growth.
And now, we are set to open our first UNIQLO store in Russia on April 2nd, 2010. The store will be located in the top class ATRIUM shopping center in central Moscow. We will use the prime ATRIUM location to tell people about UNIQLO, the global brand from Japan, so that customers in Russia can experience UNIQLO for themselves.
Popular items of UNIQLO will be offered
At UNIQLO Atrium, we will offer our popular items such as "UJ"- jeans brand pursuing the ultimate value in jeans for now and the future, "UT" – T-shirt brand offering exciting lineup of world famous comic strip, anime, game heroes and characters from Japan and around the world, and "Leggings Collection" now that become the necessary item for the fashion.
UNIQLO

makes its first appearance in Russia
The opening of our first Russian store will be even more exciting with the UNIQLO

collection created with fashion designer Ms. Jil Sander also on sale. We are sure that the

collection, so well received by customers the world over in Paris, London, New York and Tokyo, will also captivate our new customers in Russia.
■ About UNIQLO ATRIUM
Store name:  
UNIQLO ATRIUM
Address:
ATRIUM, 33 Zemlyanoy Val, Moscow
Shop floor:
approx. 1,200sqm

Top of page