Last Updated: 2009.09.29
Paris Opera global flagship store opens in Paris Thursday, October 1, 2009
FAST RETAILING CO., LTD.
to Japanese

Click here to view Photos.
The Paris Opera Store, the third UNIQLO global flagship store opens Thursday, October 1, 2009. This store will witness the coming together of the very best UNIQLO products, visual merchandising, store operation, service and creativity, all focused on bringing you the very latest UNIQLO season. We see Paris, the world's core city of fashion, as the perfect stage from which to launch UNIQLO around the globe.
The Opening of Global Flagship Paris Opera Store
The Paris Opera Store, UNIQLO's third global flagship store after New York and London, is to open in the Opera District of Paris on Thursday, October 1, 2009.
Our global flagship stores are designed as "showcases to the world" displaying the very best that UNIQLO has to offer at any one time. We see the opening of a global flagship store in Paris, the city at the very heart of the fashion world, as a big step in UNIQLO's quest to become a truly global brand.
The Paris Opera Store will span three floors, two above and one below ground level. While preserving the exterior structure of this historical building built in 1866, the interior is daringly modern expressing the very latest, very best of UNIQLO. Natural light streams in through the central atrium to illuminate the 2150sqm shop floor. Revolving mannequins placed in glass boxes throughout the store and in the LED diode-lit windows, will display the very latest UNIQLO fashions. A total of fifty-three monitors have been strategically placed around the store to provide UNIQLO information pertinent to that particular part of the store and the products on offer there. The store evokes a sense of Japan and the very latest from Tokyo, the perfect store and the perfect city of fashion from which to transmit the very latest UNIQLO around the globe.
Cashmere and Jeans features to mark the store's opening
Products featured in the store opening are key autumn UNIQLO cashmere and jeans items. To mark the store's opening, our full range of women's cashmere sweaters in 18 different colors will be offered 39.90 euros compared to the regular price of 69.90 euros. Our full range of men's cashmere sweaters will be offered at 49,90 euros compared to the regular price of 79.90 euros. We will offer this special price until October 24th.
We have also prepared some jeans products exclusively for the Paris Opera Store to enable as many customers as possible to experience UNIQLO's persistence in producing the perfect pair of jeans. There will be 12 colors on offer for women and 10 colors for men, all at a special price of 9.9 euros.
UNIQLO "

" collection to be launched
At the Paris global flagship store, the launch of the UNIQLO "

" collection created with fashion designer Jil Sander has been timed to coincide with the store's opening.
■ Paris Global Flagship Store - Overview   
 
Name:  
Paris Opera Store 
Address:  
17 rue Scribe, 75009 Paris
Shop floor:  
2150sqm
Opening Date:  
12:00 Thursday, October 1, 2009 12:00
Opening times: 
10:00-20:00 Monday-Wednesday, Friday, Saturday
10:00-21:00 Thursday
■ UNIQLO FRANCE S.A.S.  
 
Location:  
Paris, France
Business rep:  
Nobuo Domae
Paid in capital: 
255,402 euros(Approx. ¥33mln)
Shareholders:  
FR FRANCE S.A.S. 100%
Established:  
April 28, 2005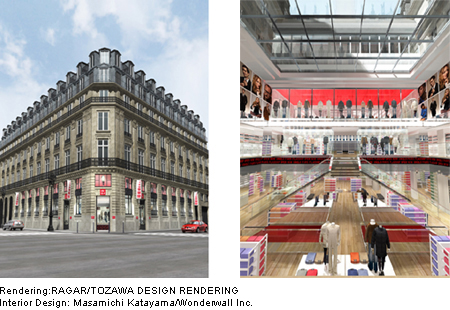 Top of page