Last Updated: 2009.04.23
~The arrival of our TOKYO's mega store~UNIQLO Shinjuku West Exit Store opens on April 24!
UNIQLO CO., LTD.
to Japanese
UNIQLO is opening its UNIQLO Shinjuku West Exit Store, on the west side of Shinjuku station, one of the most up market outlets in TOKYO. The UNIQLO Shinjuku West Exit store is a newly designed urban large-format store. UNIQLO is moving ahead to create a global store network and this is a new signature store for UNIQLO as it is located in Shinjuku-the biggest terminal station in the world.
■ A born of UNIQLO's new "MEGA STORE",
- rapidly expanding the number of stores around the world.
On April 24, UNIQLO opened UNIQLO Shinjuku West Exit store adjacent to the shopping spot of Shinjuku and on one of the world's biggest and busiest railway terminals. UNIQLO continues to open stores all over the world-NY, LONDON, and it just-opened the first store in Singapore on April 9.UNIQLO aims to become a brand much loved by customers all over the world and oblivious to national borders. The new Shinjuku store with its excellent urban location is one of key milestone for this aim.
■ Elite urban location – UNIQLO Shinjuku West Exit store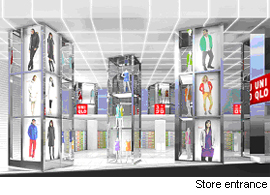 The UNIQLO Shinjuku West Exit Store is the biggest in a Tokyo urban location with 1900sqm of floor space spread across 5 floors from basement to fourth floor. It offers a full-range that UNIQLO has to offer in women's, men's, kid's wear and home furnishings.Tall glass pillars adorn the entrance to the store with moving mannequin stages inside and seasonal capture the customer's eye.
The store is very conveniently locateded for customers with direct access from Shinjuku station's B1 underground concourse. In the near-future, UNIQLO will be looking to aggressively develop large-format stores in central Tokyo and in all other major city centers in Japan.
■ Store information

■ Floor layout at time of opening


Top of page