Last Updated: 2009.03.10
g.u. new price declaration ~The g.u.¥990 series, a cut below the rest~
GOV RETAILING CO., LTD.
to Japanese
The g.u. low-cost clothing brand is offering stunning prices this spring. g.u. has prepared an exciting range of jeans full of variation and choice - 9 styles for women, and 3 styles for men. And all for the same amazing price of just ¥ 990.
We want our customers to be able to enjoy fashion freely without having to worry about the price. And that is why g.u. has lowered its pricing bands. From now on, we are planning to launch a whole series of new products at the lowest no-nonsense prices the market has ever seen.
■ g.u.'s new price declaration
The low-cost casual wear brand g.u. was created by FAST RETAILING CO., LTD., the founder of Japan's No.1 casual wear specialty brand UNIQLO. The g.u. brand concept is, "Buy with ease, wear with ease." The brand name, g.u., sounds like the Japanese word for freedom (jiyu) and therefore symbolizes the idea of wearing clothes more freely. The customer friendly brand offers seasonal clothing of reassuring quality at the lowest possible market prices.
And what is more, we are slashing our price bands from this 2009 spring/summer season. That will mean that roughly 80% of all g.u. will be less than half the price of our UNIQLO brand garments.
■ A full line up to choose from 
Our ¥ 990 jeans series offers a wide range of styles, specifically 9 styles for women and 3 styles for men. The women's range will include our popular regular styles such as skinny, and boot-cut jeans. The range also includes other fashionable seasonal designs such as the Sabrina, Bermuda and short pants styles. We are offering regular, easy and slim straight styles for men to enjoy the feel of good-fitting jeans. The one-wash jeans will allow you to enjoy your very own color fading. We offer two lengths of full-length jeans in both the men's and the women's range to help customers select the size to suit them.
■ Great quality even at ¥ 990
g.u. maintains control over the entire clothes making process from design through production, distribution and end sale. And we run a very tight, low-cost operation. That is why we can offer such quality clothing at such low prices. That's quality for peace of mind. Take our ¥ 990 jeans for example. We can realize this low-cost range of reassuring quality. Why? Because we can systematically procure good, consistent quality materials used widely around the world. Our clothes are made up in the Cambodian factories operated by UNIQLO partner firms. We can capitalize on UNIQLO's deep networks and knowledge built up over many years to create our own unique production system best suited to the g.u. brand concept.

https://www.gu-japan.com/
<Product range>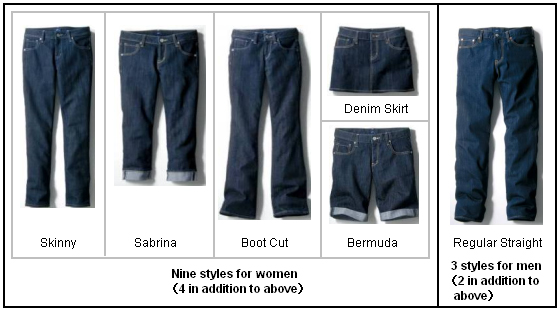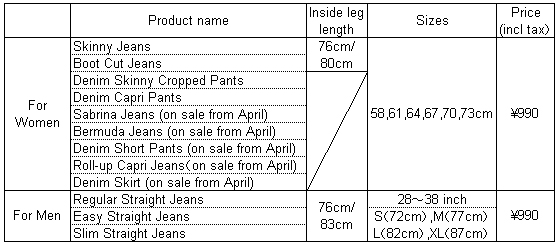 Top of page