Last Updated: 2023.06.15
Fast Retailing and UNHCR Mark World Refugee Day by Partnering on Unique Youth with Refugees Art Contest
Contest to Raise Funds, Awareness, and Hope for Refugees,
Complemented by Other Creative Projects Including Global Art Workshops
and MADE51 Products by Refugee Artisans
UNIQLO CO., LTD.
to Japanese page
Fast Retailing Co., Ltd. and the largest of its apparel brands, UNIQLO, will this year mark World Refugee Day on June 20 by co-organizing the 2023 Youth with Refugees Art Contest in partnership with UNHCR, the UN Refugee Agency.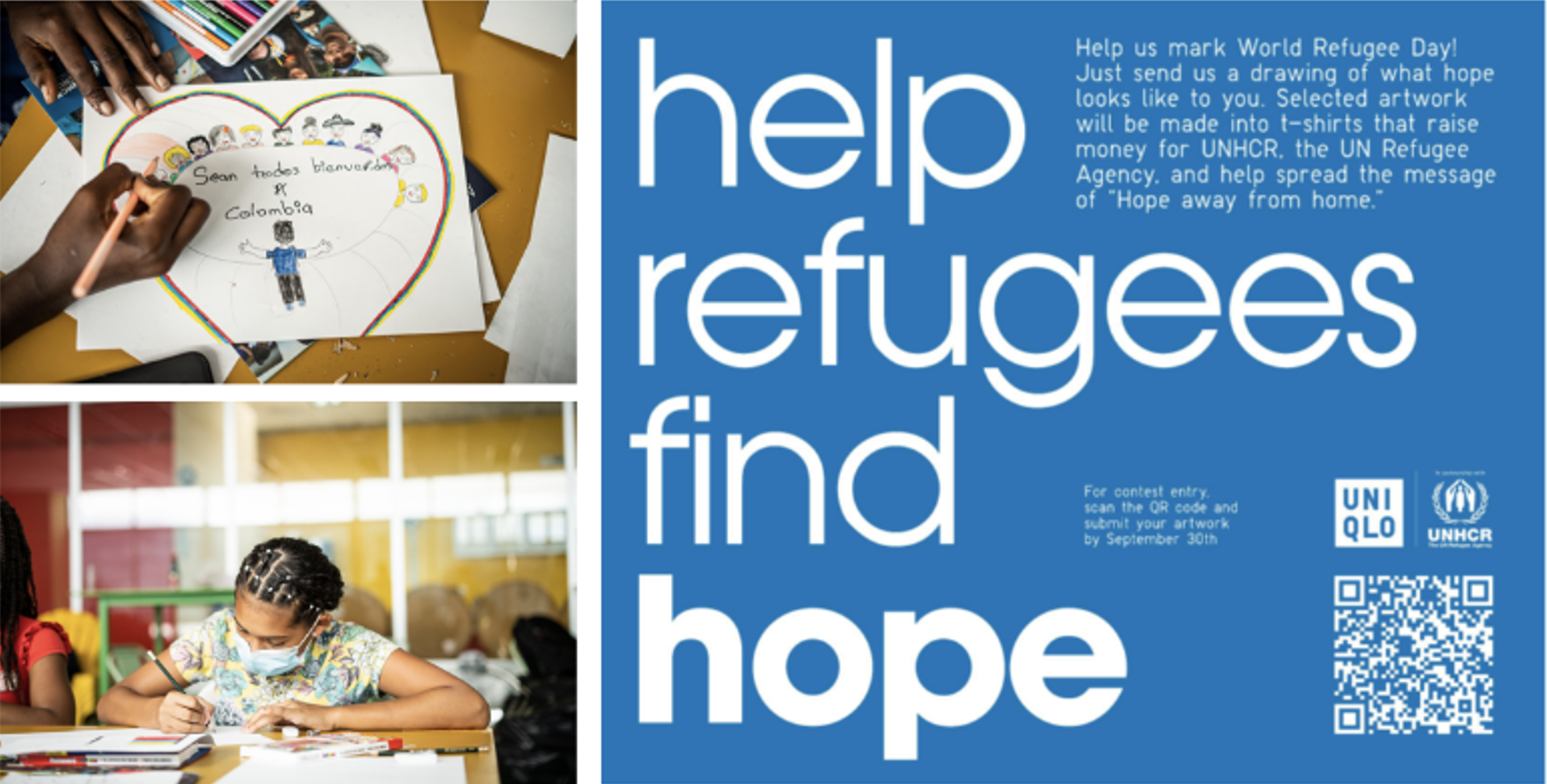 Speaking of the announcement, Tadashi Yanai, Chairman, President & CEO of Fast Retailing, said: "We have been supporting refugees with UNHCR for 17 years. Our partnership aims to do more than simply provide financial and material support. To solve the issues refugees face in protracted situations, we must raise awareness and ensure refugees are supported to realize sustainable self-reliance. I hope our World Refugee Day campaign will provide an opportunity for people to learn about refugees, and to help ensure refugees can progress towards self-reliant, stable lives. We will continue to support refugees in need regardless of their origin and background."
Filippo Grandi, United Nations High Commissioner for Refugees, also commented, saying: "We are thrilled to be cooperating with Fast Retailing and UNIQLO again on this exciting project. Art is a great tool to express solidarity and brings people together across cultures and languages. We extend thanks for our longstanding partnership and the commitment to the refugee cause."
The Youth with Refugees Art Contest was first launched by UNHCR during the COVID-19 pandemic, giving young people a chance to make an impact for people forced to flee. It attracts thousands of participants each year. The second award-winning edition raised funds for refugee sport programs through the sale of ethically manufactured footballs designed by young artists. Along with raising awareness of displacement issues, the contest enables young refugee artists to express themselves and to find constructive purpose after fleeing conflict.
2023 represents the third edition of the Youth with Refugees Art Contest. The focal theme for this year's contest is "Hope away from home." Using this as inspiration, young amateur and professional artists (aged 10 to 30) from around the world can take part and draw what hope means to them. Young refugee artists will also be proactively invited to participate. Winning designs will be made into t-shirts and sold at select UNIQLO stores, with 100% of profits going to UNHCR assistance programs around the world. Selected artwork based on the contest's theme will also be featured on free holiday cards to be distributed through UNIQLO stores.
Art holds great power to support the emotional needs of refugees, and to communicate their humanity and great desire to contribute to the community. Accordingly, Fast Retailing and UNHCR will partner on two additional creative projects to complement the Youth with Refugees Art Contest. Firstly, a series of art workshops will be hosted during the competition period, commencing with New York and Tokyo, and in refugee communities. These workshops will be conducted in conjunction with artists and NGOs to raise awareness of refugee issues, and to improve the wellbeing of refugees directly. In addition, UNIQLO will expand sales of items from MADE51, UNHCR's brand of stylish accessories produced by refugees using traditional artisan techniques. Through this initiative, Fast Retailing aims to enable a livelihood for 150 refugees and their families.
Theme:
"Hope away from home," chosen to emphasize the importance of including refugees into society, so they can find hope and rebuild their lives.
Contest website:
https://www.unhcr.org/youth-refugees-art-contest
Submission period:
Starts: Tuesday, June 15, 2023, 11am CEST
Closes: Saturday, September 30, 2023, 11:59pm CEST
Eligibility:
People aged 10-30 years old. Participants do not need to be professional artists. Young refugees, internally displaced people, asylum seekers, and stateless persons are also invited to participate.
How to enter:
Create an artwork such as drawing or comic strip by hand, or by using a computer or tablet. Submit a picture or scanned image of the entry online through the above site.
Judging criteria:
Submissions evaluated on creativity and how effectively the art conveys its message based on the theme. Winners will be selected by a jury of celebrities, refugees and artists.
Prize:
Five winning designs are to be announced in December 2023, when the Global Refugee Forum will take place. These will be turned into t-shirts and sold in UNIQLO stores and UNHCR visibility stores to raise funds for displaced people. Winners will receive trophies and their own t-shirts. The winning designs will be displayed in a special exhibition at UNHCR headquarters and will be shared with millions of followers on UNIQLO and UNHCR social media platforms.
Judges:
Special judging committee selected by Fast Retailing and UNHCR.
More information on UNIQLO's sustainability program, including refugee assistance programs, is available at: http://www.uniqlo.com/jp/en/contents/sustainability/
Information about the partnership with UNHCR is available at: http://www.unhcr.org/uniqlo.html
APPENDIX
Overview of the MADE51 x UNIQLO World Refugee Day 2023 Campaign
Sales of MADE51 handicraft items nationwide in Japan
MADE51 is a global brand established in 2018 by UNHCR to sell handicrafts produced by refugees utilizing traditional techniques and skills, with the aim of supporting the self-reliance of refugees.
This initiative, conducted in cooperation with the World Fair Trade Organization (WFTO), provides refugee artisans livelihood opportunities with support from refugee groups and UNCHR's corporate partners, and ensures a fair working environment. Fast Retailing began partnering with MADE51 in 2021 and has continued its support through sales of the merchandise. In 2023, UNIQLO and MADE51 will sell original keychains and bracelets, with sales at 23 stores in nine prefectures throughout Japan, expanded from five stores in Tokyo in 2022. Fast Retailing plans to expand the sales channels to other markets worldwide during the 2023 winter holiday season.
MADE51 Merchandise in 2023
Japan
*Sales price includes the stipends for production paid to the refugees who created the item, along with a donation to UNHCR (about 28% of the selling price.)
U.S.
UNHCR x UNIQLO #WithRefugees Keychain*
Sales markets: Two stores, and the uniqlo.com online store
Price: $14.90
https://www.uniqlo.com/us/en/special-feature/made51 (米国)
*Sales price includes the stipends for production paid to the refugees who created the item.
Italy and U.K.
Stores with MADE51 Items
Japan
Hokkaido Sapporo ESTA
Miyagi Sendai AER
Gunma UNIQLO Maebashi Minami IC
Tokyo Gotanda TOC / Ginza / Ikebukuro Tobu / Ikebukuro Sunshine 60 Dori / Okachimachi / Kichijoji / Setagaya Chitosedai / UNIQLO TOKYO / Harajuku / Shinjuku Flags / Shinjuku 3-chome / Asakusa
Kanagawa MARK IS Minato Mirai
Aichi Nagoya
Kyoto Kyoto Kawaramachi
Osaka Abeno Q's Mall / OSAKA / LINKS UMEDA / AEON MALL Sakai Kitahanada
Fukuoka Tenjin
U.S.
UNIQLO Soho New York / UNIQLO Disney Springs, Florida
U.K.
UNIQLO Regent Street, London
Italy
UNIQLO Piazza Cordusio, Milan

Top of page