Last Updated: 2022.02.28
The Fast Retailing Power of Clothing Project Receives Two Japanese-Government Awards
FAST RETAILING CO., LTD.
to Japanese page
Fast Retailing announces that its Power of Clothing Project has won awards from two prestigious ministry programs in Japan. One is the Grand Award in the 11th Career Education Awards of the Ministry of Economy, Trade and Industry (METI), announced on December 17, 2021. The other prize is the Judges' Commendation in the 9th Award for Companies Promoting Experience-based Learning Activities for Youth of the Ministry of Education, Culture, Sports, Science and Technology (MEXT), announced on February 25.
Fast Retailing launched the Power of Clothing Project as part of its school education program in 2013 in cooperation with UNHCR, the UN Refugee Agency. The project placed top in the large-enterprises category, one of three prize categories in the Career Education Awards program, which honors businesses contributing significantly to social progress through their endeavors. Principal factors in the project's recognition in the Career Education Awards were its focus on encouraging individuals to help resolve social issues through clothing donations, the international scope of the project, and ongoing improvements to the project's teaching tools and programs.


Highlights from The Power of Clothing Project
Commenting on the two awards, Yukihiro Nitta, Group Senior Vice President and head of sustainability at Fast Retailing, said, "We are delighted and grateful for this recognition for the Power of Clothing Project. We have made sustainability fundamental to our business and have supported community needs as we have grown. We have long been committed to donating and recycling apparel. The project encourages children to reflect on the importance of clothing in everyday living, helps them learn about refugee and other social issues, and fosters effective resource usage. We will draw on the project's recognition to continue its activities in collaboration with educational institutions, communities, and international institutions."
Related links
Reference Materials
■About the Power of Clothing Project
UNIQLO began its Fleece Recycling Campaign in Japan in September 2001 as part of its corporate social responsibility activities. It expanded the campaign in 2006 to encompass all UNIQLO products, renaming it the All-Product Recycling Initiative. That year, Fast Retailing began a partnership with UNHCR to donate lightly used clothing to refugees and displaced people around the world. These activities revealed over time that children accounting for around half of the world's refugees lack enough clothing. This situation prompted Fast Retailing to begin reaching out to schools in Japan and abroad from 2013 to teach young people about refugee issues. The company initiated the Power of Clothing Project to collect lightly used clothing through schools for refugee children. Since then, around 300,000 students from 2,829 schools have collected 4.2 million items of children's apparel for the project.
The project encourages students to take on the challenges of tackling social issues. They launch drives to collect clothing at school and from their communities after learning about the role of apparel and refugee issues through on-site and online classes conducted by Fast Retailing Group employees. The students sort gathered items for shipment to refugee camps through UNHCR. After delivery, Fast Retailing provides schools with photo reports of the results.
■Overview of fiscal 2022 Power of Clothing Project and call for applications

Power of Clothing Project website (in Japanese only)
The project website will accept school applications for fiscal 2022 (which starts on April 1) through Tuesday, April 19, 2022.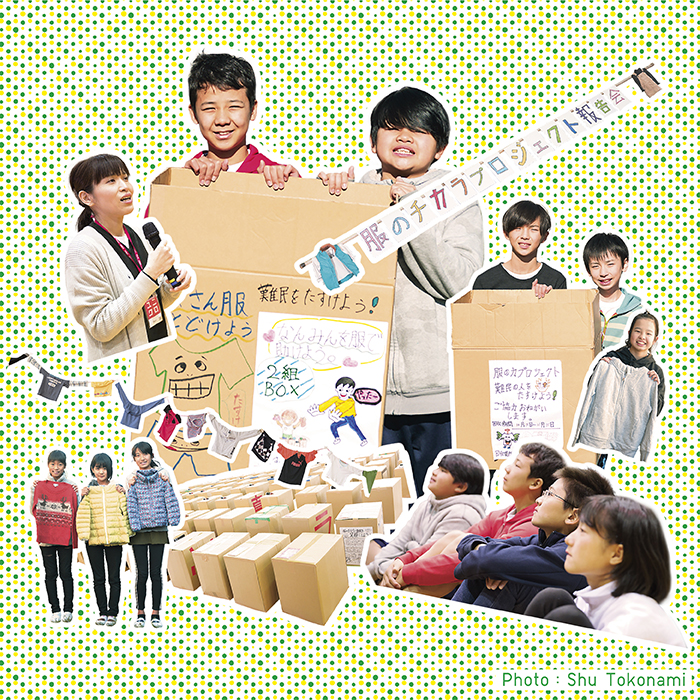 | | | |
| --- | --- | --- |
| Eligibility | : | Elementary schools and junior high and high schools (including integrated and special needs schools) in Japan that can hold project classes between June and September this year. |
| Application method | : | School teachers should submit applications through the project website. |
■Fast Retailing Sustainability Report 2022
Through its sustainability statement, Unlocking the Power of Clothing, Fast Retailing committed itself to making the world a better place by designing, making and selling good clothing.
Link to English-language version of report
https://www.fastretailing.com/eng/sustainability/report/new.html

Top of page