Last Updated: 2020.10.01
UNIQLO Brings Out Advanced Fleece for Changing Lifestyles - Featuring enhanced functionality and designs and incorporating recycled polyester fabric
UNIQLO CO., LTD.
to Japanese page
Global apparel retailer UNIQLO has modernized its Fleece lineup for 2020 Fall/Winter, enhancing functionality and designs to make items lighter, softer, warmer and more comfortable to match changing lifestyles. The new lineup also features pieces that employ sustainable materials. Fleece has remained pivotal LifeWear since UNIQLO began selling it in 1994.

From the great outdoors to city settings
The lineup this season newly includes Windproof Fluffy Yarn Full-Zip Parkas and men's Pile Lined Fleece Jackets. Wearers can stay equally comfortable in the great outdoors and city settings. New offerings for women include a Smooth Yarn Fleece Collarless Jacket, with sleek styling and high-quality faux rabbit fur. UNIQLO's Fleece is easy to care for and enhances everyday comfort to match changing lifestyles.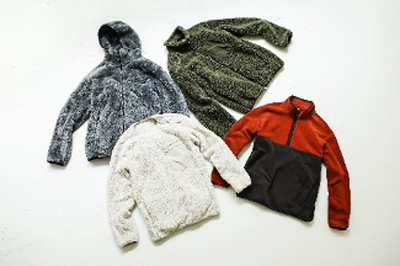 Offering items made with recycled polyester
UNIQLO pursues sustainability initiatives to benefit society and the environment alike. It is in keeping with that commitment that UNIQLO is offering exceptionally comfortable men's Fluffy Yarn Fleece Full-Zip Jackets and Fluffy Yarn Fleece Pullovers that incorporate 30% recycled polyester from used plastic bottles.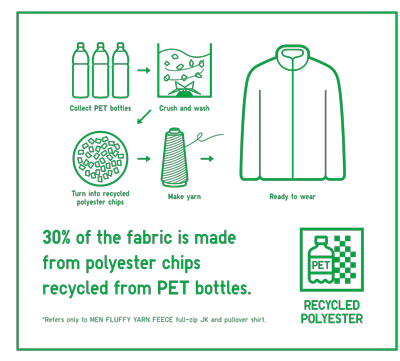 40 colors to commemorate 20th anniversary of online store
This year marks the 20th anniversary of UNIQLO's online store, which started out by offering Fleece in 50 colors. UNIQLO is celebrating that milestone by bringing out Fluffy Fleece Full-Zip Jackets in 20 hues for men and another 20 for women through uniqlo.com and at select UNIQLO stores. There is a color just right for everyone.
Note: Some colors will become available from early November.
■ Lineup Highlights  





Note: Availability dates vary among stores.
■ Fleece Sites
MEN https://www.uniqlo.com/jp/ja/men/tops/fleece
WOMEN https://www.uniqlo.com/jp/ja/women/tops/fleece
KIDS https://www.uniqlo.com/jp/ja/kids/tops/fleece

Top of page