Last Updated: 2020.08.04
UNIQLO and GU Stores in Japan to Begin Charging for Single-use Shopping Bags - Sustainability measures for reducing environmental loads and the efficient use of resources
FAST RETAILING CO., LTD.
to Japanese page
Fast Retailing Co., Ltd. pursues measures aimed at establishing a sustainable business with consideration for the global environment, and providing products and services that customers can purchase with peace of mind. As part of this program, to reduce the environmental load and promote the efficient use of resources, as of September 1 (Tuesday), UNIQLO and GU stores in Japan will no longer provide single-use shopping bags free of charge, and will instead sell these bags for 10 yen each.
Environmental pollution due to plastics has become a growing concern worldwide in recent years. In July 2019, Fast Retailing set a target to reduce the amount of single-use plastic handed to customers in the form of shopping bags and product packaging at its Group stores worldwide by 85% from 2018 levels, or around 7,800 tons annually, by the end of 2020. As a part of this initiative, from September 2019, all Group stores began switching from plastic shopping bags to bags made of recycled paper and other eco-friendly materials. At the same time, along with the introduction of paper shopping bags at all UNIQLO and GU stores in Japan, Fast Retailing is now working to reduce the number of shopping bags used overall by charging for bags, and encouraging customers to use their own shopping bags.
Fast Retailing is also making efforts in product packaging by gradually doing away with plastic packaging in favor of alternatives such as recycled paper. The use of plastic packaging was eliminated for UNIQLO room shoes from the 2019 Fall/Winter season, and from the 2020 Spring/Summer season, paper header-type packaging was introduced for certain AIRism products. From the 2020 Fall/Winter season, the Group will switch to paper-type packaging for UNIQLO's HEATTECH, and certain GU innerwear items.
Going forward, Fast Retailing will continue its efforts to reduce the use of single-use plastic and other waste throughout its supply chain by utilizing more recycled materials and promoting the re-use of resources worldwide.


New eco-friendly paper bags for UNIQLO and GU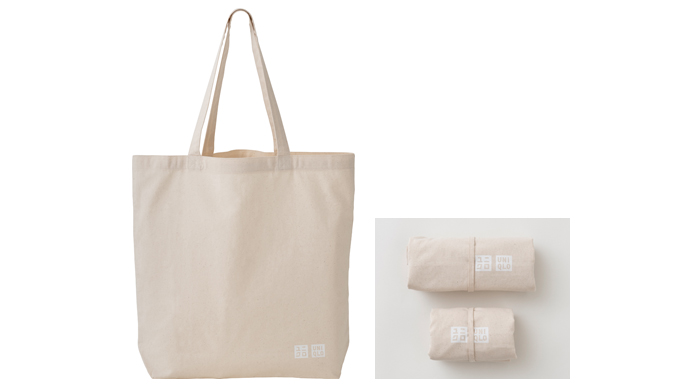 UNIQLO's original eco-friendly reusable bags (M/L size, 190 yen each (excl. tax))

Top of page