Last Updated: 2018.05.16
GU Launches Special All-Product Recycling Promotion to Bring Comfort to Refugees in Need
G.U. CO., LTD.
to Japanese page
Stores in Japan will run a campaign from Monday April 2 to Wednesday June 20, to help collect even more used clothing under the GU All-Product Recycling initiative.
In keeping with its brand message 'YOUR FREEDOM' GU will hold a special promotion to further support its All-Product Recycling Initiative - a program where the company collects lightly-used clothing for recycling with the aim of bringing some comfort and a smile to refugees around the world, who need it most.
The limited-time campaign takes place in all GU stores across Japan from Monday, April 2 until Wednesday, June 20 - World Refugee Day. During this time, GU will reward customers who bring any GU or UNIQLO items they no longer wear to one of its stores with points that can be used on the GU app. In addition, during this promotion period, a GU original eco shopping bag will be offered on a first-come, first-serve basis at each store (the number of bags available varies according to the store).
Since 2010, GU - a Fast Retailing Group company - has participated in the All-Product Recycling Initiative to collect and recycle products sold by GU and UNIQLO. The program helps to ensure GU does even more than produce and market the clothing so loved by its customers. Through this initiative, GU also collects, re-uses and recycles clothing previously worn by GU customers to help maximize the value of GU clothing across its life cycle. In line with the aims of the initiative, the company delivers collected items to people in need, based on their specific clothing requirements.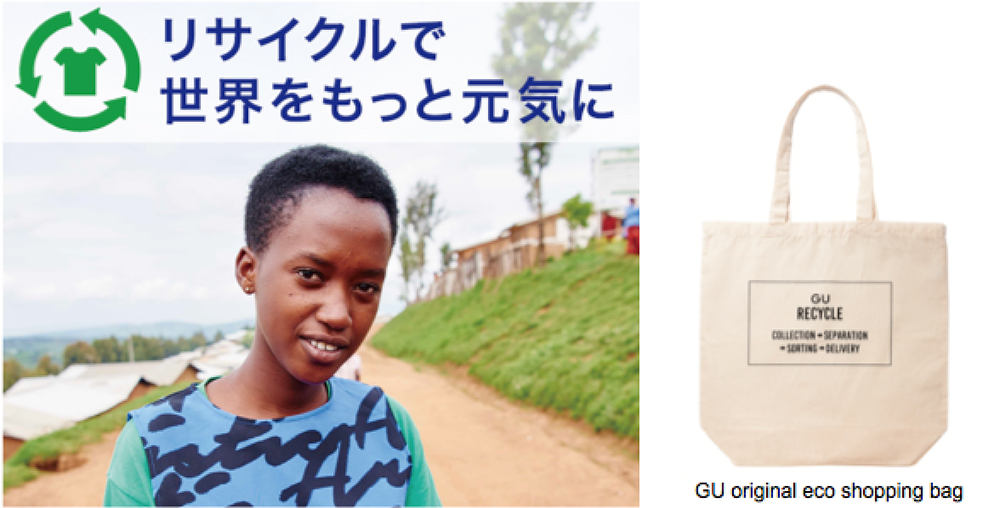 ■ Campaign overview
Dates
:
Monday, April 2, 2018 - Wednesday, June 20, 2018
Collection points
:
All GU stores in Japan
Procedure
:
Customers can place clothing in a special recycling box located in each GU store
Collected items
:
All products sold by UNIQLO and GU
Rewards
:
1. 10 points for use on the GU app
2. A GU original eco shopping bag*


*Bag offered each to each customer who brings in GU or UNIQLO item(s) for recycling. Stocks are limited, offer available on a first-come, first-serve basis.
To learn more about GU's sustainability efforts, please visit: https://www.gu-japan.com/jp/corp/csr/

Top of page