Last Updated: 2015.04.15
UNIQLO to Launch Women's Collection Inspired by Traditional Dress of Bangladesh
Portion of proceeds to support female garment workers in Bangladesh
FAST RETAILING CO., LTD.
to Japanese page
UNIQLO today announces that it will launch a women's capsule collection inspired by the shalwar kameez, the traditional dress of Bangladesh. The launch of the new line will begin in Japan and in a selection of additional markets in Asia on April 20, followed by other markets and regions from the end of the month. The collection will:

- Launch in UNIQLO markets worldwide starting from April 20
- Use natural materials such as gauze and high quality cotton
- Support educational programs for female garment workers in Bangladesh
The theme of the new collection is 'simple, traditional looks reinvented by UNIQLO,' and the company has blended treasured traditions and modern simplicity with the LifeWear concept of clothes for a better life for everyone, every day.
"Our goal was to combine the delicate embroidery, woven patterns and vibrant hues of the shalwar kameez with our signature simple lines, clean silhouettes and comfort," said LeAnn Nealz, UNIQLO Chief Creative Officer for Global Design and Fast Retailing Group Officer. "We have used natural materials such as gauze and high quality cotton that feel light and comfortable on the skin. The range includes dresses, tunics, pants and scarves, pieces that can be layered and worn in different ways, and can also be coordinated with other UNIQLO items."
"We are pleased to be donating part of the proceeds of the new collection to an initiative that supports female garment workers in Bangladesh, an important production base for UNIQLO and other companies in the Fast Retailing Group," said Yukihiro Nitta, Fast Retailing Group Officer and head of Corporate Social Responsibility.
An inadequate education system is one of several social issues for Bangladesh, and basic educational opportunities are particularly limited for women, who account for the bulk of workers in the nation's garment industry. UNIQLO will donate part of the proceeds of the new collection to a program of the Business for Social Responsibility, an international nonprofit organization with a solid record in providing educational support for females in developing nations. The program helps women to acquire a range of living skills, notably in basic nutrition, hygiene and healthcare relating to pregnancy and childbirth and other areas, as well as household management. This program will assist around 20,000 working women.
Fast Retailing teamed up with Grameen Bank, a leading proponent of social business, in 2010 to launch Grameen UNIQLO Ltd. Since then Grameen UNIQLO has drawn on its own specialty as a retailer of private label apparel to plan, produce, and sell merchandise in Bangladesh and reinvest the profits. Grameen UNIQLO will continue striving to help resolve the nation's social issues by fostering industrial progress and creating employment opportunities through its business.
■ Product information
Items
Sizes
Number of
styles
Number of colors
and patterns
Retail price in Japan
(excl. consumption tax)
Dresses
S-L
3
22
2,990 yen
Tunics
S-L
4
15
2,990 yen
Easy Pants
S-L
1
5
1,500 yen
Scarves
1 size
1
13
1,000 yen
■ Launch dates
Japan, China, Hong Kong, Indonesia, Korea and Taiwan on April 20, 2015
Australia, France, Germany and the US on April 27, 2015
Malaysia, Philippines, Singapore and Thailand at the end of May 2015
■ Store availability
A total of 29 global flagship stores, megastores and online stores in 14 countries and regions worldwide.
In Japan, the collection will be available at the UNIQLO Ginza, BICQLO Shinjuku East Exit, UNIQLO Osaka stores, and the online store.
■ The Products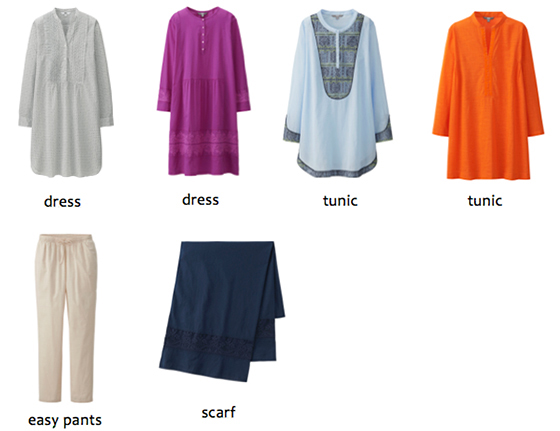 Top of page