Last Updated: 2014.10.24
UNIQLO Donates Staff Uniforms for Special Olympics Fukuoka 2014
UNIQLO Co., Ltd.
to Japanese page
UNIQLO today announces its donation of full-zip sweat hoodies and T-shirts (4,600 items in total) as Special Olympics Nippon National Summer Games Fukuoka 2014 staff and volunteer uniforms (1,400 hoodies for officials and administrative staff; 2,900 hoodies for volunteers; 300 T-shirts for swimming event volunteers). Held November 1-3, 2014 in Fukuoka, Japan a total of 23 Fast Retailing employees plan to volunteer to help run the event.
UNIQLO has supported Special Olympics Japan since 2002 as an official partner, providing the uniforms for the Japanese team for six world tournaments (total of 639 sets), and donating 45,700 items of clothing as staff and volunteer uniforms for six tournaments held in Japan including the 2014 games. To date, 489 Fast Retailing employees have volunteered to help run the event.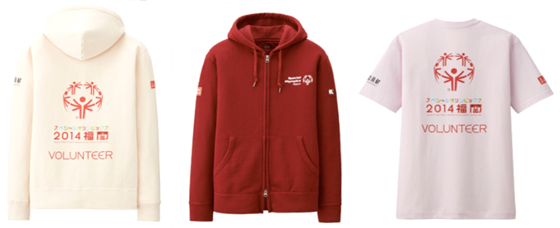 About the Special Olympics
The Special Olympics is an international sporting organization that throughout the year provides people with intellectual disabilities with sports training in keeping with Olympic events, and organizes tournaments that allow them to demonstrate their accomplishments. Like the Olympics, global summer and winter tournaments are each held once every four years.
The Special Olympics Nippon National Summer Games Fukuoka 2014 is being held as a domestic qualifying round for the 2015 Special Olympics World Summer Games in Los Angeles.

Top of page