Last Updated: 2016.06.03
Fast Retailing's Latest Annual Report wins 2016 BtoB Advertising Association of Japan Bronze Award
FAST RETAILING CO., LTD.
to Japanese page
Fast Retailing's 2015 annual report won the bronze award in the BtoB Advertising Association of Japan's annual report and CSR report category. The annual report was praised for its simple but fashionable design, the very qualities for which its flagship UNIQLO brand is so well known.
The BtoB Advertising Awards were established in 1980 to acknowledge outstanding advertisers and production companies for their superior advertising products in the BtoB space. The awards, hosted by the BtoB Advertising Association of Japan, are also sponsored by the Ministry of Economy, Trade and Industry, and the Nikkan Kogyo Shimbun. Now in its 37th year, the awards are expanding all the time, with 375 advertising products submitted in 2016, compared to 343 items in 2015. The awards cover 13 different categories, including newspaper advertisement, magazine advertisement, product catalogue, poster, website, corporate catalogue, annual report & CSR report, brochures for new staff. For more details on entries for the 2016 BtoB Advertising Awards, please see http://www.bbaa.or.jp/jigyo/sogo/2016sogof.html.
Fast Retailing's 2015 annual report covers numerous vibrant topics under the banner of our corporate philosophy, "Changing Clothes. Changing conventional wisdom. Change the world". These topics include operational updates such as the global development of our UNIQLO Brand, and an explanation of our unique SPA business model spanning the entire clothes-making process from design through manufacture and retail. The report also explains our corporate governance system, highlights some key CSR activities and gives an overview of our fiscal 2015 business results. We make sure that we put lots of photographs in the report of our stores, products, factories and employees at work to help readers understand how Fast Retailing works and get a clear idea of the activities we are involved in as a manufacturer retailer of private-label apparel. We try to reach as many readers around the world as possible by offering the annual report in several languages: Japanese, English and Chinese to date.
Fast Retailing Annual Report 2015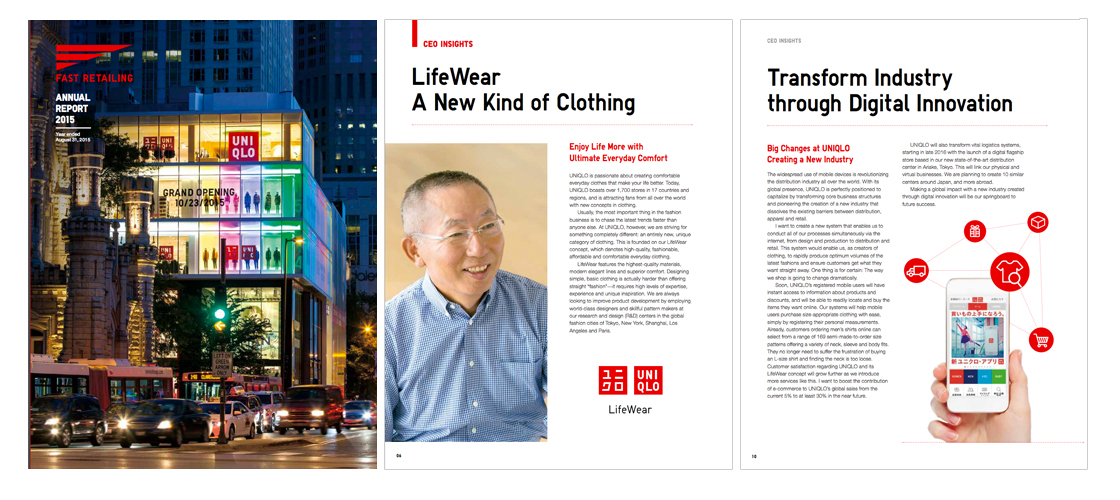 Production in conjunction with Shian Inc.( http://www.shi-an.co.jp/ )
You can view Fast Retailing's annualreport in several languages on our website:

Top of page