Last Updated: 2008.09.29
Product Recall Information
UNIQLO CO., LTD.
to Japanese page
We have confirmed a problem with some small-sized blankets (with carry case) and in-door shoes that went on sale in our UNIQLO stores in Japan and through our e-commerce site on July 28, 2008. Metal fragments from the fabric raising brush were found in 17 products (1 case out of 16,184 products sold, and 16 cases in 63,189 warehoused items). The products in question are the Boa Fleece Blanket & Bag (plain), the Fleece Blanket & Bag (check, geometric design and patterned), and our Boa Fleece Room Shoes range.
As a result of this finding, we have decided to recall and refund any such product already sold the details of which are laid out below.
We are already working to strengthen our product quality control system even further to avoid any such occurrence in the future. We ask for the kind understanding and cooperation of our customers and interested parties in this matter.
1. Products in question
Product Name

Product No.

Price

Sales Period

Items Sold

Boa Fleece Blanket & Bag
(Plain)
812-053350

¥ 1,990

July 28 - Sep 26, 2008

12,143

Fleece Blanket & Bag
(Check)
812-053349

¥ 1,990

2,217

Fleece Blanket & Bag
(geometric design)
812-053348

¥ 1,990

331

Fleece Blanket & Bag
(patterned)
812-053347

¥ 1,990

666

Boa Fleece Indoor Shoes
812-054216

¥ 1,000

827
Total Items Sold 16,184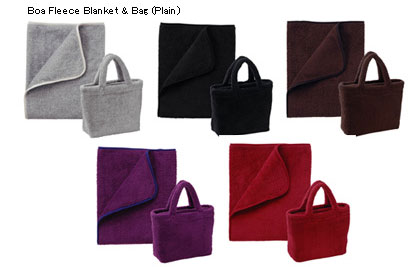 2. Recall process:
Method of informing customers:
1) Newspaper advertisements:
(September 30, 2008 morning edition, 5 national 3 regional dailies)
2) Information on company home pages
https://www.uniqlo.com/jp/ 
https://www.fastretailing.com/jp/
http://store.uniqlo.com/jp/
* Purchasers can double check using images of each product on the above websites.
Method of recall:
1) In the case of bringing any of the products to a UNIQLO store, please bring it
to your nearest UNIQLO store for an immediate cash refund.
2) If you are planning to post any of the products, please send it as payment on delivery.
Please write clearly your name, address, post code and telephone number and we will
send you a cash refund by registered mail.
Please post any items to:
Product Recall Team, Yamaguchi Head Office, UNIQLO CO., LTD.
717-1 Sayama, Yamaguchi city, Yamaguchi Prefecture, 754-0894
* Any personal data received from customers including their name, address and telephone number will be used for the purposes of this recall only and will be destroyed once the recall process has been completed.
3. Product Recall Help Desk
If you have any queries regarding this product recall, please call UNIQLO CO., LTD. on free dial 0120-760-296(* From 9.00 am, Tuesday September 30, 2008 (everyday 9:00-17:00 JST)).
4. Future procedures
We fully accept the gravity of this incident and are already working to avoid any such repetition by reviewing and reconfiguring relevant areas of our quality control management system.