Last Updated: 2022.02.24
UNIQLO and MoMA Extend Longstanding Partnership with Launch of New Programs and Product Collaborations
UNIQLO CO., LTD.
to Japanese page
Global apparel retailer UNIQLO and MoMA (The Museum of Modern Art) today announced that they have renewed their nearly decade-long partnership to make art accessible to all. Since 2013, nearly three million visitors have enjoyed complimentary admission to MoMA, made possible by UNIQLO. Building on this success, three new programs will provide monthly free entry for New Yorkers, bringing art and inspiration to people everywhere through a new digital series and product collaborations.
"With the continuation of our partnership, we are committed to sharing the inspirational power of the arts. MoMA has been a longstanding partner and we are proud of the work we could achieve so far together," said John Jay, President, Global Creative of Fast Retailing, UNIQLO's parent company. "Never before has the inspiration of artists and their art been more important to our lives, our sense of humanity and growth as a society. At a time when having an open mind and compassion for each other is paramount to all of us, MoMA plays a critical role in our ability to see and feel a world much bigger than our own," he added.
"Having had the pleasure of collaborating on this dynamic project since it began nearly ten years ago, I could not be more thrilled to continue MoMA's partnership with UNIQLO," said Sarah Suzuki, Associate Director, The Museum of Modern Art. "Our work at the Museum with UNIQLO NYC Nights, in the online space with UNIQLO Art for All, and through our UT collaboration offer many ways to bring art to all."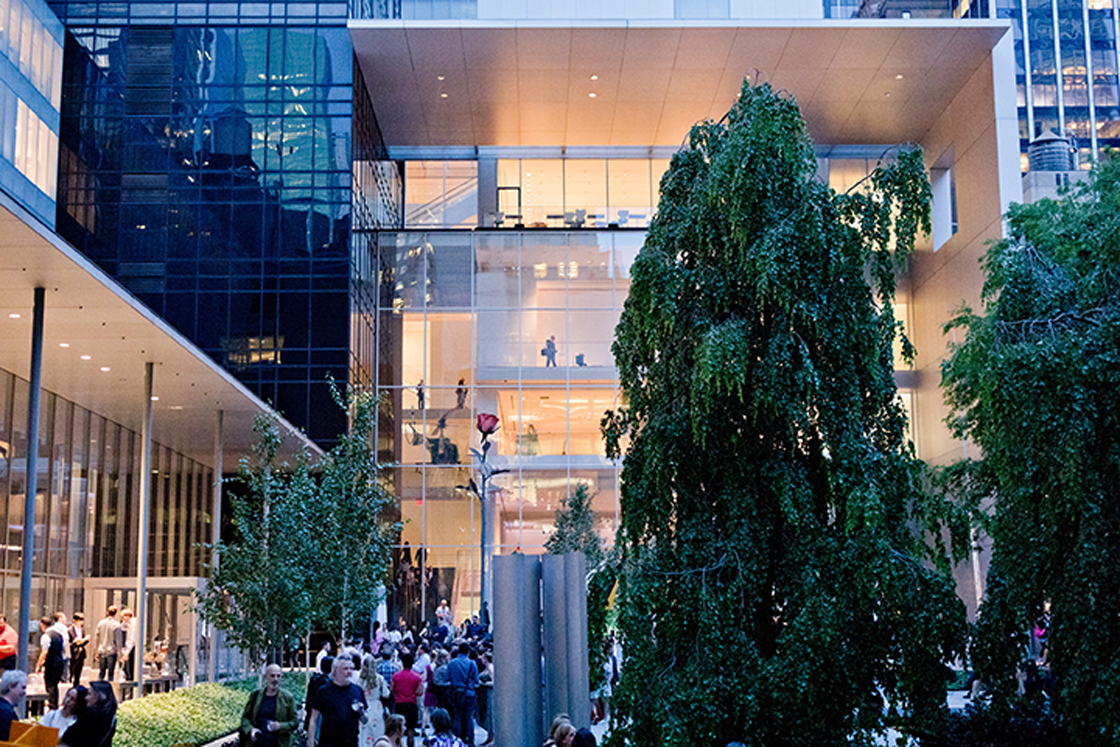 The Abby Aldrich Rockefeller Sculpture Garden at The Museum of Modern Art, New York.
Photo by Carly Gaebe, courtesy MoMA
UNIQLO NYC Nights Admission Program
Since 2013, millions of visitors have enjoyed complimentary admission to MoMA through UNIQLO Free Friday Nights and then other similar programs during the COVID-19 pandemic, including UNIQLO's year-long sponsorship of free admission to NYC healthcare workers. Now, in the city they both call home, UNIQLO and MoMA are proud to safely bring New Yorkers back together to enjoy art through UNIQLO NYC Nights. Beginning March 4, UNIQLO NYC Nights will offer complimentary admission exclusively for residents of New York City on the first Friday evening of each month.
UNIQLO Art For All Digital Series
UNIQLO and MoMA will also to expand their UNIQLO ArtSpeaks program to now become UNIQLO Art for All, a digital series for art lovers around the world. UNIQLO ArtSpeaks was launched through the Museum's digital platform in the fall of 2020 to reach audiences beyond the Museum's walls. Through videos available on MoMA's website and on YouTube, Museum staff share their personal experiences with works of artwork in the galleries. Under the UNIQLO Art For All digital series, UNIQLO ArtSpeaks will continue and be joined by digital programs that invite viewers to celebrate art and design, learn from artists working today, and be inspired to explore their own creativity.
Product Collaborations
UNIQLO's partnership with MoMA includes apparel and accessory lines inspired by artists in MoMA's collection. Through this collaboration under the UT line (UNIQLO T-Shirts), millions of people have been able to access and wear precious works of art that express the wearer's individuality.
The newest collection, MoMA Art Icons UT, started its global launch earlier this month and will soon be available in all 25 markets where UNIQLO operates. The collaboration celebrates the works of modern masters in the MoMA collection. Iconic pieces include Van Gogh's The Starry Night (1889), with its rich blues and yellows, and Claude Monet's Water Lilies (1914-26), with its more subdued hues. Items carry the MoMA logo to symbolize the partnership with UNIQLO and a shared commitment to enhancing daily living through the appreciation of great art.

About MoMA
MoMA opened in 1929 as the world's first museum dedicated to contemporary art. A bold, experimental vision has guided the museum over the years. MoMA shares an array of thought-provoking and evocative works, from paintings to performances, in spaces that inspire creativity in everyone.
UNIQLO and Art
UNIQLO has partnered with some of the world's preeminent museums to deepen public interest in art through free admission programs, collaboration merchandise, events, and other initiatives. Listed below are key partnerships that UNIQLO has formed in this area:
| | | |
| --- | --- | --- |
| May 2013 - present | : | Museum of Modern Art, New York City |
| March 2016 - present | : | Tate Modern, London |
| September 2017 - present | : | Museum of Fine Arts, Boston |
| March 2018 - present | : | Museum of Contemporary Art, Barcelona |
| February 2021 - present | : | Louvre Museum, Paris |

Top of page