Last Updated: 2020.12.02
UNIQLO PARK Yokohama Bayside Store Receives Japan's First Design Registration for a Building. Design registration for an interior given to UNIQLO Harajuku Store's UT POP OUT floor
UNIQLO CO., LTD.
to Japanese page
UNIQLO, the Japanese global apparel retailer, has received Japan's first design registration for a building. The UNIQLO PARK Yokohama Bayside Store, opened on April 13, 2020, became the first building to receive a registration since the designs of buildings and interiors were newly added to the scope of protection in revisions to the Japan Design Act that came into effect on April 1, 2020. In addition, the UT (UNIQLO T-shirt) POP OUT floor at the UNIQLO Harajuku Store which opened on June 5 received a design registration for an interior.
The UNIQLO PARK Yokohama Bayside Store is a public park, with a slide and jungle gym on its sloping roof as well as bouldering and climbing facilities. It offers a sweeping view of Yokohama and the Tokyo Bay, and on a clear day Mt. Fuji can be seen in the distance. The sloped roof provides access to each floor of the store, allowing visitors to leisurely enjoy shopping after spending time in the park. Starting with the central concept of "play," Kashiwa Sato, the total producer on the project, created a unique vision of the UNIQLO and GU stores as a public park, with architect Sou Fujimoto overseeing the basic concept and design. The playground equipment was installed in partnership with BørneLund Inc., a seller of educational toys.
The UT POP OUT section of the UNIQLO Harajuku Store, also created under the direction of Kashiwa Sato, occupies the store's first floor entranceway, and is one of the world's largest dedicated UT sales spaces. The latest UT items, designed together with a wide range of artists and brands, are displayed and sold, serving as a communication hub for art and culture. LED messages scroll between UT displayed in showcases like works of art, while a large screen at the back of the store plays the latest UT videos.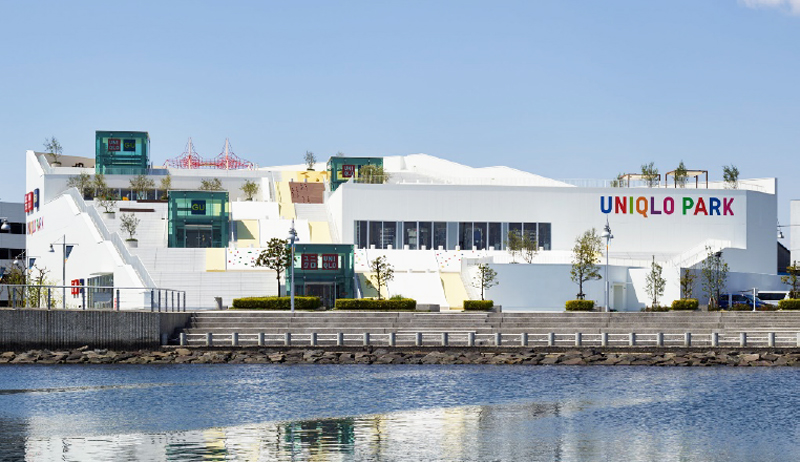 UNIQLO PARK Yokohama Bayside / GU UNIQLO PARK Yokohama Bayside
6-5 Shiraho, Kanazawa, Yokohama, Kanagawa Prefecture
UNIQLO: Approx. 2,178 m2, 1F and half of 3F, Men's, Women's, Kids & Baby items
GU: Approx. 1,815 m2, 2F and half of 3F, Men's, Women's & Kids items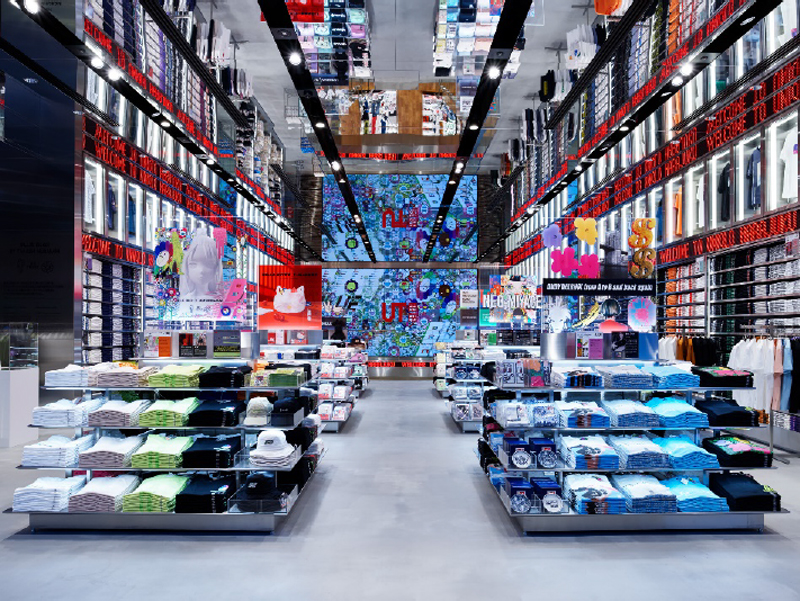 UNIQLO Harajuku
WITH HARAJUKU B1 and 1F, 1-14-30 Jingumae, Shibuya, Tokyo
Approx. 1,980 m2 over two floors (B1-1F), Men's & Women's items
Going forward, UNIQLO will continue to focus on design, and aim to create innovative and appealing stores.

Top of page