Last Updated: 2019.10.31
UNIQLO-Supported Swedish Beach Handball Team Wins Bronze Medal at the ANOC World Beach Games
UNIQLO CO., LTD.
to Japanese page
UNIQLO, the Japanese global apparel retailer, today announces that Sweden's national team - for which the company is an official partner - won a bronze medal in the men's beach handball event at the 2019 ANOC World Beach Games, held in Qatar from October 11 to 16. This is the third international sports event for Sweden since UNIQLO became an official supporter, following the European Games in June, and the European Youth Olympic Festival.
Sweden's national team Head Coach Helene Bernhardtz commented, "I'm delighted that the team was able to win its first medal in an international beach handball tournament, and I feel very proud that Sweden was able to defeat Qatar on its home turf"
"I know Sweden's athletes are all very happy with their UNIQLO LifeWear uniforms - they are very comfortable, and look great too", says Glenn Östh, Chef de Mission for Sweden during Beach Games in Qatar.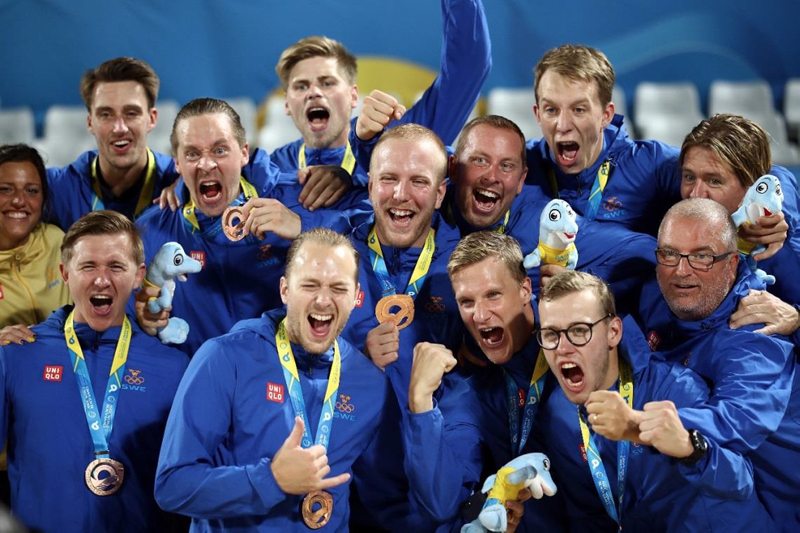 The ANOC World Beach Games is an international beach multi-sport event sponsored by the Association of National Olympic Committees (ANOC). The tournament was held in Doha, Qatar, with athletes from 97 countries taking part in 36 events in 13 sports.
Sweden sent 12 athletes to compete in the beach handball, aquathlon, and waterskiing events. The men's beach handball team defeated Qatar to gain the bronze medal.
■ UNIQLO's support for Sweden's national team
In January 2019, UNIQLO became the Main Olympic Partner and Official Clothing Partner for the Swedish Olympic and Paralympic teams. For four years, UNIQLO will provide the apparel worn by Swedish athletic teams and tournament officials during games and competitions, including the Tokyo 2020 Olympics and Paralympics, and the Beijing 2022 Winter Olympic and Paralympic Games.

Top of page