Last Updated: 2018.09.26
The Art and Science of LifeWear: Creating a New Standard in Knitwear - UNIQLO Previews Exhibition in Paris to Reporters from Around the World
UNIQLO CO., LTD.
to Japanese page
Japanese global casual apparel brand UNIQLO today previews a special exhibition to reporters in the French capital during Paris Fashion Week. Entitled The Art and Science of LifeWear: Creating a New Standard in Knitwear, this experiential event in the Galerie nationale du Jeu de Paume showcases the art, color, craftsmanship and Japanese technology inside UNIQLO knitwear. It marks the first time for UNIQLO to hold an event coinciding with Paris Fashion Week, and the company's first large-scale exhibit that is open to the public.
"We are honored and proud to be hosting such a major exhibition in Paris, one of the leading fashion capitals of the world, and in the beautiful Galerie nationale du Jeu de Paume. Knitwear is a product line that best exemplifies UNIQLO's LifeWear philosophy. We present here our entire journey from material selection, craftsmanship and design, through the latest in production and finishing technologies, and I hope the public will gain a deeper understanding, and appreciation, of what makes our knitwear so unique and special," said Tadashi Yanai, UNIQLO Founder and Chairman, President & CEO of Fast Retailing.
The Art and Science of LifeWear showcases UNIQLO knitwear in a series of engaging installations across five themed zones, demonstrating how its passion for material, craftsmanship and design excellence have set new standards of both quality and value across the product line, and redefined customer expectations.
The five zones are:
Art - Knits in a Hundred Colors
UNIQLO launched cashmere in 2003. Today in addition to cashmere, the knitwear offering includes Extra Fine Merino and Premium Lambswool. Every season the color palette is inspired by lifestyles, extending beyond fashion trends so that knits can be integrated easily into the daily lives of people everywhere. In this first room of the exhibition, visitors can experience the kaleidoscope of colors available from UNIQLO.
Science - The Future of Knitwear
UNIQLO demonstrates how its use of revolutionary WHOLEGARMENT® technology is shaping the future. WHOLEGARMENT employs carefully calibrated and beautiful three-dimensional silhouettes for outstanding design and comfort in seam-free knitwear, made by using the advanced knitting machines of Japan's Shima Seiki. This installation gives visitors an insightful look into UNIQLO's advanced knitting machinery and manufacturing processes.
WHOLEGARMENT® is a registered trademark of SHIMA SEIKI MFG., LTD., a leading textile machinery manufacturer serving a multitude of design-related industries beginning with knit and fashion.
Traditional Craftsmanship of Knitwear
All of UNIQLO's knitwear is carefully fashioned by dedicated, skilled craftspeople. Uniformly high standards apply to each stage of the manufacturing process, from the selection of raw materials to spinning, dyeing, knitting, washing, and inspection. While traditional craftsmanship is essential, UNIQLO also adopts the latest automation approaches and production technologies to ensure consistent and timely supply of top-quality items worldwide. In this room, visitors receive an inside look at the interior of a factory in China, to see how UNIQLO's artisan teams bring their expert knowledge and high standards to the entire knitwear production cycle.
FASHION - Perfect Styling
UNIQLO knitwear is available in different materials, designs and colors. Thanks to the sophisticated designs, people can coordinate colors and enjoy layering to create individual looks that have made LifeWear so beloved among countless of millions. In this installation, visitors experience firsthand some of the latest styling and looks that include Uniqlo U knits from the Paris R&D Center, led by Artistic Director Christophe Lemaire.
Exclusive Collaboration Items at Pop-Up Store
UNIQLO cashmere knits have been a favorite among Parisians for their top-quality fabrics and simple, sophisticated designs. To celebrate Paris Fashion Week, visitors have exclusive access to purchase items from a special new collaboration with three notable Paris brands, Maison Labiche, Keur Paris and ANDREA CREWS, which all add fun and witty embroidery to the quality of UNIQLO cashmere.
Exhibition Details
| | | |
| --- | --- | --- |
| Title | : | The Art and Science of LifeWear: Creating a New Standard in Knitwear |
| Date | : | 26 - 29 September, 2018 |
| Time | : | 11:00 - 19:00, free entry into the exhibition |
| Location | : | Galerie nationale du Jeu de Paume, 1 Place de la Concorde, Paris |
Payment for the collaboration items by credit card only. Limited stock is available each day, and sales continue while stock lasts.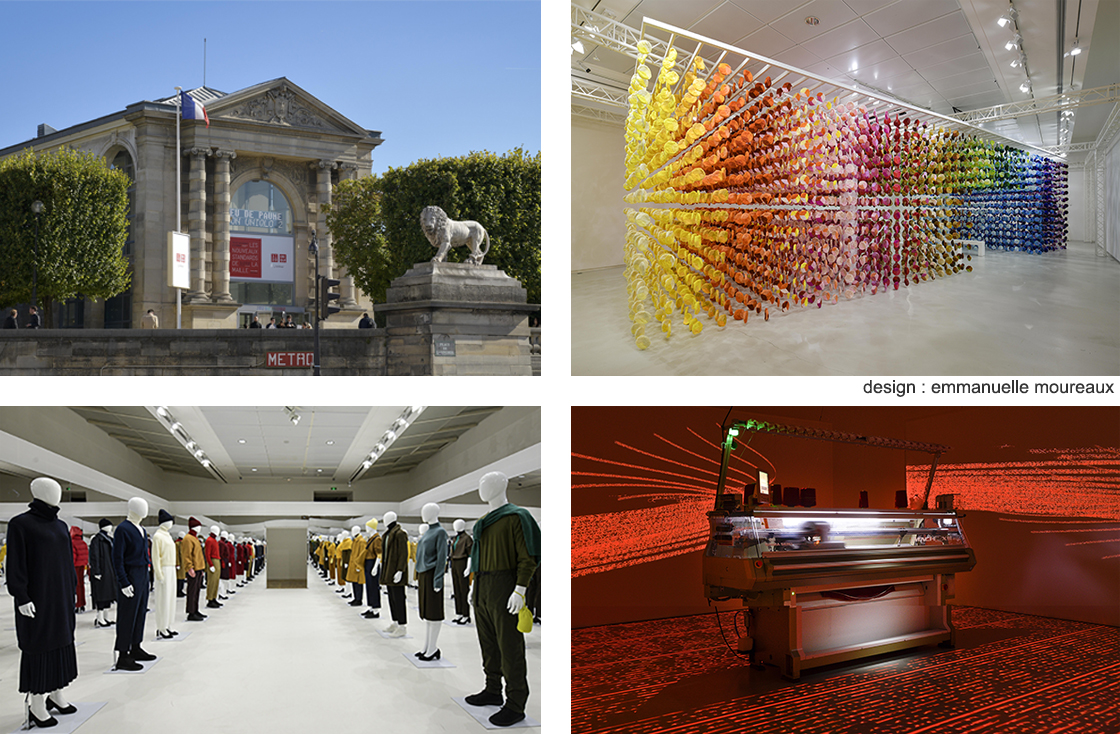 Top of page