Last Updated: 2018.02.14
UNIQLO Launches in the Netherlands in Fall 2018 - First Store to Open in Amsterdam's City Center
UNIQLO CO., LTD.
to Japanese page
UNIQLO, the Japanese global apparel retailer, today announces plans to launch in the Netherlands, with the opening of a first UNIQLO store in Amsterdam in fall 2018. Located in the heart of the city center and measuring close to 2,040 square meters in total sales area, UNIQLO Kalverstraat will offer LifeWear for men, women, kids and babies across three levels and will include a dedicated floor for its line of UT (UNIQLO T-shirt) designs. Following on from the opening of stores in Antwerp and Brussels, the new UNIQLO store will be the biggest in the Benelux region and one of the company's largest in Europe.
LifeWear is the UNIQLO commitment to creating perfect clothing that meets the needs of everyone's daily lifestyles. High quality, functional, affordable and constantly evolving, LifeWear is available in a variety of colors and styles for people of all ages.
"We are very excited to be opening the first UNIQLO store in the Netherlands and to introduce our brand to Amsterdam, a city well known for its relaxed and casual lifestyle. I believe our LifeWear, designed around core items such as Denim, Ultra Light Down outerwear, Extra Fine Merino knitwear and more, will be a perfect match for the people of Amsterdam, every season of the year," said Taku Morikawa, Chief Executive Officer of UNIQLO Europe. "Our entry into the Netherlands marks the next step in our plans to grow our presence in the BENELUX region," he added.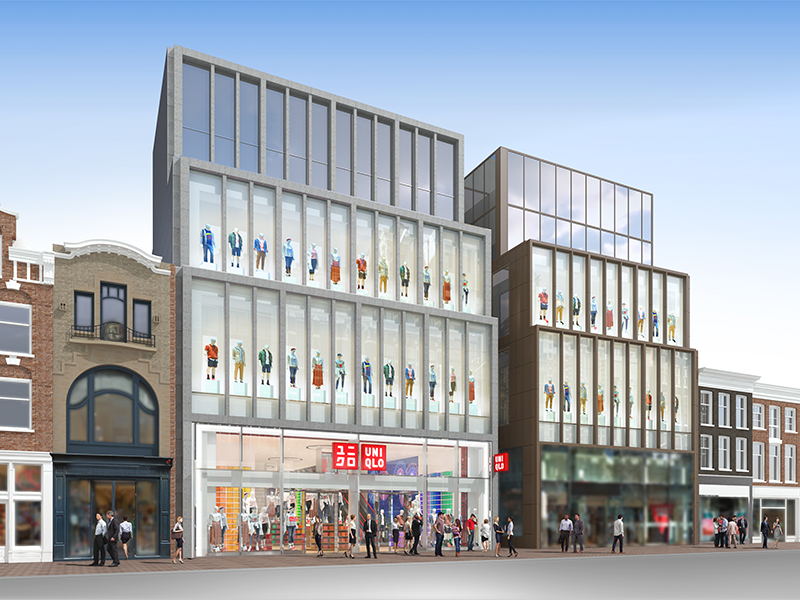 UNIQLO Kalverstraat will have its main entrance on the Kalverstraat, with an additional entrance on the Rokin.
■ New Store Overview
| | | |
| --- | --- | --- |
| Store name | : | UNIQLO Kalverstraat |
| Address | : | Kalverstraat 11, Amsterdam, the Netherlands |
| Additional entrance | : | Rokin 12 |
| Total sales area | : | Approximately 2,040 square meters over three floors (GF, 1st and 2nd) |
| Planned opening date | : | Fall 2018, with more details to be announced at a later date |
Following its recent announcement to enter Sweden in fall 2018, the Netherlands will become the 21st market for UNIQLO worldwide and the 8th market in Europe.
■ UNIQLO Presence in Europe as of February 1, 2018
| | | |
| --- | --- | --- |
| UK | : | 11 stores |
| France | : | 22 stores |
| Russia | : | 25 stores |
| Germany | : | 5 stores |
| Belgium | : | 3 stores |
| Spain | : | 2 stores |

Top of page