Last Updated: 2017.09.20
UNIQLO Unveils its First Store in Spain
UNIQLO CO., LTD.
to Japanese page
At 10am today UNIQLO unveiled its first store in Spain, at 18 Passeig de Gràcia in Barcelona, introducing its signature LifeWear - apparel that comes from the Japanese values of simplicity, quality and longevity, which is made for everyone, everywhere - to the Barcelona public for the first time.
Commenting on the Spain launch, Tadashi Yanai, UNIQLO Founder and Chairman, President & CEO of Fast Retailing Group said: "We are proud and honored to call Spain our newest home. Our first store in Barcelona represents our entry point into this new market, and we aim to open stores in all key locations across Spain." Yanai added, "We are committed to bringing the special UNIQLO shopping experience, plus product and customer service excellence to the Spanish public. I am very pleased to announce that we will open our second store in Barcelona, at Glòries, on November 9."
Housed inside an iconic building dating back to the early 1900s, UNIQLO Passeig de Gràcia measures a total of 1,730 square meters over four floors. The new store combines elements of old with new in a seamless way - a giant centerpiece chandelier overlooks a central staircase that winds toward period stained glass windows on the top floor. Conceptualized as the Stairway to Tokyo, the staircase arrives at a large 9m x 5m LED display projecting a series of original movies depicting life in the city of Tokyo, highlighting an important element of the UNIQLO brand identity.
An additional stairwell connecting the first floor with basement level features a large original mural created by a local artist. Coloring the walls with the landscape of Barcelona, the mural portrays scenes intimately familiar to the people of Barcelona-skateboarding in front of MACBA (Barcelona Museum of Contemporary Art) and people using the city's bicycle sharing service, Bicing.
Other highlights include a series of large glass tanks in the women's area of the second floor. These feature rotating mannequins unique to UNIQLO stores around the world, lined up window side of the building to bring pleasant visual contrast to the period decorative ceilings throughout. On the third floor, a special corner exclusively showcases the latest UT collections- the first display of its kind in Europe.
A full line up of UNIQLO LifeWear is available in the store, including fall and winter items for men and women, such as Ultra Light Down (ULD) jackets and vests, HEATTECH, AIRism innerwear, Denim, Extra Fine Merino, Cashmere and more. In addition, UNIQLO launches its UNIQLO and JW ANDERSON and INES DE LA FRESSANGE collaborations on opening day (also sold at the uniqlo.com online store).
UNIQLO celebrated its arrival in Barcelona by exploring the city through LifeWear. Accompanied by eight local Brand Ambassadors - Carles Puyol, Veronica Blume, Àlex Monner, Greta Fernández, Oscar Tusquets, Amaia Arrazola, Laura Put and Johann Wald - the company created 'Essentials for Life,' a brand campaign that promotes eight relaxed styles. 'Essentials for Life' illustrates the versatility of LifeWear and its power to adapt to individual lifestyles.
As an additional nod to Barcelona's aesthetics and traditions, UNIQLO merged its own brand logo with the city's emblematic tile, known as 'panot de flor.' This tile originates in the neighborhood of Eixample, precisely the area where UNIQLO Passeig de Gràcia is located. The new combined logo pays homage to the tile that was originally designed by modernist architect Josep Puig i Cadafalch, and is a clear example of how a functional object with a simple design can turn into an essential icon. UNIQLO will feature the logo in locations throughout the store as well as on its official store paper bag.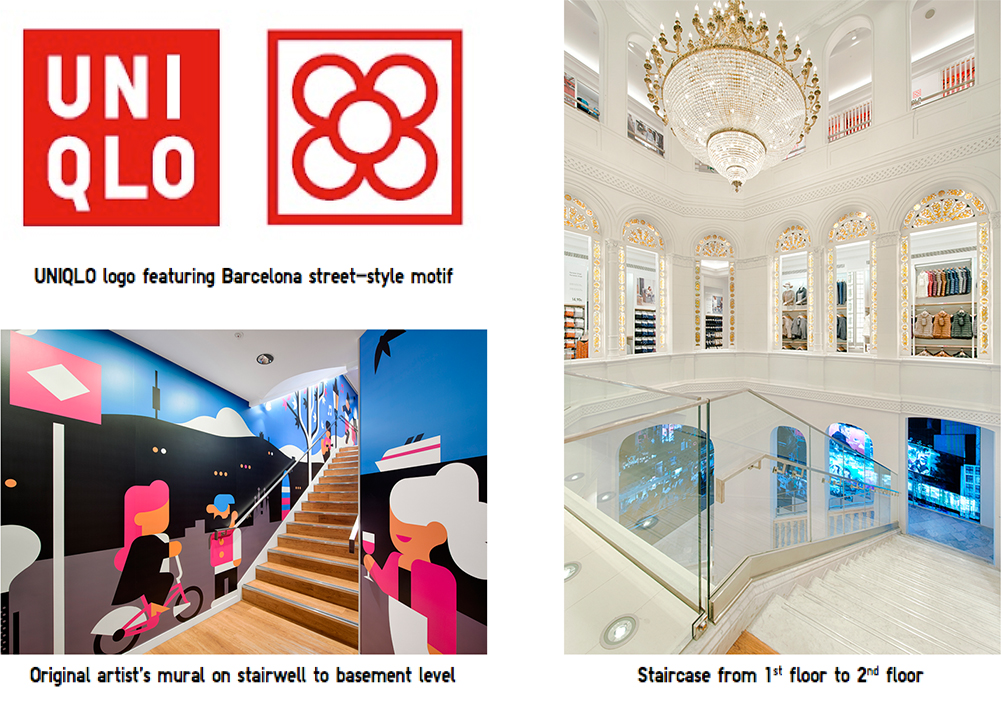 Top of page