Last Updated: 2015.04.20
UNIQLO's 2015 AIRism Collection to Include New Mesh, and "Extra Smooth" and Casual Wear
UNIQLO CO., LTD.
to Japanese page
UNIQLO today announces the launch of its 2015 AIRism collection. In the men's line, UNIQLO has revisited the mesh series, doubling its breathability for optimal Summer comfort, while for women it is introducing new Extra Smooth high-grade innerwear, with twice the blending ratio of breathable cupra fabric - improving moisture absorption and release by around 1.5 times. UNIQLO is also offering new items for women in AIRism material, suitable for casual wear - such as hoodies, T-shirts, and bottoms.
UNIQLO launched AIRism in 2013 as a global strategic brand, and has updated and improved it each season, for the ultimate in comfort, based on UNIQLO's LifeWear concept of easy-to-wear, functional clothing for comfort year-round.
Revised men's mesh series with greater breathability - Alongside standard AIRism, the mesh series provides extra comfort during the mid-Summer months. This year, UNIQLO has enhanced the mesh to provide a cool sensation, and decreased transparency. A unique weaving style provides wider openings, in a design that doubles breathability.
New women's Extra Smooth line with 1.5 times greater moisture absorption and release - UNIQLO has doubled to around 60% the blending ratio of cupra, a regenerated cellulosic fiber made from cotton, improving moisture absorption and release by around 1.5 times. This lessens the sweat and humidity under clothing, providing a smoother and silkier feel on the skin. This high-grade AIRism line provides comfort from the moment it touches your skin.
New evolution of AIRism as functional casual wear for women - Building on AIRism functionality, UNIQLO is branching out from innerwear and launching a new line of everyday clothing. The highly functional AIRism material is offered mainly in women's items, including hoodies, T-shirts, and bottoms. The stretchy and smooth-feeling fabric allows for all-day comfort. In addition to active wear for yoga or jogging, they can be used as a summertime jacket to cope with strong air conditioning or morning and evening chill.
Revised yarn blend for greater comfort in kids' items - While retaining perspiration-absorbing and quick-drying functionality, to reduce the humid feeling caused by children's high body temperature UNIQLO has added moisture absorption and release properties by incorporating modal, a silky type of rayon that is water resistant. This new blend makes children's clothes even more comfortable.
New mesh series with enhanced breathability
■ Widening the mesh openings doubles the breathability

■ Mesh NEW item lineup

New "Extra Smooth" Women's AIRism Products
■ Increased blending ratio of cupra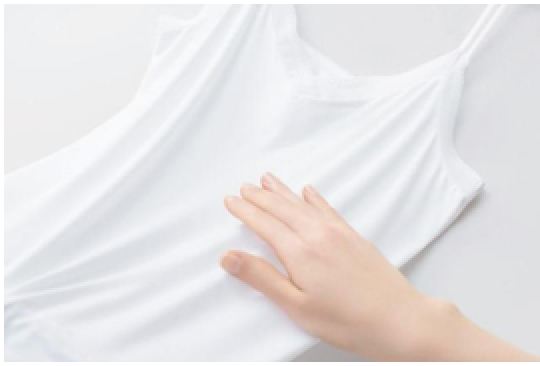 ■ "Extra Smooth" item lineup provides a high-grade, smooth and silky feel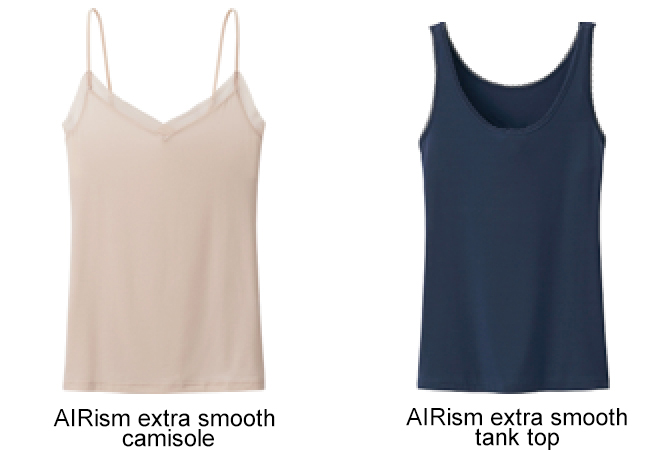 Women's Casual Wear AIRism
Product Lineup
*Retail prices exclude tax.
■ Men's
No.
Product
Colors &
Patterns
Sizes
Retail Price
Store
Availability
Sales Period
 
1
AIRism Crew Neck T
(Short Sleeve)
5
S-4XL
990 yen
All stores
On sale
 
2
AIRism V Neck T
(Short Sleeve)
6
S-4XL
990 yen
All stores
On sale
3
AIRism Mesh Crew Neck T
(Short Sleeve))
5
S-4XL
990 yen
All stores
On sale
4
AIRism Mesh V Neck T
(Short Sleeve)
6
S-4XL
990 yen
All stores
On sale
 
5
AIRism Mesh V Neck
(Sleeveless)
6
S-4XL
990 yen
All stores
On sale
 
6
AIRism Mesh Tank Top
5
S-4XL
990 yen
All stores
On sale
 
7
AIRism Boxer Briefs
13
S-4XL
990 yen
All stores
On sale
 
8
AIRism Boxer Briefs
(Low Rise)
9
S-4XL
990 yen
All stores
On sale
 
9
AIRism Mesh Long Boxer Briefs
4
S-4XL
990 yen
All stores
On sale
 
10
AIRism Steteco
14
S-4XL
1,290 yen
All stores
On sale
*XXL-4XL sizes (as well as S size briefs and steteco) only at the UNIQLO online store (www.uniqlo.com)
■ Women's
Innerwear / Brassiere Tops
No.
Product
Colors &
Patterns
Sizes
Retail Price
Store
Availability
Sales Period
 
1
AIRism Camisole
30
S-3XL
990 yen
All stores
On sale
 
2
AIRism padded camisole
5
S-3XL
990 yen
All stores
On sale
3
AIRism Extra Smooth Camisole
5
S-3XL
1,500 yen
All stores
Mid-May頃
4
AIRism Extra Smooth Tank Top
5
S-3XL
1,500 yen
All stores
Mid-May頃
 
5
AIRism Tank Top
27
S-3XL
990 yen
All stores
On sale
 
6
AIRism U Neck T
(Short Sleeve)
23
S-3XL
990 yen
All stores
On sale
 
7
AIRism U Neck T
(3/4 Sleeve)
6
S-3XL
990 yen
All stores
On sale
 
8
AIRism Tube Top +
4
S-3XL
990 yen
Large stores
On sale
 
9
AIRism Slip
2
S-3XL
1,500 yen
All stores
On sale
 
10
AIRism Petticoat +E
2
S-XL
990 yen
Large stores
On sale
 
11
AIRism Lace Shorts
(Hip Hanger)
5
M-2XL
790 yen
All stores
On sale
 
12
AIRism Lace Shorts
(Just West)
5
M-2XL
790 yen
All stores
On sale
 
13
AIRism Leggings (Full Length)
2
M/L・L/XL
990 yen
All stores
On sale
 
14
AIRism Stirrup Pants +E
2
M/L・L/XL
990 yen
Megastores
On sale
 
15
AIRism Seamless Brassiere
6
S-2XL
1,990 yen
All stores
On sale
 
16
AIRism Seamless Camisole
6
S-2XL
1,990 yen
Standard stores
On sale
 
17
AIRism Seamless Crew Neck T
(Short Sleeve)
5
S-XL
1,990 yen
Megastores
On sale
 
18
AIRism Room Set
(Short Sleeve) Border
4
S-3XL
1,990 yen
All stores
On sale
 
19
AIRism Room Dress
(Short Sleeve)
11
S-3XL
1,990 yen
All stores
On sale
 
20
AIRism Bra Camisole
21
S-3XL
1,990 yen
All stores
On sale
 
21
AIRism Lace Bra Camisole
11
S-3XL
1,990 yen
All stores
On sale
 
22
AIRism Bra Tank Top
29
S-3XL
1,990 yen
All stores
On sale
 
23
AIRism Padded Bra camisole
5
S-3XL
1,990 yen
All stores
On sale
 
24
AIRism Bra U Neck T
(Short Sleeve)
10
S-3XL
1,990 yen
All stores
On sale
*XXL-3XL sizes only at the UNIQLO online store (www.uniqlo.com)
Casual Wear
No.
Product
Colors &
Patterns
Sizes
Retail Price
Store
Availability
Sales Period
1
AIRism Gathered Crew Neck T
(Short Sleeve)
6
S-3XL
1,500 yen
All stores
On sale
2
AIRism Round Neck T
(Short Sleeve)
5
S-3XL
1,500 yen
All stores
On sale
3
AIRism Tank Top +E
6
S-XL
1,500 yen
Megastores
On sale
4
AIRism French Terry Pullover +E
4
S-XL
1,990 yen
Megastores
Mid-May
5
AIRism UV Cut Mesh Hoodie
12
S-3XL
2,290 yen
All stores
On sale
6
AIRism French Terry Pants +E
3
S-XL
2,990 yen
Megastores
Mid-May
7
AIRism Skirt +E
3
S-L
1,990 yen
Megastores
Mid-May
8
AIRism Ankle Leggings +E
3
S-XL
2,990 yen
Megastores
Mid-May
9
AIRism Cropped Leggings+E
3
S-XL
2,990 yen
Megastores
Mid-May
10
AIRism Bra
6
S-XL
1,990 yen
All stores
Mid-May
11
AIRism Racerback Bra Tank
6
S-3XL
1,990 yen
All stores
Mid-May
12
AIRism Highback Bra Camisole
6
S-3XL
1,990 yen
All stores
Mid-May
*XXL-3XL sizes only at the UNIQLO online store (www.uniqlo.com)
■ Kid's
No.
Product
Colors &
Patterns
Sizes
Retail Price
Store
Availability
Sales Period
 
1
K AIRism U Neck T
(Short Sleeve) 1P
4
100-160
500 yen
Standard stores
On sale
 
2
K AIRism Tank Top 1P
4
100-160
500 yen
Standard stores
On sale
 
3
G AIRism Camisole 1P
3
100-160
500 yen
Standard stores
On sale
 
4
G AIRism Double Layer Camisole 1P
4
100-160
500 yen
Standard stores
On sale
*160 size only at the UNIQLO online store (www.uniqlo.com)

Top of page