Last Updated: 2015.02.16
SHOCHIKU KABUKI X UNIQLO Collection to Showcase Japanese Traditions in Pop Culture
UNIQLO CO., LTD.
to Japanese page
UNIQLO today announces a collaboration with Shochiku Co., Ltd., a major Kabuki, film and theater company in Japan, to launch the SHOCHIKU KABUKI X UNIQLO Collection, a specially designed line that will showcase Japanese traditions in pop culture through clothing. Ichikawa Ennosuke IV, one of Kabuki's most popular stars, will serve as the collection's Project Ambassador.
Kabuki is a classical performing art that has fascinated people around the world since originating more than 400 years ago, during the Edo Period of Japanese history, and it has been recognized as a UNESCO Intangible Cultural Heritage. In creating the collection, Shochiku and UNIQLO have respected the tenets of shin-zen-bi, meaning truth, goodness, and beauty, in sharing traditional Japanese culture.
UNIQLO is committed to changing the world for the better through the power of clothing. LifeWear, introduced in 2013, embodies a quest to enhance individual lifestyles by delivering quality clothing that is functional in design and versatile to wear. An example of LifeWear is UT (UNIQLO T-shirts), which first launched in 2003. Over the years UTs have featured an array of authentic pop culture graphics, from Ukiyo-e woodblock prints and paintings to manga, and the collaboration with Shochiku resulted in Kabuki-themed offerings in men's and women's UTs, STETECO and RELACO lines, bandanas and tote bags.
UT Creative Director NIGO evaluated optimum designs, cuts and materials under supervision from Shochiku and Ennosuke IV. Inspired by Kabuki's beautiful costumes and elaborate stage make-up, the design motifs also include the crests and patterns of Omodaka-ya, the name of the guild or acting house to which Ennosuke belongs. The new collection will launch first in France on March 20, and in other markets thereafter. The Japan launch will take place on March 26.
"I am pleased that this collaboration has come to fruition and that today UNIQLO begins a new partnership with Kabuki. With traditions dating back to several hundred years ago, Kabuki is a very important aspect of Japanese culture that is recognized worldwide. By combining sophisticated UNIQLO pop culture with Kabuki's traditions, which were considered sophisticated pop culture in the Edo Period, we could together achieve a new and sophisticated pop culture from Japan to the world through our clothing," said Tadashi Yanai, UNIQLO Chairman, President and CEO.
"I believe Japan can rightfully take pride in the artistic traditions and beauty of Kabuki, which we have been promoting ever since our foundation in 1895. Working together with UNIQLO has given us the opportunity to express Kabuki's bold, yet delicate, aesthetics on clothing in a way never seen before to millions of UNIQLO fans around the world," said Jay Sakomoto, Schochiku President and CEO.
"I am honored to serve as the worldwide ambassador for this new project, and I have enjoyed contributing ideas. I believe that by combining the traditional colors and patterns of Kabuki with the contemporary styles of UNIQLO, we have created something that is innovative and totally new. I wish for everyone to experience and enjoy the clothing first hand by seeing and touching the pieces, and I hope the new collection will become very popular," said Ichikawa Ennosuke IV.
【T-shirt graphics based on Kabuki stage makeup】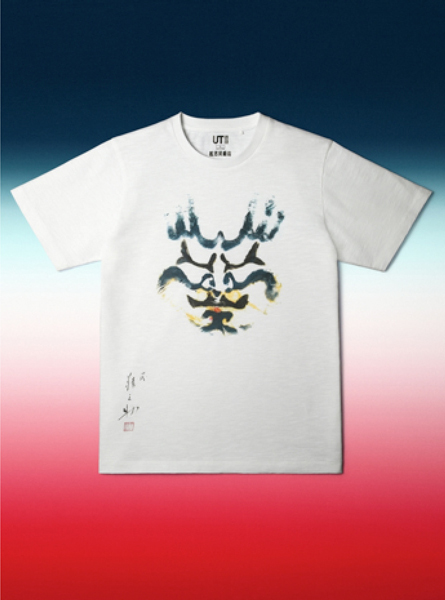 【Profile of Ichikawa Ennosuke IV】
Ichikawa Ennosuke IV is one of Kabuki's most popular stars. He made his debut in 1983, taking the name Ichikawa Kamejiro II. Succeeding to a more high-ranking Kabuki name is not automatic, but in 2012 he was judged worthy to take the highly prestigious name of Ennsouke, with the yagō, or acting house name, of Omodaka-ya. Ennosuke performs not only traditional Kabuki, but he also introduced a new category of Kabuki known as "Super Kabuki II", that has broad and diverse audience.
As well as Kabuki, Ichikawa Ennosuke IV performs in both films and television.
Project website: http://ut.uniqlo.com/kabuki

Top of page