Last Updated: 2014.12.03
UNIQLO Le Marais Recognized as the Best Retail Concept of the Year, for 2014
UNIQLO CO., LTD.
to Japanese page
UNIQLO today announces that UNIQLO Le Marais, in Paris, France, has been recognized as the best fashion and footwear retail concept of 2014, by MAPIC, a global industry association for retail and property development.
The accolade was presented on November 20 at the MAPIC Awards Gala Dinner, which recognize excellence, innovation, and creativity in the retail real estate industry. The Gala was hosted at the Grand Hyatt Cannes Hotel Martinez, at Palais des Festivals in Cannes, France.
Launched April 25, 2014, UNIQLO Le Marais is housed in a mid-19th century former foundry, combining a modern layout with historical features, such as its 35-meter red brick chimney. It is the perfect frame for a truly unique shopping experience, including an exclusive collection of unique non-apparel UNIQLO memorabilia produced exclusively for this store.
Fast Retailing Group Officer and UNIQLO Europe CEO Berndt Hauptkorn said, "I am thrilled and honored that UNIQLO has won such a prestigious award. It is a superb recognition, and we are sincerely proud of our accomplishment, in offering an exceptional experience for UNIQLO customers."
The MAPIC Awards Gala Dinner was the conclusion to the November 18 - 20 annual MAPIC International Retail Property Market conference. MAPIC gathers 8,300+ international participants, including over 2,400 retailers and 2,300 property developers for 3 days of exhibitions, conferences and networking events targeting all types of retail property: city and shopping centers, factory outlets, leisure areas, and transit zones.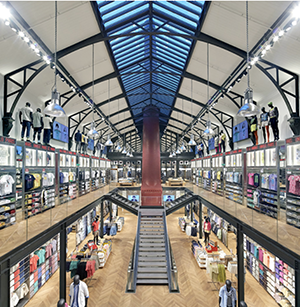 Top of page