Last Updated: 2014.09.09
UNIQLO Congratulates its Global Brand Ambassador Wheelchair Tennis Champion Shingo Kunieda, on his Victory at the 2014 US Open
Shingo Kunieda secures his fourth Grand Slam victory in a row,
while UNIQLO Global Brand Ambassador Kei Nishikori becomes
the first Japanese player to advance to the finals
UNIQLO CO., LTD.
to Japanese
UNIQLO today congratulates its Global Brand Ambassador wheelchair tennis champion Shingo Kunieda, on his September 7 victory at the 2014 US Open in New York City, one of tennis' four annual Grand Slam tournaments. The win represents his fourth victory at the US Open, and his first at the event in three years. It is also his fourth time securing four Grand Slam wins in one year - representing an historic record for the sport.
In addition, UNIQLO Global Brand Ambassador Kei Nishikori advanced to the Grand Slam finals in the men's singles at the US Open, representing the first time for an Asian player to achieve this milestone. With this, as of September 8 he achieved a personal best in the global tennis rankings, advancing to eighth place.
Shingo Kunieda said, "I am thrilled to achieve my goal, of a Career Grand Slam. Team UNIQLO is clearly getting results, with my securing an unprecedented four Grand Slam wins and Kei Nishikori advancing to the finals in men's singles. I would like to thank my supporters, and look forward to keeping up the momentum."
Kei Nishikori said, "I was treated for an injury immediately prior to the match, and although this was a bit of a concern going in, I am really pleased that I was able to record a career best. Far from satisfied, I intend to challenge myself, and win. I am grateful to UNIQLO and all of my supporters, and appreciate their continuing backing."
Tadashi Yanai, Fast Retailing Chairman, President & CEO, said, "As representative of Fast Retailing and UNIQLO, I offer my congratulations to Shingo Kunieda and Kei Nishikori. Both have achieved historic firsts at this tournament, and I am grateful for the opportunity to continue to support them."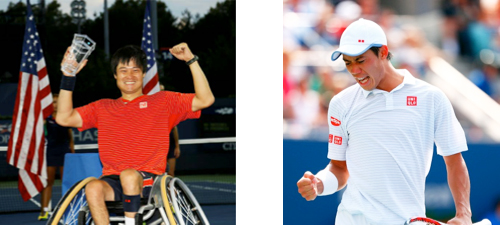 For further information on UNIQLO's Global Brand Ambassador initiative, please see the link - https://www.uniqlo.com/us/sponsored-athletes

Top of page