Last Updated: 2014.06.11
UNIQLO to Open New Global Flagship Store in Osaka
UNIQLO CO., LTD.
to Japanese
UNIQLO will open its latest global flagship store, UNIQLO OSAKA, in the commercial center of Umeda in fall 2014. This will be the second global flagship store in Osaka, along with the Shinsaibashi store. The prime location, in the heart of the shopping district just a short walk from Umeda Station, will offer the latest fashions from UNIQLO to both Osaka residents and visitors from around the world.
The UNIQLO OSAKA store will have a 2,942 m2 space across four below-ground stories, carrying all categories of UNIQLO products, including men's, women's, kids, babies, and UT. Floors B1 and B2 will also have a GU outlet with 860 m2 of floor space. (Address: Yanmar Head Office Building, Chaya-machi, Kita-ku, Osaka)
Global flagship stores are a showcase for the latest fashions from UNIQLO to the world, a place where customers can best experience UNIQLO's world-leading products and service. UNIQLO opened its first global flagship store in New York's Soho district in fall 2006, and today has flagship stores in major cities around the world, including London, Paris, New York, Tokyo, Osaka, Shanghai, Taipei, Seoul, and Hong Kong.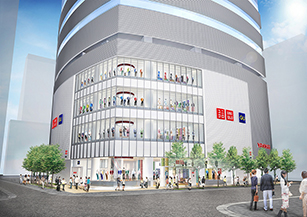 Top of page