Last Updated: 2014.06.09
UNIQLO Congratulates Global Brand Ambassador Shingo Kunieda on His 2014 French Open Victory Latest Victory Marks 20th Grand Slam Win
UNIQLO CO., LTD.
to Japanese
UNIQLO today congratulates its Global Brand Ambassador world wheelchair tennis champion Shingo Kunieda on his June 6 victory at the Roland-Garros French Open, one of tennis' four major annual tournaments. This was his first win at the French Open in four years, and his fifth career victory at the annual event. It also marked his twentieth Grand Slam, referring to victory at one of professional tennis' four annual major tournaments.
Commenting on his win, Shingo Kunieda said, "I am really pleased to have won at the French Open, for the first time in four years. I am grateful for everyone's support, and UNIQLO's light and comfortable match wear once again helped secure the result. I aim to keep up the pace, next looking to Wimbledon and the US Open."
Tadashi Yanai, Fast Retailing Chairman, President & CEO, said, "Fast Retailing and UNIQLO are extremely proud to have Mr. Kunieda as our representative and brand ambassador, as he once again wins the French Open and records an amazing twenty Grand Slam victories. All of us are cheering for him, as the 2014 season continues."
For further information on UNIQLO's Global Brand Ambassador initiative, please see the LINK.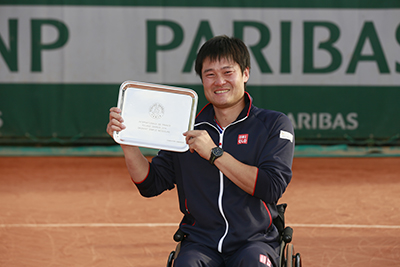 UNIQLO began sponsoring Shingo Kunieda on 25 August 2009. Based in the shared desire to make life better the world over, UNIQLO provides its Global Brand Ambassadors with match wear, develops its clothing with them, and works with them to tackle issues relating to the environment, education, and poverty worldwide.

Top of page