Last Updated: 2014.05.19
UNIQLO Global Brand Ambassador Adam Scott Achieves Ranking of World's Top Golfer
UNIQLO CO., LTD.
to Japanese
UNIQLO congratulates its Global Brand Ambassador, Australian professional golfer Adam Scott, for achieving the ranking of world's top golfer today, for the first time.
Commenting on this latest achievement, Adam Scott said, "Achieving the world number one ranking has been a goal of mine from when I first started playing golf. I am tremendously happy to have achieved this goal, and I thank Uniqlo for their support along the way. I am very proud to be associated with this company; their products are first class, and I look forward to achieving many more milestones together."
Fast Retailing Chairman, President & CEO Tadashi Yanai, said, "I truly respect Adam Scott for aiming to become the world's number one golfer, and in achieving his aim. We are all extremely proud that he is our Global Brand Ambassador - his passion and devotion in taking the world of golf by storm is a true inspiration for me, UNIQLO, and all at Fast Retailing."
UNIQLO established its Global Brand Ambassador relationship with Adam Scott on April 1 last year, by not only providing the clothing that he wears in competition, but by actively designing and developing it directly with him - to meet his specific needs on the golf course.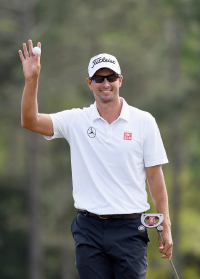 Adam Scott, the World's Top Golfer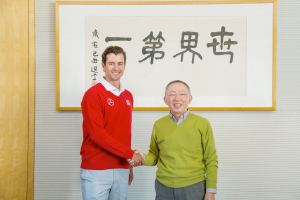 Adam Scott with Tadashi Yanai, in front
of calligraphy that depicts the words "World's Number One"
Additional Comments from Adam Scott:
I have had an exceptional season, since first forming this partnership with UNIQLO. I am honored to be the number one player in the world.
I have had a number of important developments, since partnering with UNIQLO.
First, in April last year, I achieved my dream of taking the prestigious Masters title, in Augusta.
I am also really pleased that through this partnership the clothes that I wear in competition are available at reasonable prices at all of UNIQLO's more than 1,300 stores worldwide.
UNIQLO's light, cool, and dry fabric polo shirts are designed to enhance my performance on the course. AIRism is innovation in inner wear, and I wear it every day - both on, and off, the course. We developed Dry Stretch Pants together over the course of a year, and they are very versatile - not only for golf, but for a casual night out, or in the office.
We have been pioneering in our approach to the development of new golf wear, as part of UNIQLO's LifeWear.
I was pleased to see UNIQLO launch its first store in Australia - my home country - in Melbourne in April 2014.

Top of page