Last Updated: 2014.04.01
UNIQLO, Pharrell Williams "i am OTHER" Collaboration Line Launches 14 April
UNIQLO CO., LTD.
to Japanese
UNIQLO today announces the 14 April launch of "i am OTHER," a new collaboration with world-renowned performer and music producer Pharrell Williams. Brimming with originality, down to the tiniest details, Pharrell and street fashion icon NIGO - who took over as UNIQLO T-shirt (UT) Creative Director from 2014 Spring, Summer - worked together to bring it to life.
Select products are available from today on the UNIQLO online store, with the full line at UNIQLO stores worldwide from 15 April. See the link for a short video and exclusive interview with Pharrell, launched today. From 14 April, UNIQLO is also kicking off a TV ad campaign featuring Pharrell, and the single "Come Get It Bae", from his new album G I R L.
The "i am OTHER" collaboration comprises men's and women's T-shirts in 14 colors and patterns, and seven styles of baseball caps, each with a message from Pharrell, including "Think Other" and "THE SAME IS LAME." The men's tees are carefully designed with both sewn and seamless body styles, while the caps have a slightly oversized brim. The line includes other touches that convey Pharrell's identity and sense of originality, such as his face peeking out from inside the back collar.
Pharrell said, "When I first tried some of the things we produced on, I couldn't stop myself from showing it off. I was like, 'Wow, this is going to be revolutionary.' It's so soft - gentle to the touch - and I just could not believe the price it's going for."
Now in its 12th year, UT offers around 1,000 T-shirts annually, with graphics from the worlds of art, music, comics, anime, and other pop culture inspired imagery, to allow anyone to freely express their individuality. From 2014, street fashion icon NIGO has taken over as UT Creative Director, leading revisions to the T-shirt body style, and carefully selecting the graphics. Under his uncompromising direction, the 2014 Spring, Summer line includes 35 content categories, in over 1,200 colors and patterns, for a wide variety of shirts for men, women, and kids.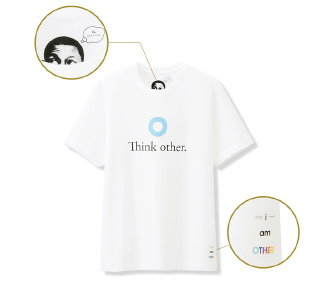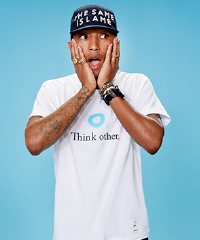 Grammy Award winning and Oscar nominated, Pharrell Williams is a music producer, fashion designer and singer. He just released his second solo album, G I R L. He is also a closely watched fashion trendsetter, with his own brand, BBC Icecream.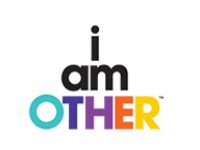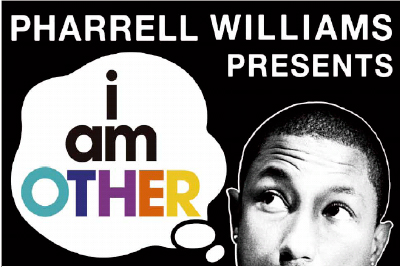 Men's "i am OTHER" graphics T-shirts (¥1,429 +tax)
14 colors and patterns; Sizes S-4XL (*XXL, 3XL, and 4XL online only)

Women's "i am OTHER" graphics T-shirts (¥1,429 +tax)
14 colors and patterns; Sizes S-3XL (*XXL and 3XL online only)

"i am OTHER" graphics caps (¥1,896 +tax)
7 colors and patterns; Available at select stores only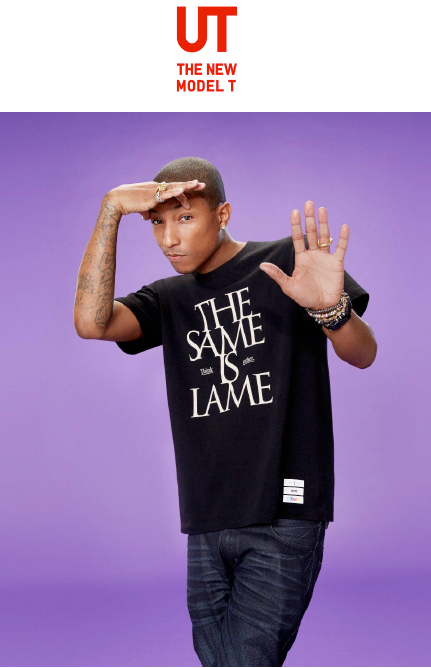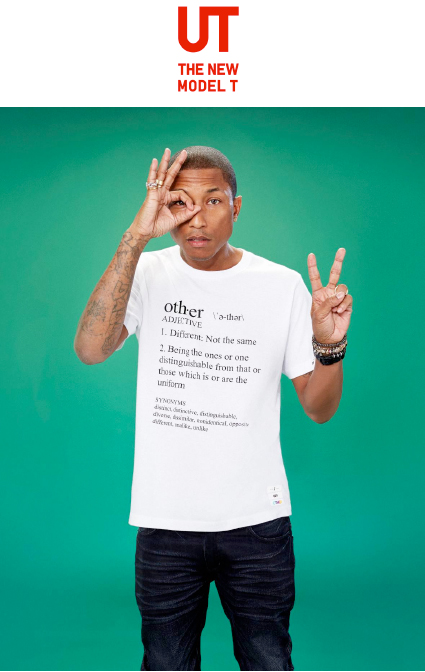 Top of page