Last Updated: 2014.03.21
UNIQLO Launches Exceptional Landmark Store in Fashionable Paris District of le Marais - Latest in Expansion Across France -
UNIQLO CO., LTD.
UNIQLO today announces the April 2014 opening of a new location in France, an exceptional landmark store in the fashionable Paris district of le Marais.
Located in a mid-19th century former foundry, the new store will showcase this beautifully preserved historic site, amidst UNIQLO's selected line of men's and women's collections - with a particular nod to its Spring and Summer 2014 collaboration with Parisian chic fashion icon Ines de la Fressange.
Commenting on today's announcement, Berndt Hauptkorn, Fast Retailing Group Officer and UNIQLO Europe CEO, said, "Our latest store epitomizes effortless Parisian style, and is a truly unique concept, steeped in the history of the chic French capital. We are very pleased to bring this exceptional store to both locals and visitors alike, as we continue our expansion across Europe and worldwide."
The historic building boasts both an iconic 35 meter red brick chimney and displays of the tools that were used at the foundy when it was in operation, while large windows offer abundant natural light.
Located at 39, rue des Francs Bourgeois, Paris 4ème, the UNIQLO Le Marais store offers approximately 820 square meters of sales floor over three levels - ground floor, basement, and first floor.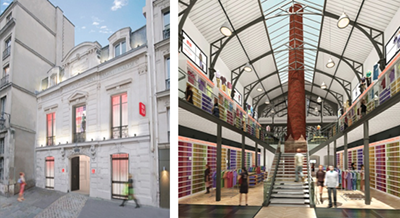 Top of page