Last Updated: 2014.03.17
UNIQLO to Launch Large-Scale Store in Tokyo's Okachimachi
UNIQLO CO., LTD.
to Japanese
UNIQLO today announces the opening on April 25 of its latest large-scale store, the Okachimachi Store, in one of the major commercial and tourist districts in northeast Tokyo, known for its street markets, dining and nightlife. (North exit of JR Okachimachi Station, Address: 3-27-12 Ueno, Taito-ku, Tokyo)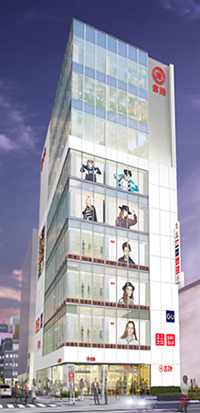 The UNIQLO Okachimachi Store boasts a 2,843 m2 sales floor (one below ground, four above), and is inspired by UNIQLO's popular flagship locations, entertainment-style stores offering the latest popular UNIQLO products for men, women, kids, and babies.
The Okachimachi Store is located at the entrance to Ameya-Yokocho, a bustling open-air shopping arcade with an atmosphere of old Tokyo, popular with both local residents and overseas visitors to Japan. The store occupies a prime location on the site of the former Yoshiike supermarket, a prominent shop in this area since 1920, and is within walking distance of the spacious and verdant Ueno Park.
The UNIQLO Okamachi Store is the latest of UNIQLO's large-scale, flagship locations in major areas of central Tokyo, on a par with the Ginza Store, the BICQLO Shinjuku East Exit Store, and the Ikebukuro Sunshine 60 Dori Store set to open in March.

Top of page