Last Updated: 2014.03.13
UNIQLO Launches Special Collaboration with Ines de La Fressange From France to the World
UNIQLO CO., LTD.
to Japanese
UNIQLO today announces the launch of a special collection created in collaboration with French fashion icon Ines de La Fressange.
UNIQLO LifeWear extends beyond fashion, to enrich lives. In pursuit of this, for the 2014 Spring, Summer lineup, UNIQLO has partnered with French fashion icon Ines de La Fressange, to offer a special collaborative line for women.
Rather than playing to trends, the collection offers clothing that UNIQLO patron Ines herself would wear - designed to make women feel good, and look beautiful. Each detail, from the height of the waist and opening of the neckline to the overall fit, has been carefully refined through a long fitting process with Ines, to create a perfectly balanced collection.
Advanced sale of the collection begins in France on March 13, with worldwide release to follow. Items will be available at all stores in Japan from March 20 (limited availability at some stores).
"Luxurious clothes, and beyond" from UNIQLO, and Ines
Ines' charm lies in her universal style, which transcends gender, yet is based in refined feminine beauty - with a touch of mischievous playfulness. Her concept is Parisian chic, based on authentic quality and individual values, unconstrained by price or brand. It is a mixing of genres, in a wide range of items, from luxury to vintage, for universal appeal.
The collection comprises four lines, "Petite Parisienne," "Bleu, Blanc, Parisiennes," "Note Parisiennes," and "Souffle de Parisennes," for about seventy items through the season.
■ Product Details : https://www.uniqlo.com/jp/store/feature/uq/ines/women/
■ Ines de La Fressange
Born into an aristocratic family in France, Ines de la Fressange grew to be a fashion model, becoming Chanel's star model from 1983 to 1990, and the muse of designer Karl Lagerfeld. In 1989 she was chosen by the French government as the likeness for a bust of Marianne, the symbol of the French Republic.

Ines is also active as a designer, journalist, author, and fashion consultant, and in 2010 was selected as a member of L'Oréal's "Dream Team." Her book Parisian Chic has been translated into 17 languages, with more than a million copies sold worldwide.

In 2013 Ines re-launched her own brand, INES DE LA FRESSANGE PARIS, and is closely involved as creative director. The luxury lifestyle brand includes a wide range of products to create a truly Parisian style, from ready-to-wear apparel to interior decorations.
Reflections on the Collaboration
■ Inès de La Fressange, Special Collaborator
"I often go to UNIQLO on my lunch break. I get a little respite from work, and I'll buy a favorite item as a reward for myself. Generally it's something reasonable, and gives me bit of happiness. The joy that comes from easily finding something of high quality and a nice design, and making it yours, is important. I think that's one of purposes of clothing and fashion.
"The important things for me are beauty, originality, and elegance. The price doesn't matter at all. The most enjoyable thing for me is the ability to mix and match styles, and my favorite items cover a broad spectrum from inexpensive to pricey. The potential to freely mix and combine many different items is the real pleasure of our age.
"This collaboration is not just something we've thrown together for the media. I would not put my name on any apparel that I'm not happy with myself. In that sense, I feel that this is a sincere and honest collaboration."
■ Naoki Takizawa, Design Director
"I think that Ines has an immeasurable influence on the fashion world. She is beloved by designers everywhere, and her comments as a model and co-creator of clothing gives rise to the true nature of apparel.

"We have created essential items that quietly radiate through the styling, like the streets of Paris itself, steeped in history, where you can discover newness and beauty through the constantly mixing of different elements.

"Clothing that is simple, but with a sense of playfulness that always brings a smile. Clothing that just by wearing it returns you to your natural state.

"Talking with Ines, images of clothing appear to me that foretell the next generation. We have combined that with UNIQLO's LifeWear concept."
Product Lines
"Petite Parisienne"
Evoking the spirit of traditional French work clothes, the classic and time-honored silhouette has been updated with playful details, such as rounded collars or floral motifs hidden under the sleeves.
Cotton Floral Print Shirt (¥1,896 +tax)
Coverall JK (¥5,705 +tax)
Cotton Stripe Easy P (¥2,848 +tax)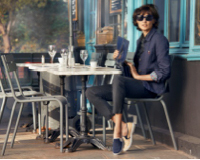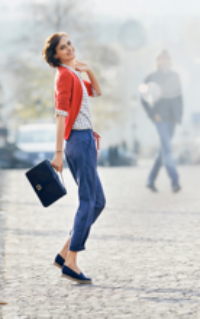 "Bleu, Blanc, Parisienne"
The French blue, white, and red provides the inspiration for this line, with a Parisian twist on UNIQLO favorites such as polo shirts, Oxford shirts, chino pants, and jeans.
Premium Linen Tunic (¥2,848 +tax)
Cotton Cashmere Crewneck Cardigan (¥2,848 +tax)
Linen Print Easy P (¥2,848 +tax)
"Note Parisienne"
A refined style is expressed in a single piece from this line of basic black, including draping dresses, beautifully sheer knitwear, and soft and delicate chiffon blouses. Items can also be worn casually for an authentic Parisian chic style. (Available from May)
Jersey Wrap Dress (\2,848 +tax; Only this one item from the line will be launched on March 20)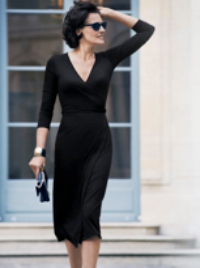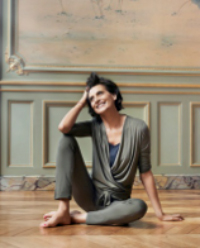 "Souffle de Parisienne"
With natural and refined colors, beautiful silhouettes that show off the line of the body without constricting movement, and quick-drying fabrics that won't cling, this is a line perfect for practicing yoga, exercising, or just relaxing at home. (Available from April)
Cache-coeur T (¥1,896 +tax)
Camisole (¥953 +tax)
Stretch Pants (¥1,429 +tax)

Top of page