Last Updated: 2014.03.06
UNIQLO to Launch its Largest Store in South China on 28 March, in Guangzhou
UNIQLO CO., LTD.
to Japanese
to Chinese page
UNIQLO today announces the 28 March launch of its largest store yet in south China, in Guangzhou. Located at Victory Plaza, in the famous Tianhe Road area of the city, it offers an expansive sales floor, of approximately 5,000 square meters.
The UNIQLO Victory Plaza store is situated at a prime location in the so-called golden corridor of the Tianhe Road business area, where subway lines one and three meet, for convenient access. The store presents UNIQLO's full line of products for men, women, kids, and babies. With its range of stylish mannequins, its customer friendly sales floor, and trendy overall layout, the store attractively showcases the latest UNIQLO product lines.
It offers the largest UNIQLO T-shirt (UT) concept store in China, with a sales floor of 280 square meters - for the widest range of pop culture inspired UT products anywhere in China. In addition, it brings among the largest selection of UNIQLO kids' and babies' clothing in China, in bright colors and playful prints.
Mr. Pan Ning, Group Senior Executive Vice President of Fast Retailing and CEO of UNIQLO Greater China, said, "South China is experiencing some of the fastest economic growth in the country, and is a key area of interest to UNIQLO. Guangzhou is at the very center of this dynamic region, and the product offering from UNIQLO and other Fast Retailing companies is increasingly attractive. UNIQLO is committed to delivering high-quality products and customer service to the people of the region, based on its LifeWear concept. On behalf of Fast Retailing and UNIQLO, I would like to extend my sincere thanks to Yuexiu REIT, developer of Victory Plaza. We look forward to working together, to build the UNIQLO Victory Plaza store into the most distinctive and fashionable destination in the Tianhe business area."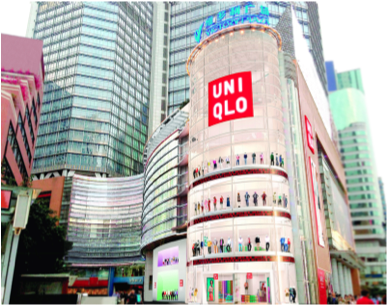 Victory Plaza Store, Guangzhou
■ UNIQLO debuts its Spring, Summer 2014 LifeWear Collection
With the opening of the Victory Plaza Store in Guangzhou, UNIQLO unveils the featured products of the season, including acclaimed LINEN, LEGGINGS PANT, UT and POLO collections. All items in the LINEN collection use quality flax from France, and mix and match well, for stylish versatility. The POLO shirt collection features new modern tailoring and vogue colors, while maintaining its classic features. The DRY-EX POLO special collection, in particular, brings simple designs, rich colors, and a business casual style.
Known as a street fashion innovator, NIGO is UNIQLO's first ever creative director for the UT brand, from this season. A pop culture expert, NIGO steers UT into a new era, with his unique sense of fashion and creativity. For this season, UT has returned to the roots of the T-shirt, and under the moniker The NEW MODEL T, the collection combines art, music, movies, cartoons, and anime elements, for fashionable and distinctive garments for men, women, and children.
Starting from Spring, Summer 2014, UNIQLO also collaborates with fashion icon and global ambassador of Parisian fashion Ines de la Fressange, for a new line featuring exquisite detailing, with pervading French style and feminine charms. The new INES line launches in China with the opening of the UNIQLO Victory Plaza Store on March 28.

Top of page