Last Updated: 2007.10.24
TORAY×UNIQLO strategic cooperation products – stage 2
UNIQLO CO., LTD.


( 105KB )
to Japanese page
TORAY×UNIQLO strategic cooperation products - stage 2
The increasingly sophisticated Heat-tech series goes on sale
UNIQLO CO., LTD. will begin selling its latest heat tech series this autumn/winter season to mark the second stage of the successful working relationship between strategic partners UNIQLO and Toray Industries, Inc.. UNIQLO's Heat-tech series is highly praised every year. This year, we are offering an even more sophisticated Heat-tech range in terms of functionality, variation, and fashion with the Heat-tech Plus Series for men and the Heat-tech Moist Series for women and children. With new backup from TORAY, we have improved our product planning to offer fresh value to even more customers.
■ TORAY x UNIQLO strategic partnership - its success and future direction
- Sixteen months has passed since June 2006 when Toray Industries, Inc. and UNIQLO CO., LTD. first cemented their strategic partnership. That agreement surpassed the traditional boundaries between materials manufacturers and SPA manufacturer/retailers. It enabled us to create a more complete product development spanning materials through final product., and to provide customers with clothing to enhance their lifestyles.
- With the ultimate aim of creating business worth ¥200bln by 2010, both companies have already produced firm results. We have realized a joint working relationship in various areas including the strengthening of production systems, establishment of global operations, and more close-knit operations through the promotion of personnel exchange. Those efforts in the first stage of our partnership resulted in the development of our hit product "non-see through white" pants that went on sale in April 2007.
- Our strategic partnership is now moving into a new phase of even firmer cooperation and ever greater value.
■ Second stage - UNIQLO's increasingly sophisticated heat-tech clothing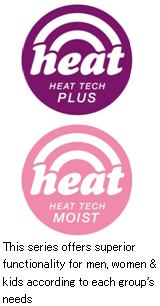 - We have been selling Heat-tech products for four years now. And this year, we are offering even more sophisticated Heat-tech. In our Heat-tech Moist series, we have 12 types for women and 4 types for kids. This series has an even better body fit stretch. In addition to its strong thermal quality, the series also moisturizes the skin by incorporating milk protein in the fiber. This series also offers the long-awaited women's bra camisole and bra tank top for the first time. The garments are sheer, but they are actually really warm inside. For men, we are offering 7 types in the Heat-tech Plus series that moisturize but also help absorb perspiration through a more sophisticated drying function.
- UNIQLO's Heat-tech has proved very popular over the last two years with products selling out in some stores. This year, Toray's stronger production back up should enable us meet store demand sufficiently. We want as many customers as possible to experience the new value of UNIQLO's Heat-tech.
■ Unique features of Autumn/winter 2007 Heat-tech series
<Men's Heat Tech Plus>
Unique features of Heat-tech Plus for men:

   ・Strong heat-retention using hollow spinning thread
  ・Quick drying, sheer fabric made with cationic dye, atypical cross section polyester.
   ・Stretch materials for the perfect fit feel
  ・High level processing technology offers antibacterial feature
* The star shape formation of the cationic dye atypical cross section polyester increases the surface area of the fiber. This makes for a rapid absorption, diffusion and evaporation of perspiration without the body feeling cold.

<Women's & Children's Heat Tech Moist>

Unique features of Heat-tech Moist for women and children:
   ・Micro acrylic for greater warmer and a softer feel
  ・Milk-protein incorporated rayon lends moist feel
  ・Stretch materials for the perfect fit feel
  ・High level processing technology offers antibacterial feature
* By making the acrylic fiber micro fine (1.0dtex), we have not only improved the soft feel, but created more air pockets within the fiber, resulting in an improved thermal effect.