Last Updated: 2007.07.30
London global flagship store opens this autumn!
FAST RETAILING CO., LTD.


( 28KB )
to Japanese page
UNIQLO(U.K.)LTD., one of FAST RETAILING's operating companies, is to open a global flagship store in London's Oxford Street in Autumn 2007. Following on from our global flagship store opened in New York's Soho shopping area last November, the London Oxford Street store will offer an even more sophisticated level of products, VMD, store operation, service and creativity. We will be looking to spread the very latest, and the very best of UNIQLO from Oxford Street, to Europe, and across the globe.
■ A global flagship store to herald the presence of UNIQLO across the globe
We are excited to announce the long-awaited opening of our London global flagship store this autumn, six years after first setting up business in the UK in September 2001. The store will be located at 311 Oxford Street. Opening a global flagship store in this, one of Europe's most famous shopping areas, should prove the quickest and most efficient way to further increase recognition of the UNIQLO brand, and to enable customers from other parts of Europe and the world to directly experience the UNIQLO brand and all that it stands for. One year on from the opening of our global flagship store in Soho New York, we shall once again bring together the very best creative talent to nurture an even sophisticated UNIQLO in terms of top level products, VMD, store operation, service, etc. This year also shows us forging ahead with our UNIQLO global flagship store project.
■ A product line up fit for a 2300sqm, large - format store
We shall make full use of the luxurious 2300sqm floor space at the London global flagship store for an exciting display of our 2007 autumn/winter UNIQLO collection. Key focus will be on our increasingly sophisticated cashmere range, and our premium denim items. We will also have special T-shirts which incorporate the London T-shirt trends. Using our attractive 2007 autumn/winter ranges, we will be looking to make the store an excellent shopping experience for customers from the UK, Europe and beyond.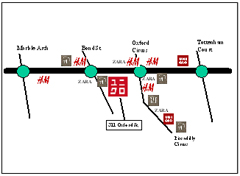 ■ Store overview
Address:
311 Oxford Street, London W1C 2HP
Shop floor:
approx. 2300sqm
Opening:
Autumn 2007
■ UNIQLO(U.K.)LTD overview  
Location:
London, England
Business
representative:
Masayuki Nagatake
Capital:
£9.25mln
(approx. 2.3 billion yen)
Shareholding:
FAST RETAILING CO., LTD.
100%
Established:
August 7, 2003