About UNIQLO
UNIQLO Brand Message
UNIQLO is a modern Japanese company that inspires the world to dress casual.
Mission and Vision
We provide quality, basic casual clothes at affordable prices. Our clothing is fashionable and suitable for anyone, anywhere and anytime.
To achieve this goal, we commit ourselves to a management model that controls costs while streamlining production schedules and minimizing retail prices.
We provide customers with the highest quality service by meeting their demands and offering service that exceeds their expectations.
We provide a pleasant working environment in which our employees around the world can produce innovative results as a team.
Our aim is to become the world's Number 1 casual apparel brand.
The growing UNIQLO global business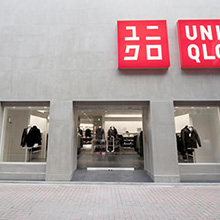 JAPAN
UNIQLO Japan is the nation's largest apparel retail chain with a network of approximately 840 stores. The first UNIQLO store opened in Hiroshima City in western Japan in 1984. The subsequent opening of multiple suburban roadside stores brought rapid growth, culminating in the 1998 fleece apparel campaign which sparked a UNIQLO boom throughout Japan. Since then, UNIQLO has focused on increasing its market share in urban areas, opening three global flagship stores in Osaka and Ginza, Tokyo, and four urban global hotspot stores around Tokyo.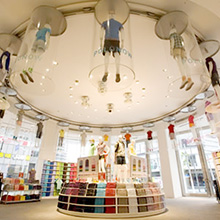 CHINA
UNIQLO opened its first store in Shanghai in September 2002 and we have steadily expanded our network to over 470 stores. Having established a firm framework for personnel training and store development, UNIQLO is now embarking on a period of rapid development in China. With the successful launch of our UNIQLO SHANGHAI Global Flagship Store in September 2013, the largest UNIQLO store in the world, the UNIQLO brand appeal has grown exponentially across the country.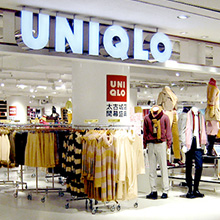 HONG KONG & MACAU
Following the opening of the first UNIQLO store in September 2005, the number of stores in Hong Kong has steadily increased to a total of 25 including Macau Branch which opened in 2013. Among the Asian markets, Hong Kong enjoys a particularly vibrant shopping scene, with great demand from local residents as well as visitors from all around the world.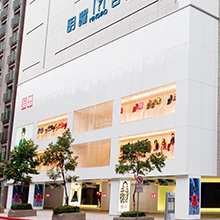 TAIWAN
UNIQLO has been warmly welcomed by customers in Taiwan since opening our first store at the Uni-Hankyu department store in Taipei in October 2010. The launch of our Global Flagship Store the following year - the UNIQLO Mingyao Department Store - instantly elevated the UNIQLO brand in Taiwan, where we now boast a network of over 60 stores.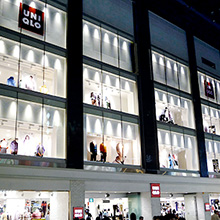 SOUTH KOREA
The first UNIQLO stores opened in South Korea in September 2005 under a joint venture between Fast Retailing Co., Ltd. and South Korea's leading distributor Lotte Shopping Co. Ltd.. Today, Korea is the largest UNIQLO market after Japan and China, with a network of over 170 stores. Thanks to our steadily increasing popularity, UNIQLO became the first apparel brand in South Korea to reach the annual sales landmark of 1 trillion won.

SINGAPORE
The first UNIQLO store opened in Singapore in April 2009 under a joint venture between Fast Retailing Co., Ltd. and Singapore's leading fashion retailer Wing Tai Retail Pte. Ltd. In response to customer's demand, UNIQLO opened the UNIQLO Orchard Central Store in September 2016. As the first Global Flagship Store in the Southeast Asia region, two thousand customers waited in line to be first through our doors on opening day. Today, UNIQLO has a total of 25 stores in Singapore.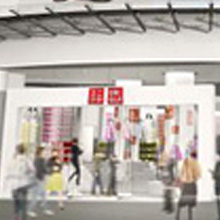 MALAYSIA
UNIQLO launched its first store in Malaysia in November 2010, under the joint venture between Fast Retailing Co., Ltd. and Wing Tai Clothing Sdn Bhd (previously known as a DNP Clothing Sdn Bhd) The venture launched its first store in November 2010 at Fahrenheit 88 and over the years we have expanded throughout Malaysia.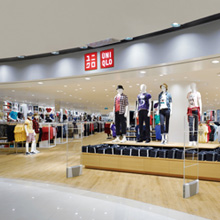 THAILAND
UNIQLO opened its first store in Thailand in September 2011 under a joint venture between Fast Retailing Co., Ltd. and the Mitsubishi Corporation, a Japanese business enterprise. With a warm welcome by Thai customers, UNIQLO has expanded rapidly, growing to over 30 stores today.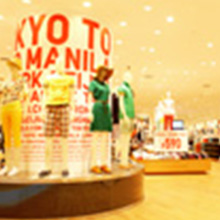 PHILIPPINES
Fast Retailing Co., Ltd. formed a joint venture with SM Retail – the largest retail company and mall developer - to open the first UNIQLO stores in the Philippines in June 2012. Today, UNIQLO stores span the country from Manila to Visaya region, The company is growing rapidly with a network of over 30 stores.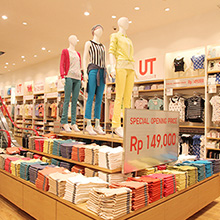 INDONESIA
The first UNIQLO store in Indonesia, the UNIQLO LOTTE Shopping Avenue Store, opened in June 2013 under a joint venture between Fast Retailing Co., Ltd. and Japanese business enterprise Mitsubishi Corporation. Today, UNIQLO has nine stores in Indonesia.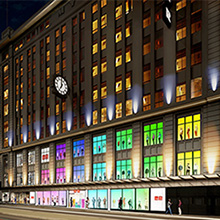 AUSTRALIA
UNIQLO opened its first Australian store in Melbourne in April 2014, followed closely by two stores in Sydney in fall 2014. Since then, our store network has expanded to more than 10 stores.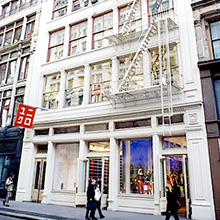 U.S.
In 2006, UNIQLO opened its first ever Global Flagship Store in Soho, New York City, closely followed by stores on 5th Avenue and on 34th Street. Over the following decade, UNIQLO built its US presence with stores along the East and West Coast, and also in the Midwest. Today, we have more than 40 stores, and continue to grow.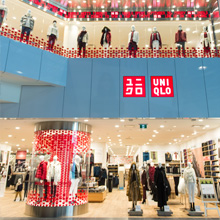 CANADA
UNIQLO opened its first stores in Toronto in the fall of 2016, marking the brand's first entry into Canada and its 18th market globally. Our first store opened in September 2016 at the CF Toronto Eaton Centre, a historic landmark and one of Canada's best-known shopping destinations. This was closely followed by a second store in October 2016, at the Yorkdale Shopping Centre, one of the highest performing shopping centers in North America.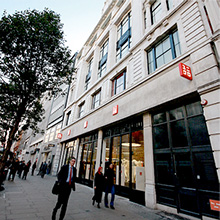 UK
UNIQLO made its first progress toward becoming a global brand when the first UNIQLO store outside of Japan opened in London in September, 2001. Six years later, UNIQLO opened a Global Flagship Store on London's Oxford Street. Today, UNIQLO is located across the Greater London area, with a network of 10 stores.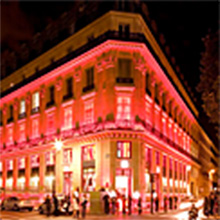 FRANCE
Following the opening of our first store in the Parisian suburb of La Defense in December 2007, UNIQLO opened a Global Flagship Store in October 2009 at the Paris Opera Store. The opening of the UNIQLO Le Marais Store in a unique historic building in the famous Parisian district of the same name in April 2014 has helped boost the brand's visibility. UNIQLO currently has 15 stores in France, with plans to expand the business further across the country.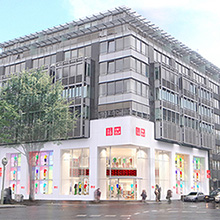 GERMANY
The first UNIQLO store in Germany, the UNIQLO TAUENTZIEN Global Flagship Store, opened in April 2014 on Berlin's Tauentzienstraße, close to Kurfürstendamm, a vibrant shopping district and home to many of the world's top fashion brands. From this strategically-placed location, UNIQLO actively communicates its clothing and lifestyle messages to boost brand recognition across Europe. UNIQLO currently has three stores in Berlin, and recently opened the first store outside the German capital in Stuttgart in October 2016.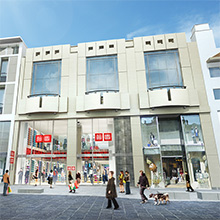 Belgium
The first UNIQLO store in Belgium launched in Antwerp in October 2015, marking the fifth UNIQLO market in Europe. Our second store in the city opened in March 2016 to provide more customers in Belgium with UNIQLO LifeWear – innovative, high-quality clothing that is made for everyone, everywhere. UNIQLO currently has two stores in Belgium.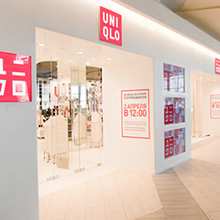 RUSSIA
UNIQLO opened its first store in Russia, the UNIQLO ATRIUM Store, in a leading shopping mall in the heart of Moscow in April 2010. After opening nine stores in the capital city since then, UNIQLO has expanded its business to St. Petersburg, opening our first store there in December 2015, followed by three more toward autumn 2016. There are currently more than 14 UNIQLO stores in Russia.