Our Business

The Fast Retailing Business
Fast Retailing manages multiple brands worldwide, including UNIQLO, GU, Theory, PLST, HELMUT LANG, Comptoir des Cotonniers, Princesse tam.tam and J Brand.
Today, every one of all ages uses the internet, and that is dramatically influencing the way we shop. To stay abreast of changing needs, we are transforming ourselves into new, dynamic industry, "a digital-powered retailer and manufacturer of apparel" to expand our business.
UNIQLO, the Fast Retailing Group's mainstay brand, offers high-quality, basic casualwear at reasonable prices via network of 1,800 stores in 18 countries and regions.
One of UNIQLO's competitive advantages is its ability to develop revolutionary products made from unique functional materials, such as HEATTECH and AIRism.
In addition to Japan, Greater China (Mainland China, Hong Kong and Taiwan) and Southeast Asia are likely to be the primary drivers of future growth.
GU, the Group's second pillar brand, is also growing rapidly as a brand offering fashion, freedom and fun. The GU's success leads by its ability to instantly commercialize the latest popular trends into fun fashion items at amazingly low prices.
Global Brands such as Theory, HELMUT LANG are also sold with a large presence worldwide.
Our Target by 2020 is to achieve annual sales of ¥3 trillion and 15% operating profit margin. Our strategy for growth is to promote the future growth of UNIQLO international, aggressively expand online sales, build GU into a second pillar brand with annual sales of ¥1 trillion.
Fast Retailing aims to become the world's No.1 apparel company by creating clothes and services that enrich people's lives everywhere.
Fast Retailing Sales & Milestones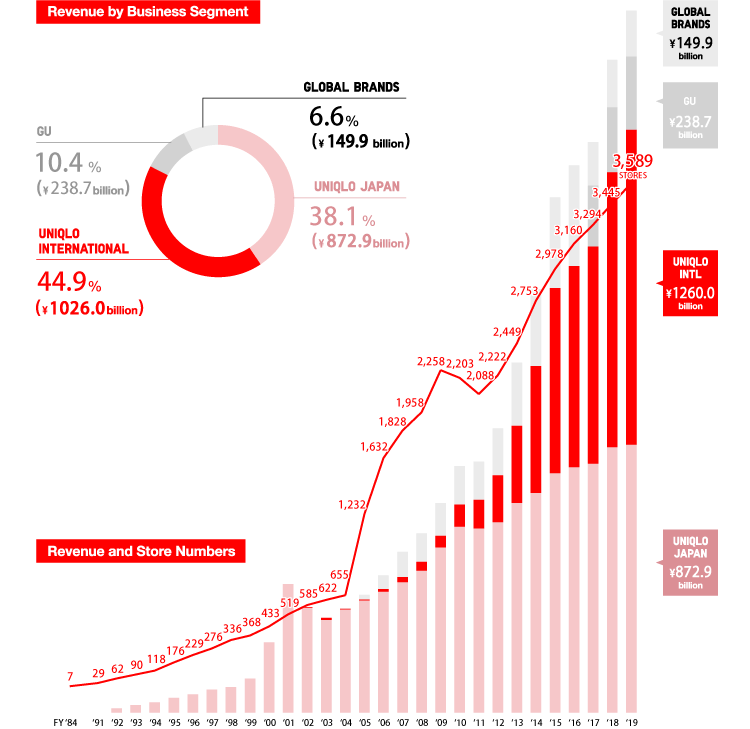 | | |
| --- | --- |
| Note: | All figures are reported on a consolidated basis from fiscal 2002 and are in line with International Financial Reporting Standards (IFRS) from fiscal 2014. |
Comparison of Leading Global SPA (Specialty Store Retailer of Private Label Apparel)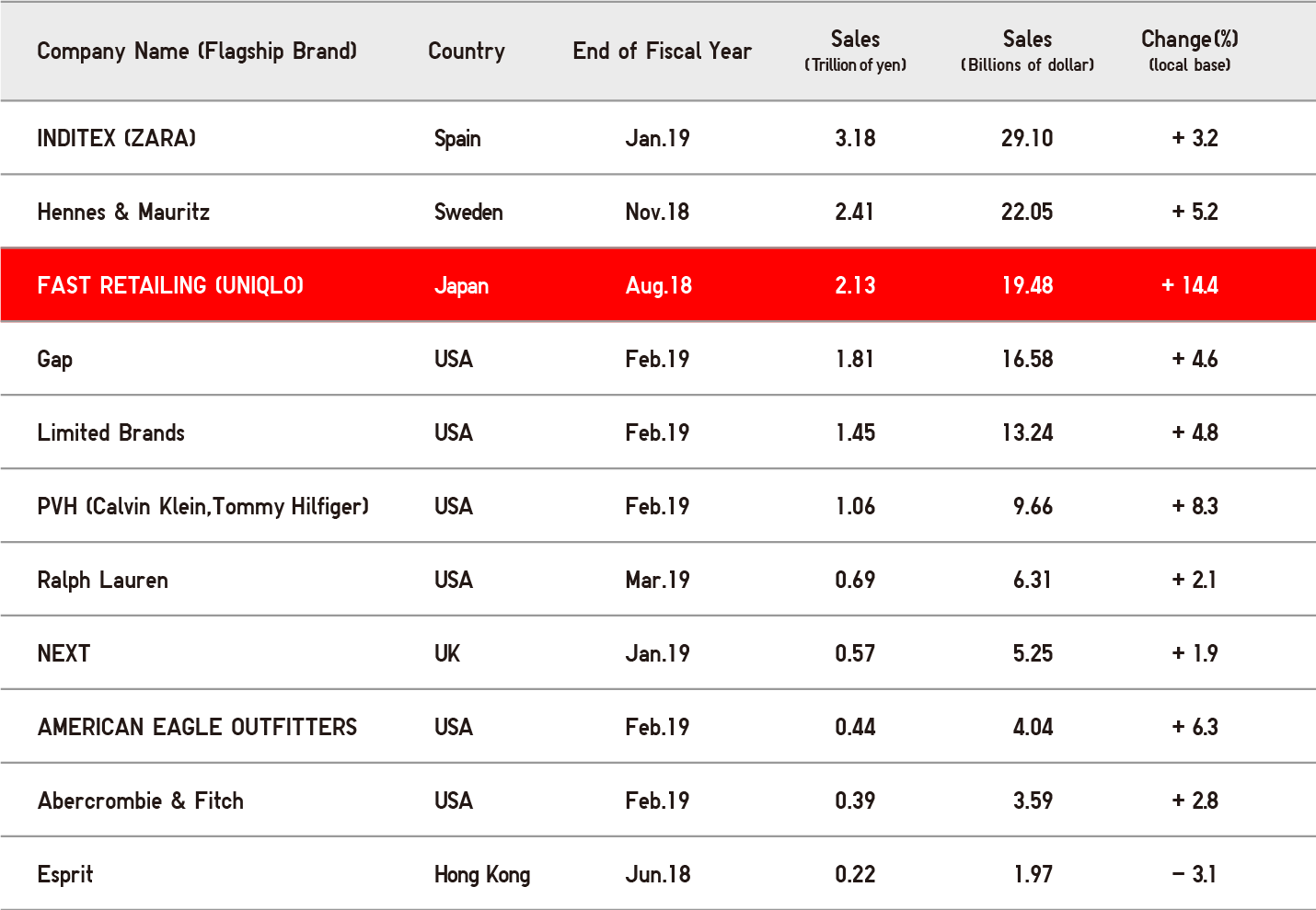 Note:
Based on the annual reports of each company. Calculations are based on the exchange rate at the end of August 2016 ($1 = ¥103.2).
SPA stands for "Specialty Store Retailer of Private Label Apparel." An SPA's business model spans the entire clothing value chain, from the procurement of materials to product planning, development, production, distribution, retail and inventory management.