Our Business

The Fast Retailing Business
Fast Retailing is a leading global Japanese apparel group that sells clothing under the following eight brands: UNIQLO, GU, Theory, PLST, Helmut Lang, Comptoir des Cotonniers, Princesse tam.tam and J Brand. Among these, its core UNIQLO brand is one of the world's leading apparel producers. UNIQLO is an SPA (Specialty Store Retailer of Private Label Apparel), spanning the entire value chain from product planning, production and distribution to retail.
The company aims to contribute to society through its clothing and its business. Based on its corporate statement of "Changing clothes. Changing conventional wisdom. Change the world", Fast Retailing strives to create truly great clothing with new and unique value, so it can enrich people's lives.
The first UNIQLO store opened in Hiroshima, Japan, in 1984. In 1998, the company's popularity soared in Japan due to a successful sales campaign for Fleece products. The UNIQLO brand quickly became a household name throughout the country.
In 2001, UNIQLO opened its first overseas store in London. This also marked the start of its international expansion. UNIQLO currently has more than 1,500 stores in 16 markets throughout the world, including Japan.
As a new global company, Fast Retailing hopes aims to reach annual sales of ¥5 trillion and aims to become the number one apparel group in the world. It currently employs about 90,000 people throughout the world. To expand its brand portfolio, it began acquiring foreign brands such as Theory, headquartered in New York and France's Comptoir des Cotonniers and Princesse tam.tam.. The group is now trying to turn its GU brand in Japan into a highly competitive SPA, like UNIQLO. GU has also expanded into foreign market in the only seven years since the brand was established in 2006.
Talented people throughout the world have come together to share Fast Retailing's values and principles, as the group steadily works toward its goal of ¥5 trillion in sales.
Fast Retailing will continue to focus on its Global One approach to management, which is all about adopting the world's best methods. It will also continue to prioritize its philosophy of Zen-in Keiei, which encourages all employees to adopt the mindset of business leaders. Under Global One and Zei-in Keiei, the group follows best practices at the local and global level.
Fast Retailing hopes to continue to become a trusted international name as its brands expand throughout the world.
As of May 2015
Fast Retailing Sales & Milestones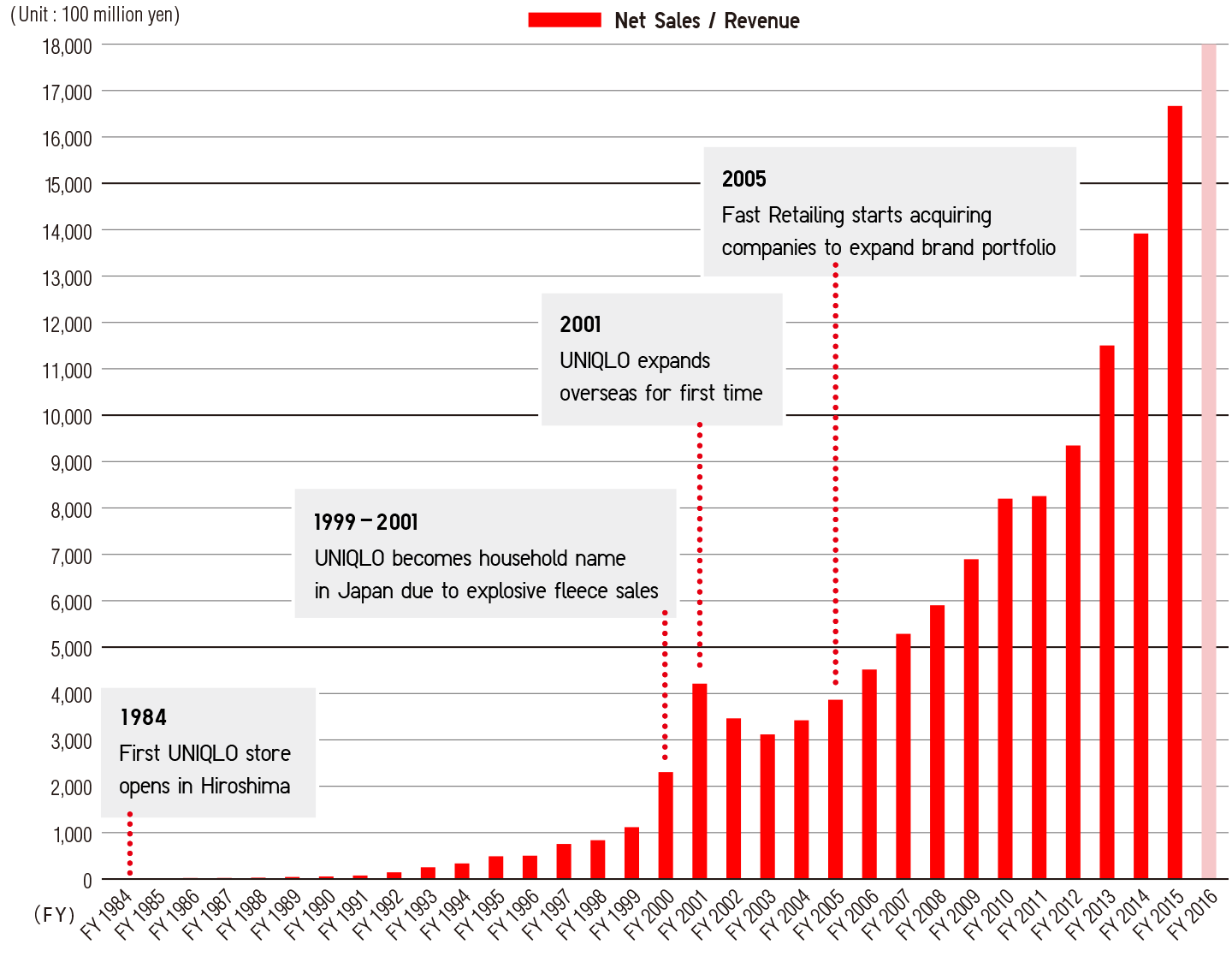 | | |
| --- | --- |
| Note: | All figures are reported on a consolidated basis from fiscal 2002 and are in line with International Financial Reporting Standards (IFRS) from fiscal 2014. |
Comparison of Leading Global SPA (Specialty Store Retailer of Private Label Apparel)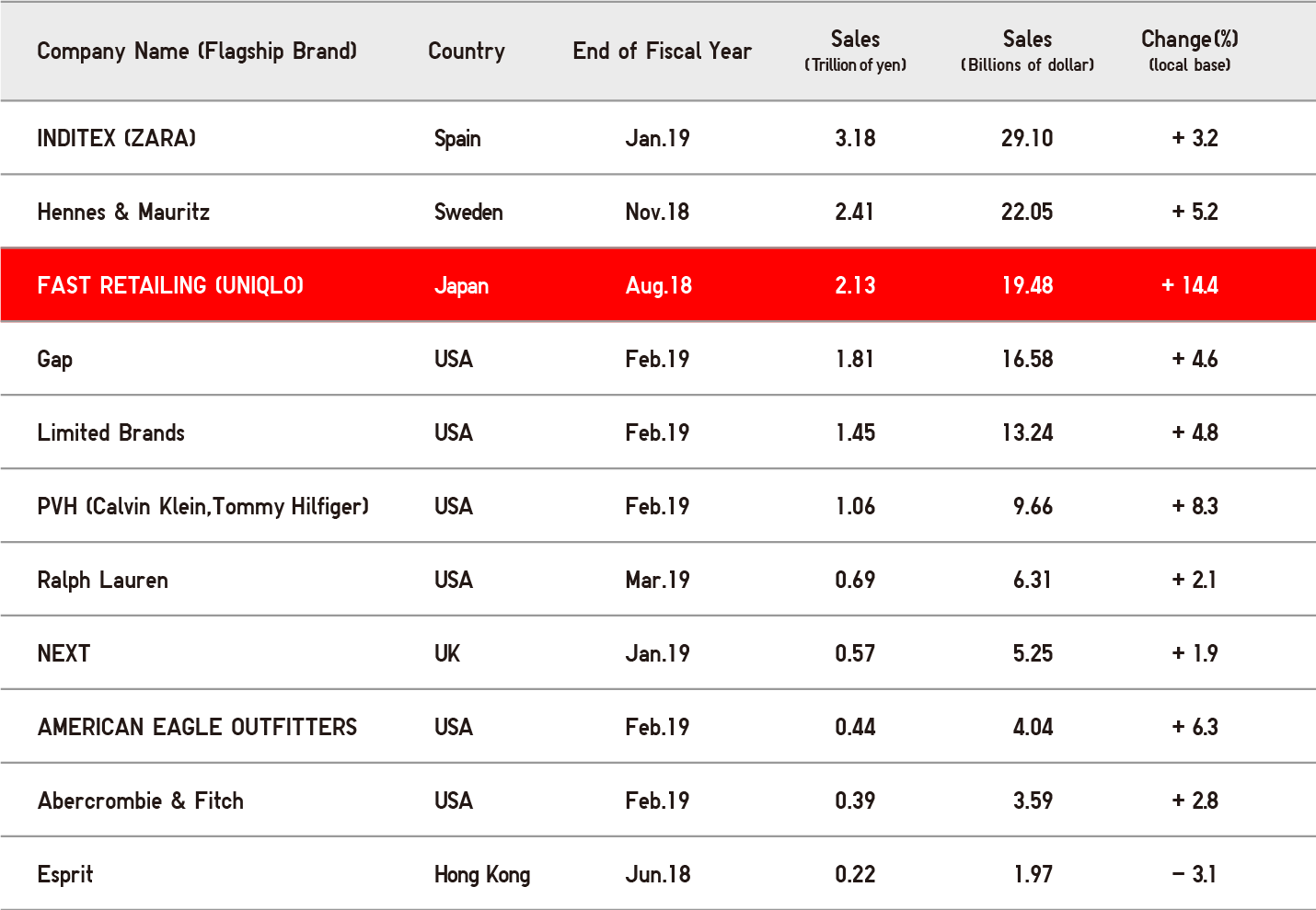 Note:
Based on the annual reports of each company. Calculations are based on the exchange rate at the end of August 2016 ($1 = ¥103.2).
SPA stands for "Specialty Store Retailer of Private Label Apparel." An SPA's business model spans the entire clothing value chain, from the procurement of materials to product planning, development, production, distribution, retail and inventory management.