Last Updated: 2017.05.30
to Japanese page
Health and Safety at Fast Retailing Japan
In Japan, the Industrial Safety and Health Act requires businesses ofmore than 50 employees to have nationally certified health supervisors and occupational physicians on staff.
Activities are supervised by the Central Safety and Health Committee. Our supervising physician chairs a monthly committee meeting that brings health and safety managers
from each business segment together to share information and establish improvement plans.
Improving work-life balance in Japan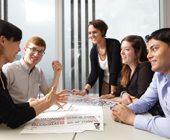 How we encourage Tokyo HQ employees to enjoy a work-life balance:
1. Office lights out at 6pm every day
2. Fitness training and yoga classes
3. Family days
4. Happy hour food and drink at subsidized rates every Friday in the company cafeteria
Healthy employees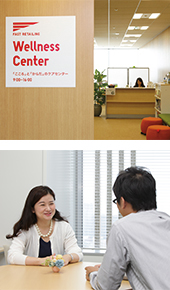 At our Wellness Center at Fast Retailing's Tokyo Headquarters, we give employees easy access to healthcare. The Wellness Center is home to occupational physicians and nurses who provide medical advice and daily consultation. They also periodically distribute health information.
Alongside this, all employees in Japan have access to mental health guidance from a counselor, and receive mental health training that is tailored to their job role. We also ask employees to complete a stress questionnaire and we send their results back to them. Where any stress-related issues arise at stores or in departments, we ask senior managers to submit an analysis and an improvement plan.
Going forward we will work to expand health support services in all of our markets worldwide.
Arrangements to Aid Infant and Nursing Care
Fast Retailing supports its employees in their bid to balance work and key events in life. We fashion arrangements that encourage long-term employment to ensure continuous personal and corporate growth.
We have put in place leave and reduced working hour systems for infant and nursing care in order for our employees to realize the various lifestyles of their choosing when raising their children as well as when undergoing mid-to-older life transitions. We further various systems to support both maternity/infant care and work while making every effort to create an environment all of our employees can use comfortably. We make reduced working hours for infant-care available to employees until their children reach third grade. We also offer nursing-care leave up to one year and reduced working hours for nursing-care up to three years without any limit on the number of times employees caring for an older family member may take advantage of these programs. In addition, we run our own unique flex-time system tailored to the actual needs of these employees.
UNIQLO Japan offers a range of programs supporting a balance between family and work. These program appoint an assistant manager to oversee duties so that store managers with children up to elementary school can take time off to attend school events, even during the busy seasons as well as allow employees to work close to local stores as regional employees without worry of transfers. We have also introduced a telecommuting program for employees at the headquarters who satisfy certain conditions. This program is used by many employees for various purposes that include caring for their children and elevating the hassle of traveling to work.
Employees Using Infant and Nursing-Care* in Japan (Fiscal 2016)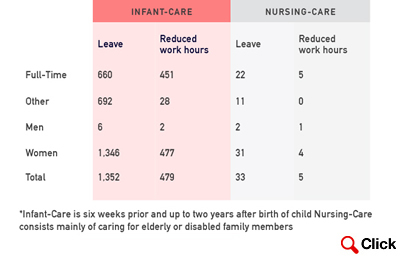 Workplace Accident Prevention
We acknowledge the number of accidents is increasing year-on-year and are putting measures in place to ensure greater safety. This includes proactive dissemination of preventive measures to stores, such as the use of ladders and the moving of fixtures during layout changes, which are the two most prevalent reasons for workplace accidents.
Number of Work-Related Accidents in Japan
Fiscal 2014 703
Fiscal 2015 802
Fiscal 2016 851

Top of page