Last Updated: 2017.05.30
to Japanese page
Advancing Careers for Women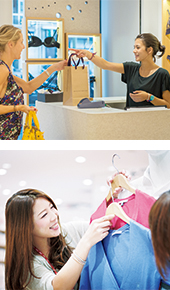 The majority of our customers and employees are women. But right now, women are underrepresented in senior positions at Fast Retailing.
This is now one of our Human Resources (HR) Department's highest priorities. In Japan, HR identified potential female leaders and provided them with special training and supervisor support to prepare them for promotion within a few years.
While encouraging women to take senior leader positions, we understand there is the perception that occupying a senior position leads to a loss of work-life balance. So our Diversity and Inclusion Office in Japan spearheads women empowerment efforts to promote a work-life balance. These include Women's Direct Meetings, a dialogue of more than 180 female store and senior managers from UNIQLO Japan; training for female store managers supported through mentoring by female senior management; and a conference for female store managers with children.
Our goal is to maximize participation in these initiatives and others, helping women to thrive and advance across the company.
Ratio of Female Employees by Position in the Fast Retailing Group
(As of August 31, 2016)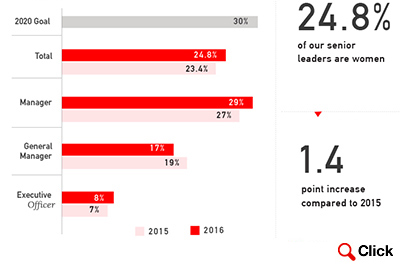 Employment for People with Special Needs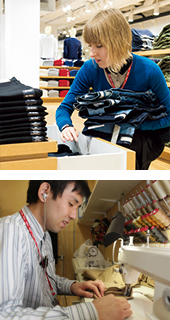 To learn and grow together as a team, transcending physical and intellectual differences - this is the Fast Retailing Group's basic, universal approach to employing persons with disabilities and what drove Fast Retailing to begin an active hiring program at UNIQLO stores in Japan in 2001.
By 2012, Fast Retailing had nearly reached its initial target of employing one person with a disability per store in Japan. Similar progress is being made globally: persons with special needs now account for 1,585 employees in 15 countries and regions.
Number of Employees with Disabilities in the Fast Retailing Group (As of August 31, 2016)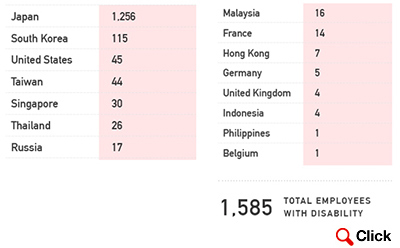 Regional Regular Employee Program: Broadening Career Options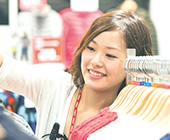 Japan's Regional Regular Employee Program allows temporary store employees to rise to permanent employee status within a limited geographic area of their choice. The program offers a variety of work schedules, such as reduced work hours and four-day work weeks. Moreover, many of these employees have strong ties to the community, and are able to provide insight on how to better meet the needs of local customers and the community at large.

Top of page