Last Updated: 2017.05.30
to Japanese page
Introduction
We believe that a sustainable business is one that enables people to reach their full potential. Any business that does not continuously strive to be sustainable, particularly with regards to its people, is not viable in the long term. That is why respecting human rights and diversity is at the heart of our business philosophy. We aim to provide supportive workplaces that enable a better work-life balance, and environments that empower ambitious people to generate unique value so they can take pride in their work.
Commitments
Protect employees' basic human rights, respect diversity, and create value through teamwork.
Minimize the number of workrelated accidents.
Link employee growth to company growth through fair and transparent evaluations.
Continue to support the hire, training and development of people with disabilities, and refugees.
Material issues
Ethical behavior & business partnership
Work-life balance & job satisfaction
Talent recruitment & retention
Valuing Human Rights and Diversity
Fast Retailing has formulated the Fast Retailing Group Code of Conduct as universal guidelines and basic requirements for all employees to follow. The CoC sets out clear behavioral standards for employees to observe as "autonomous individuals" across a range of areas, including human rights, compliance, the natural environment, company assets and information management. Through instruction and training, Fast Retailing encourages its employees to take an ethical approach in everything they do.
The Fast Retailing Group views diversity as a key differentiator for its business. By supporting women's advancement, employing persons with special needs and advancing a regional regular employee program (which allows temporary store employees to rise to permanent employee status within a limited geographical area of their choice), Fast Retailing aims to be a place where employees can grow with the company over the long run.
Fast Retailing Group Employees by Country and Region (As of August 31, 2016)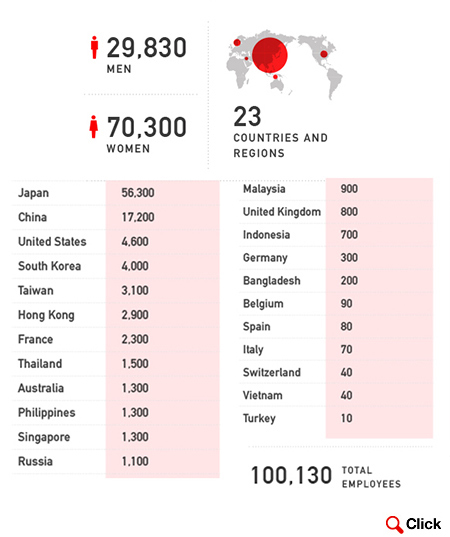 Top of page