Last Updated: 2014.07.11
to Japanese page
Developing Products of Exceptionally High Quality
To ensure the development of products of exceptional quality, UNIQLO has refined its SPA* (Specialty store retailer of Private label Apparel) business model, allowing for control of the entire business process — from planning and design to material procurement and sales.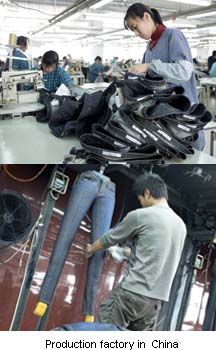 UNIQLO is continuously developing products of exceptional quality, in order to "create clothing with new and unique value and to satisfy customers worldwide."
Product Development Based on Customer Feedback
Customer opinions and needs play a vital role in UNIQLO's product development. The UNIQLO Customer Center receives approximately 90,000 comments from customers annually. Our HEATTECH products, for example, have been refined each year based on customer feedback — such as comments asking for softer fabric, a function to keep skin both warm and prevent dryness and an expanded range of colors. It is precisely this customer feedback that makes it possible for UNIQLO to produce the high-quality apparel that it does.
Material Procurement from Around the World
The UNIQLO Material Development Team is able to procure high-quality materials at low costs through direct negotiations with and bulk purchases from material manufacturers globally. For instance, take the denim fabric that is nearly synonymous with UNIQLO. This is woven, dyed and manufactured to meet UNIQLO's specifications by the global denim manufacturer KAIHARA Co., Ltd.. In addition, it is efforts like this that have made it possible for UNIQLO to secure high-quality, long-staple cotton — which can only be harvested from three percent of the world's cotton plants — for UNIQLO's popular Extra-Fine Cotton plain T-Shirts.
Expert Technical Guidance at Factories Emphasizes Quality
In order to produce millions of products of standardized quality, it becomes important to implement quality control across factory production technology and management. UNIQLO has a team of technical specialists, known as the Takumi Team, boasting many years of experience in the Japanese textile industry. These specialists are sent directly to our partner factories in China to offer technical instruction and share their abundant experience. At the same time, the supervisors from the Production Department, based in the Shanghai office, make weekly visits to partner factories to check the quality and progress of production.
* SPA stands for "Specialty store retailer of Private label Apparel," meaning that the company's activities are fully integrated from manufacturing through sales, including material procurement, design, product development, production, distribution, inventory management and final sales.

Top of page
Becoming Japan's Top Brand by Expanding Urban Market Share
Boost Market Share in Promising Urban Areas
According to the Ministry of Economy, Trade and Industry (METI), Japan's department store, supermarket and apparel retail sales totaled 10.7 trillion yen in 2007. Based on METI's data, UNIQLO's market share in Japan in 2013 was 6.2%. (Its 2013 menswear market share was 10.0%, and its women's wear market share was 4.7%.) However, given its origins as a chain of suburban roadside stores, UNIQLO has traditionally been underrepresented in major urban areas such as Tokyo, Osaka and Fukuoka.
Since opening our first in-mall stores in 2004, UNIQLO's image has been transforming from a suburban discount retailer to a high-quality, high-street brand. Commercial property developers recognize UNIQLO's power to attract customers, and we receive many invitations to open stores from prime large-scale shopping malls, urban department stores and fashion buildings.
Our new global hotspot store, the BICQLO Shinjuku East Exit Store, has enjoyed great success in a location formerly occupied by a prominent department store. We will continue to expand our urban market share by aggressively opening stores in major cities. In spring 2014, we plan to open global hotspot stores in Ikebukuro and Okachimachi, two thriving Tokyo commercial districts on a par with Shinjuku.
UNIQLO's Successful Large-Scale Store Model
Maintains Efficiency and Boosts Total Sales Floor Space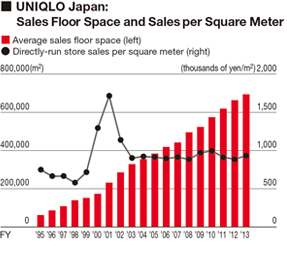 In 2005, UNIQLO began opening large-scale stores of over 1,600 square meters in Japan. Today, large-scale stores account for approximately 20% of UNIQLO's total, and the majority of openings are of large-scale stores. As we expand our total sales space, we are careful to avoid any cannibalization of business. When we open a new large-scale location, we make sure to close regular-sized (800 square meters) stores nearby.

In the apparel industry, sales and profitability per square meter in a given store typically decrease as sales area increases. However, UNIQLO's business model for profitable large-scale stores has proved highly successful. UNIQLO's big break came with the opening of a store in Tokyo's trendy Harajuku district. In 2000 and 2001, our popularity surged, and sales per square meter increased. Since then, we have maintained sales per square meter of approximately one million yen per year (the figure in fiscal 2013 was 933,000 yen).

Top of page
Expanding UNIQLO International
Expanding UNIQLO's Presence in Global Markets
In the year ending August 2014, we expect UNIQLO International sales will increase to ¥400.0 billion, operating income will expand to ¥35.0 billion, and the number of UNIQLO stores located outside of Japan will rise to 632 stores. UNIQLO International already accounts for over 30% of total UNIQLO sales. Favorable new-store expansion in the Asian region has proved the key driver of recent growth, and we are now focusing our attention on another promising location for future expansion: the United States.
Within the Asian region, our Greater China operation (China, Hong Kong and Taiwan) is growing rapidly, with approximately 100 new stores opening each year. We have expanded our horizons for new store openings across Southeast Asia and Oceania, encompassing Singapore, Malaysia, Thailand, the Philippines, Indonesia and Australia. Across the Pacific, we have now reached a point where we can begin building a genuine store network in the United States. We aim to expand our store network in the United States to 100 stores over the next few years by opening between 20 and 30 new stores each year.
■UNIQLO International Business Performance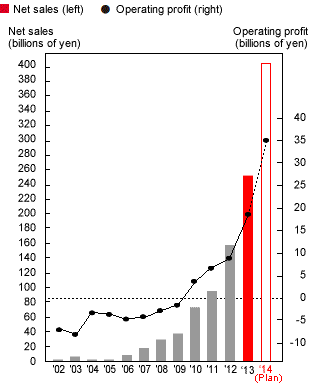 ■UNIQLO Stores by Region (Forecast as of 10 July, 2014)
FY to Aug. 2012
FY to Aug. 2013
FY to Aug. 2014
(Forecast)
End
Aug.
YoY
End
Aug.
YoY
End
Aug.
YoY
Japan
845
+2
853
+8
852
-1
China
145
+65
225
+80
305
+80
Hong Kong
16
+1
18
+2
22
+4
Taiwan
17
+16
37
+20
46
+9
South Korea
80
+18
105
+25
134
+29
Singapore
7
+2
12
+5
18
+6
Malaysia
5
+3
10
+5
21
+11
Thailand
4
+4
10
+6
20
+10
Philippines
1
+1
6
+5
16
+10
Indonesia
-
-
1
+1
4
+3
Australia
-
-
0
+0
1
+1
U.K.
10
-1
10
+0
10
+0
U.S.
3
+2
7
+4
26
+19
France
2
+1
3
+1
6
+3
Russia
2
-1
2
+0
4
+2
Germany
-
-
0
+0
1
+1
UNIQLO
Total
1,137
+113
1,299
+162
1,486
+187
Building Our Brand through Flagships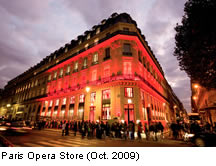 Global flagship stores in major cities around the world will become an increasingly important part of our strategy to build an international store network. These stores are ideal showcases for promoting the UNIQLO brand concept of highquality basic clothing to the world.
Since opening our first in New York's Soho district in fall 2006, we have subsequently opened global flagship stores in London, Paris, Shanghai, Shinsaibashi in Osaka, Taipei, New York's Fifth Avenue, Seoul, Hong Kong, Ginza and Berlin.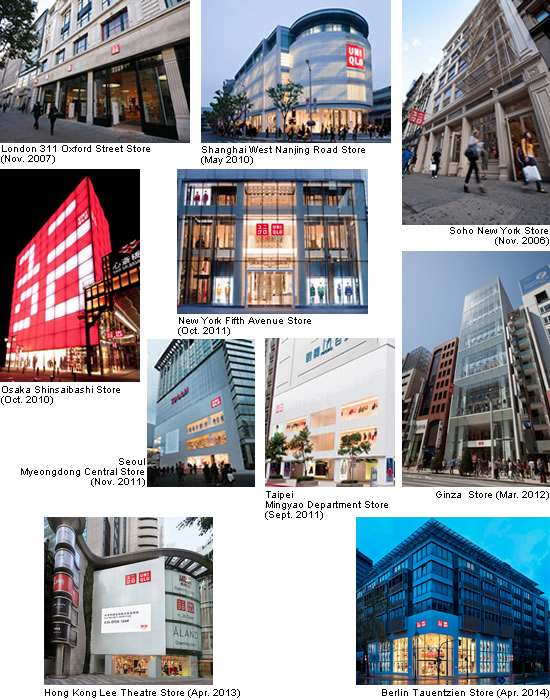 Top of page
HEATTECH
HEATTECH is the result of collaboration between UNIQLO and Toray Industries, Inc. HEATTECH is a unique highly functional line of innerwear that offers amazing comfort, which has won over a multitude of customers.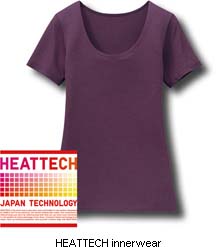 We developed HEATTECH in response to customers' demands for functional innerwear to complement UNIQLO's previous lineup of mostly cotton innerwear. Our debut HEATTECH product line was launched in the fall/winter 2004 as warm innerwear for men, combining the merits of heat-retention and anti-perspiration functions. The following year we began selling similar products for women. By combining our original HEATTECH fibers with a special milk protein, we were able to create a fabric that is smooth, soft and comfortable. The products proved so popular in the 2007 fall/winter season that production was nearly outpaced by demand.
UNIQLO relentlessly strives to create world-class products of the highest caliber and will not compromise on quality. One example of this commitment to quality is the strategic partnership formed with Toray in June 2006. Toray had the technology and manufacturing capability to meet UNIQLO's high quality standards, and together we pushed the boundaries of technology to create the fiber LOC Ⅱ "CEO
" ®, the foundation for HEATTECH. This synthetic fiber is soft yet durable, and can be created in a wide range of vibrant colors. HEATTECH's superior functionality lies in this highly advanced original fiber. To meet the high demand for HEATTECH, we have increased the production capacity of Toray's Ishikawa Plant with an exclusive HEATTECH production line.
The hallmark qualities of HEATTECH are its thinness, lightness and softness, and the comfort achieved by the elasticity of the fabric is so outstanding that it has continued to both greatly impress and satisfy our customers.

Top of page
AIRism Comfort Takes the World by Storm
Comfort Unlimited
Any Person, Any Season, Anywhere
AIRism functional innerwear has taken its place alongside HEATTECH as one of our global strategic product brands. Wearing AIRism eliminates the sweaty feeling you get in hot, humid weather. Ultra-fine fiber technology regulates the circulation of the air between your skin and your outer layers of clothing for a light, cool, soft feel.

For men who struggle with sweat-stained clothes, UNIQLO and leading synthetic fiber manufacturer Toray Industries have developed ultra-fine microfibers that quickly absorb and dry away perspiration and feel so soft that you often forget you are wearing them. AIRism's lines for women combine breathable, natural cupro fibers (produced by top materials manufacturer Asahi Kasei) with Toray's micro nylon to keep women dry and reduce the chill factor associated with air conditioning. With a single piece of innerwear that guarantees comfort, UNIQLO's products are changing people's lives worldwide.
Resounding Global Support
98.7% Vote Yes To AIRism's Comfort Unlimited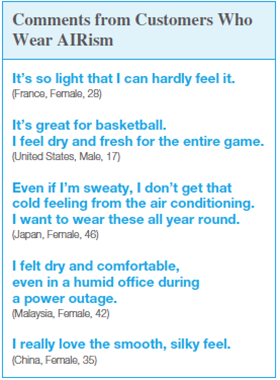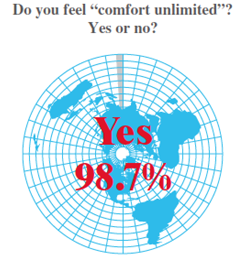 100,000 participants in 13 countries and regions where UNIQLO operates were asked to try the new AIRism lines and decide whether they felt "comfort unlimited." During the voting period, from June 1 to July 15, 2013, 98.7% voted yes.

Top of page