Last Updated: 2018.06.04
to Japanese page
Company Introduction
Established:
September 2, 1974
Location:
717-1 Sayama, Yamaguchi City, Yamaguchi 754-0894, Japan (Head Office)
Midtown Tower, Akasaka 9-7-1, Minato-ku, Tokyo 107-6231, Japan (Tokyo Office)
MAP
6F UNIQLO CITY TOKYO, 1-6-7 Ariake,Koto-ku, Tokyo 135-0063, Japan (Ariake Office)
MAP
Line of Business:
Retail chain operator specializing in in-house designed casual clothing for men and women of all ages. Operates stores under the name of UNIQLO.
Net Sales:
780.1 billion yen (Year to August 2015)
Number of Stores:
833 stores (As of May 31, 2018)
* UNIQLO direct-run stores: 790 stores
* UNIQLO franchise stores : 43 stores
100% consolidated subsidiary
http://www.uniqlo.com/jp/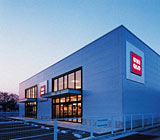 UNIQLO Japan is the nation's largest apparel retail chain with a 6.5% share of the ¥10.7 trillion Japanese apparel market, and a network of 841 stores at end of August 2015 generating annual net sales of over ¥780.1 billion.
The first UNIQLO casualwear store opened in Hiroshima City in western Japan in 1984. The subsequent opening of multiple suburban roadside stores brought rapid growth, culminating in the 1998 fleece apparel campaign which sparked a UNIQLO boom throughout Japan.
UNIQLO has been focusong in increasing its market share in urban areas, opening three global flagship stores in Osaka and Ginza, Tokyo, and four urban global hotspot stores in the Tokyo capital.
Latest Update

UNIQLO's Newest Global Flagship Store, UNIQLO OSAKA, Opens October 31
(2014.10.30)

UNIQLO to Launch Large-Scale Store in Tokyo's Okachimachi (2014.03.17)

UNIQLO to Launch Large-Scale Store in Tokyo's Ikebukuro (2014.01.09)

Japan store locator

UNIQLO online store

UNIQLO store openings/closings (Japan)

Top of page