Last Updated: 2014.02.17
to Japanese page
Transforming UNIQLO into a Truly Global Brand
UNIQLO Builds its Position in the Global Marketplace
In fiscal 2013, the number of UNIQLO stores located outside Japan rose to 446, which is one third of the total. The growth of UNIQLO International is increasingly important to our business. UNIQLO is drawing worldwide attention as an up-and-coming apparel manufacturer and retailer from Asia, in a global industry that has been led primarily by European and American brands. The scale of business generated by UNIQLO International will one day overtake that of UNIQLO Japan, and it will then become the undisputed growth driver for the Fast Retailing Group.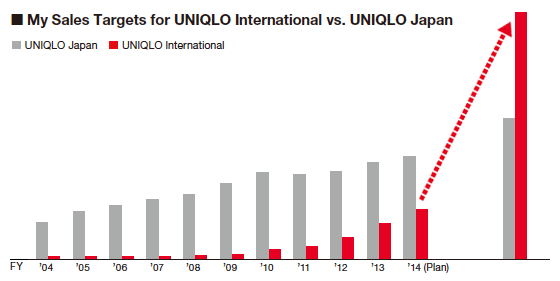 Gold Rush Opportunities Abound in Asia and the Pacific Rim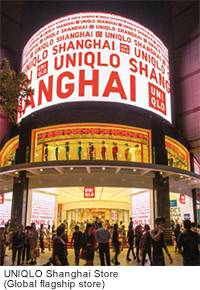 UNIQLO International's growth has been underpinned by strong economic activity in the Pacific Rim, encompassing China, South Korea, Southeast Asia, Oceania and the West Coast of the United States. The situation seems to me like a "gold rush." Global development used to revolve around Europe and the United States. Now Asia is the focal point for generating prosperity and eradicating poverty. This historic change is creating huge business opportunities. With our business bases in Japan and mainland Asia, Fast Retailing can use its geographical advantage over major European and American apparel brands.

Disposable incomes are expected to grow strongly in China and Southeast Asia, and the middle-income population is expected to increase fast. In the 1990s, Japan's apparel market was slightly smaller than that of the United States', at 11 trillion yen (95 billion dollars)*, and subsequently decreased to 9 trillion yen (88 billion dollars)* following the bursting of Japan's economic bubble. By contrast, the American apparel industry expanded with the broader economy to reach 36 trillion yen (370 billion dollars)*.

Today the Chinese apparel market is estimated at 30 trillion yen (310 billion dollars)*, Asia is expected to become the world's largest apparel market within a few years assuming China and other Asian economies continue their robust growth. The region's vast number of young people could fuel an explosion in apparel demand. We are swiftly building operations in Asia that will enable us to take full advantage of this phenomenal business opportunity.
*According to Euromonitor International and Textile Industry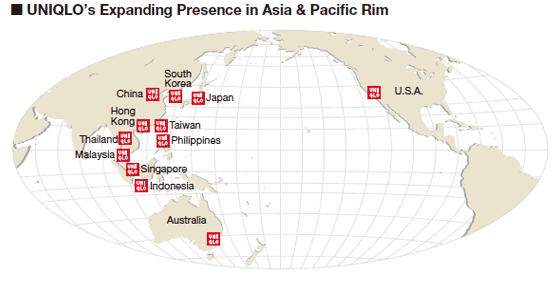 High Expectations for Expansion in the U.S.
Retail Chains Now a Real Possibility
At the opening of the UNIQLO San Francisco Union Square Store in October 2012, the majority of customers were of Asian descent. With its innovative IT industry, strong economic growth, and diverse, young population, the West Coast reminded me of Asia's many vibrant economies.

Favorable conditions on the West Coast increase our prospects for business expansion elsewhere in the United States. Sales from the 10 in-mall stores we opened on the East and West Coasts in fall 2013 have outstripped our expectations. The Menlo Park Mall store in New Jersey, for example, achieved stellar sales of 10 million yen on opening day. This success is significant given UNIQLO's short-lived presence in the very same mall eight years earlier. Back then, sales on opening day totaled only one million yen, largely because consumers in the United States were still unfamiliar with the UNIQLO brand. Today, the UNIQLO brand is much better known, and the new store attracted considerable attention in the local media.

The opening of the New York Fifth Avenue Store in October 2011 seems to have marked the turning point for UNIQLO in the U.S. Once we had opened a dazzling global flagship store at the heart of the most famous fashion boulevard in the United States, Fast Retailing received dozens of invitations from large-scale developers to open outlets in malls nationwide. Today, UNIQLO attracts extremely talented and effective local managers. The local management team at UNIQLO USA has begun flexing its muscles, and in the future I expect to see chains of 100 stores on both the East Coast and West Coast.
LifeWear — A New Clothing Category
LifeWear — Comfortable Fashion Enhancing Everyday Life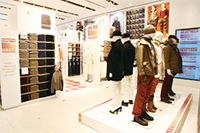 UNIQLO has refined its MADE FOR ALL clothing concept into something new: LifeWear. LifeWear clothes are designed to enrich people's lives and enhance their everyday comfort.

Let's look at fashion history. Europe invented the dress. Then, in the United States work clothes evolved into jeans, while undergarments became T-shirts. Casualwear and sportswear followed. UNIQLO wants to create the next category of clothing, the clothes of the future. LifeWear apparel is high-quality, fashionable basic wear that enables people to go about their daily lives with ease and comfort.

Prime examples include UNIQLO fleece, highly functional HEATTECH and AIRism innerwear, Ultra Light Down, and cashmere sweaters. Our quest is to perfect these ranges and create clothes that people everywhere love to wear.
True Globalization Demands Focused Localization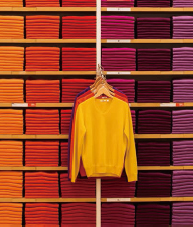 The simultaneous pursuit of globalization and localization may appear contradictory, but it is actually vital if we are to optimize the success of LifeWear. UNIQLO clothes have evolved from Japanese ways of life. As we expand globally, we must adapt UNIQLO clothes to suit local cultures and lifestyles.

To boost UNIQLO's presence in malls across the United States, we must identify and develop everyday wear to suit the needs of suburban American consumers. Consumers at our American high street stores, including New York Fifth Avenue, have so far proved similar to those in Tokyo and other global cities. However, the consumer base outside of the major U.S. cities is more diverse in terms of ethnicity, body size and shape, and preferred colors and styles. UNIQLO must provide the right mix of everyday wear, which is so vital to daily wellbeing, not only in the United States but in every market.

Our U.S. management team, made up of designers and merchandisers with lots of experience in the market, is beginning to adapt UNIQLO products to local needs. This strategy of focused localization will help UNIQLO become a strong brand globally.
A New Approach for UNIQLO Japan
Marketing to Highlight UNIQLO's
Unparalleled Materials and Product Functionality
In fiscal 2013, sales at UNIQLO Japan rose rapidly, while profits shrank. To ensure that profits recover in fiscal 2014, we are reviewing our marketing strategy, improving control over profit margins and increasing production volume accuracy.

On the marketing front, we are drawing attention to the high quality and superior functionality of UNIQLO products. We will continue to actively promote how these highly functional materials are revolutionizing the way we wear clothes. I have great respect for Peter F. Drucker, the famous business management expert who said, "Business has only two functions: marketing and innovation." At UNIQLO, we pursue marketing and innovation with relentless devotion, so that our clothes are overwhelmingly better than our competitors', and that our customers understand their quality. UNIQLO brand awareness is close to 100% in Japan, but I think we can always do more to tell people about the outstanding benefits and superior functionality of our unique HEATTECH and Ultra Light Down ranges.
Two New Exciting Global Hotspot Stores
to Open in Tokyo in Spring 2014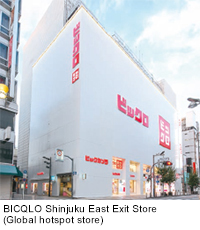 As a result of our "scrap and build" policy--replacing small stores with larger ones that have a sales space of over 1,650 square meters--we have boosted our proportion of large-format stores to approximately 20% of the total. Our large-format stores enable customers to enjoy a full range of products in an easy, comfortable shopping environment. With ample space to display our clothing to customers, we can suggest new looks and styles that emphasize every product's features and attractive details.

UNIQLO began successfully transforming its image in Japan with the opening of global flagship stores in Ginza, Tokyo and Shinsaibashi, Osaka, and then a global hotspot store in Shinjuku, Tokyo. The BICQLO Shinjuku East Exit Store UNIQLO, which we opened in collaboration with leading consumer electronics retailer BIC CAMERA in September 2012, uses never-before-seen ways of making the shopping experience more fun. We plan to open two more global hotspot stores in Tokyo's Ikebukuro and Okachimachi districts in spring 2014, so that more people can enjoy UNIQLO products and UNIQLO's unique in-store experience.
GU — Our Second Mainstay Brand
GU Growth Accelerating
Targeting Sales Surpassing ¥100 Billion for Fiscal 2014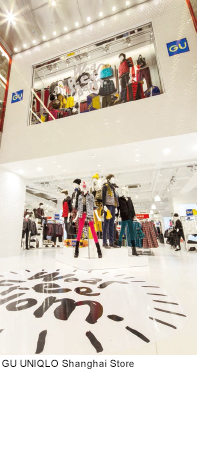 Our low-priced GU casualwear brand has been doing really well, boosting sales to ¥83.7 billion, operating income to ¥7.6 billion and total store number to 214 in fiscal 2013. GU is now much better known in Japan as the brand offering fun fashion at amazingly low prices, and sales will top ¥100 billion in fiscal 2014.

Fast fashion companies such as H&M and Primark have enjoyed success in Europe and the U.S. selling clothes that mimic the latest fashion trends cheaply. Young people in these markets want to enjoy fashion without the fuss. Today, we are seeing a similar trend in Japan, even though very few apparel brands can fulfill this desire.

GU is filling a gap in the fashion market for young people who want to enjoy the latest fashion trends easily and affordably, and who want to enjoy mixing and matching different looks without spending a fortune. I am convinced that our medium-term vision for GU sales of ¥300 billion is now firmly on the horizon, and that GU will whip up a storm in the Asian apparel market as we open stores for the brand in China and elsewhere.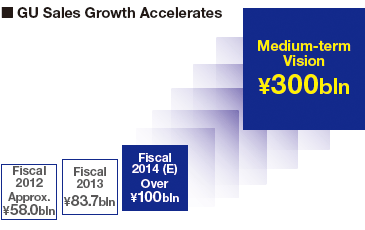 Capitalizing on Group Synergies to Launch GU in Global Markets
as a Fast Fashion Brand from Japan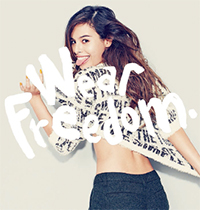 To achieve our medium-term vision--GU sales of ¥300 billion--we will need to work on many key areas, including management training, hiring, new-store planning, product development, marketing, materials procurement, production bases, and more. The Fast Retailing Group is ready to supply whatever GU needs by galvanizing its extensive networks and expertise.

In terms of global expansion, GU can benefit greatly from synergies with the UNIQLO brand. Since the two brands are designed to complement--not cannibalize-- each other, I like the idea of opening joint GU and UNIQLO stores worldwide. Indeed, the first GU store outside Japan was successfully opened in the basement of the global flagship UNIQLO Shanghai Store in September 2013.

But if GU is to succeed in global markets, it must be able to develop ten times the number of fashionable items it is developing today. To do this, GU needs to build development teams to research and devise new ranges in Tokyo and in the key fashion centers of Paris and New York. GU has a unique advantage because it can draw on the expertise of UNIQLO, Theory, Comptoir des Cotonniers, Princesse tam.tam and J Brand. Once it has refined its products and boosted its product power, I have no doubt that GU will be able to compete on equal terms with similar European and U.S. fashion brands. We intend to build GU into the strongest, most successful fast fashion brand from Japan.
Building the Best Global Corporate Group
The Full Launch of Our Management Training System Will Help Us
Build the Best Together
Our corporate philosophy, the Fast Retailing Way, was designed to help Fast Retailing become a truly good company. As part of our corporate mission--"Changing clothes. Changing conventional wisdom. Change the world."-- we strive to provide people all over the world with great clothing. Japanese DNA forms the backbone of the Fast Retailing Way--a passion for fine craftsmanship, an emphasis on superior customer service and a work ethic that values diligence and teamwork. Every employee should adopt the mindset of a business manager. All Group managers and employees should share the same strong ambition and aim to be the world's best, while staying firmly grounded in their immediate surroundings.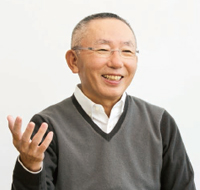 I believe our most important challenge today is how to rapidly nurture large numbers of capable managers. Our Fast Retailing Management and Innovation Center (FRMIC) offers complete and thorough management training courses. We distribute our "Notes on Becoming a Business Leader" to all management personnel worldwide. These notes detail the lessons I learned as a business leader over the years and explain the four most vital management skills: the abilities to change, to earn a profit, to build a team and to pursue an ideal.

Fast Retailing is becoming increasingly global, but Japanese people simply don't have enough chances to develop international mindsets, or to experience different cultures firsthand. We need more people with experience living and working outside Japan in order to carve a winning position in global markets and further develop as a global company. To achieve this, we are currently sending many Japanese employees overseas and hiring more non- Japanese nationals at our Tokyo headquarters.
Contributing to Global Society through Clothes
We contribute to global society through our business: clothes. In fact, our corporate social responsibility (CSR) is as important to me as our core business activities because when customers buy our clothes, we also want them to buy our corporate spirit--who we are and what we stand for.

Our 2001 Fleece Recycling Campaign subsequently blossomed into our All-Product Recycling Campaign. Fast Retailing is proud of this and its many other CSR activities. In summer 2013, we opened our first Grameen UNIQLO store in Bangladesh as part of our social business there. This business has boosted local employment opportunities by building a clothes-making operation spanning design, manufacture and retail. As an experienced apparel manufacturer and retailer, UNIQLO can help this local operation to procure materials, and to manufacture and retail T-shirts, polo shirts and casual men's shirts, and other garments at affordable prices. All profits are reinvested. Our social business and other CSR activities are our way of helping improve people's lives.
Pursuing M&A to Strengthen Our Operational Base
The active pursuit of potential mergers and acquisitions can help secure new sources of future Group growth by facilitating the expansion of our brand portfolio and creating multiple profit-generating pillars. M&A can also find partners that might facilitate a significant expansion of the UNIQLO brand in Europe and the United States.

In December 2012, we purchased J Brand Holdings, a leading American premium denim company. We are now drawing on J Brand's expertise to boost Fast Retailing's denim products across the Group.

Our Theory operation, purchased in 2004, is fast developing into a one billion dollar business. The Theory purchase illustrates how Fast Retailing can use the acquisition of affordable luxury brands to create multiple profit-generating business pillars, and further strengthen our Group operational base. With a strong global operational platform, we can then develop newly acquired brands into fullfledged global brands. Our UNIQLO operation can also reap benefits from the broader corporate Group in areas such as personnel, product and store development. M&A opportunities will likely increase in importance as we expand our global reach.
Strong Performance = Strong Dividends
Rewarding shareholders is one of Fast Retailing's most important objectives. Our policy is to offer high dividends that closely reflect business performance. We use profits to fund future business expansion, retaining earnings to ensure healthy finances and provide good shareholder returns. In fiscal 2013, we paid an annual dividend of 290 yen (payout ratio: 32.7%).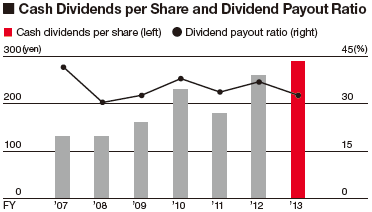 Top of page