Last Updated: 2017.05.30
to Japanese page
Introduction
We wish to use the power of our business to make a positive impact on every person and every community we engage with. From helping to solve global issues, to participating in local community initiatives, and contributing to creating sustainable, local communities that have a better chance of thriving, we strive to establish a business that is in harmony with the global community at large.
Commitments
Leverage our strength as a global apparel retailer to improve and enrich people's lives.
Enable all of our retail stores and employees to contribute to local communities through volunteering and donation efforts.
Reach over one million people per year with donated clothing.
Material issues
Social business
Local community impact
Imagining a business seamlessly integrated with the community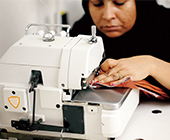 We continuously look for ways to make a positive impact on the communities we touch. Our approach to this is based on four main areas:
1. Supporting refugees and others through clothing and self-reliance programs Clothing is the simplest and most effective way for us to reach people in need. Our clothing donation initiatives reach refugees, the homeless and others in need. Our clothing donation partnership with the United Nations High Commissioner for Refugees (UNHCR) aims to bring hope and alleviate some of the hardships that thousands of displaced people face every year. Beyond clothing, we support self-reliance programs to help vulnerable populations gain skills and generate incomes, such as through UNHCR's livelihoods activities in Asia.
2. Supporting people with disabilities Alongside hiring a diverse workforce, we support people with disabilities in various ways. This includes our ongoing involvement with the Special Olympics by donating uniforms to athletes and supporting their local and national events by providing volunteers and funding. We also partner with local community organizations to assist people with disabilities. One initiative that has continued to gain momentum worldwide is our In-store Retail Learning and Shopping Experience events, where our store employees assist people with disabilities to shop for clothes. The experience not only boosts their confidence, but helps them to develop important life skills around what to wear and calculating what they can afford within a given budget.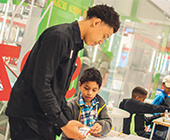 3. Supporting at-risk and disadvantaged youth Our retail stores worldwide provide opportunities for disadvantaged communities - especially children - to thrive. For example, we have partnered with the New York Department of Homeless Services to give children the chance to create t-shirts with their own original designs. In Japan, UNIQLO supports the TSURUMI Children's Hospice, the country's first community-supported, volunteer-run hospice for children with life-threatening conditions. Opening in April 2016, the hospice uses donations to offer free medical, educational and childcare resources, as well as respite care services.
4. Our Social Business in Bangladesh Grameen UNIQLO, our social business in Bangladesh, uses the power of business to promote economic development and empower local communities. Its products are made and sold in Bangladesh, by locals for locals - helping provide employment opportunities and develop local industry.

Top of page