What Diversity Means to Us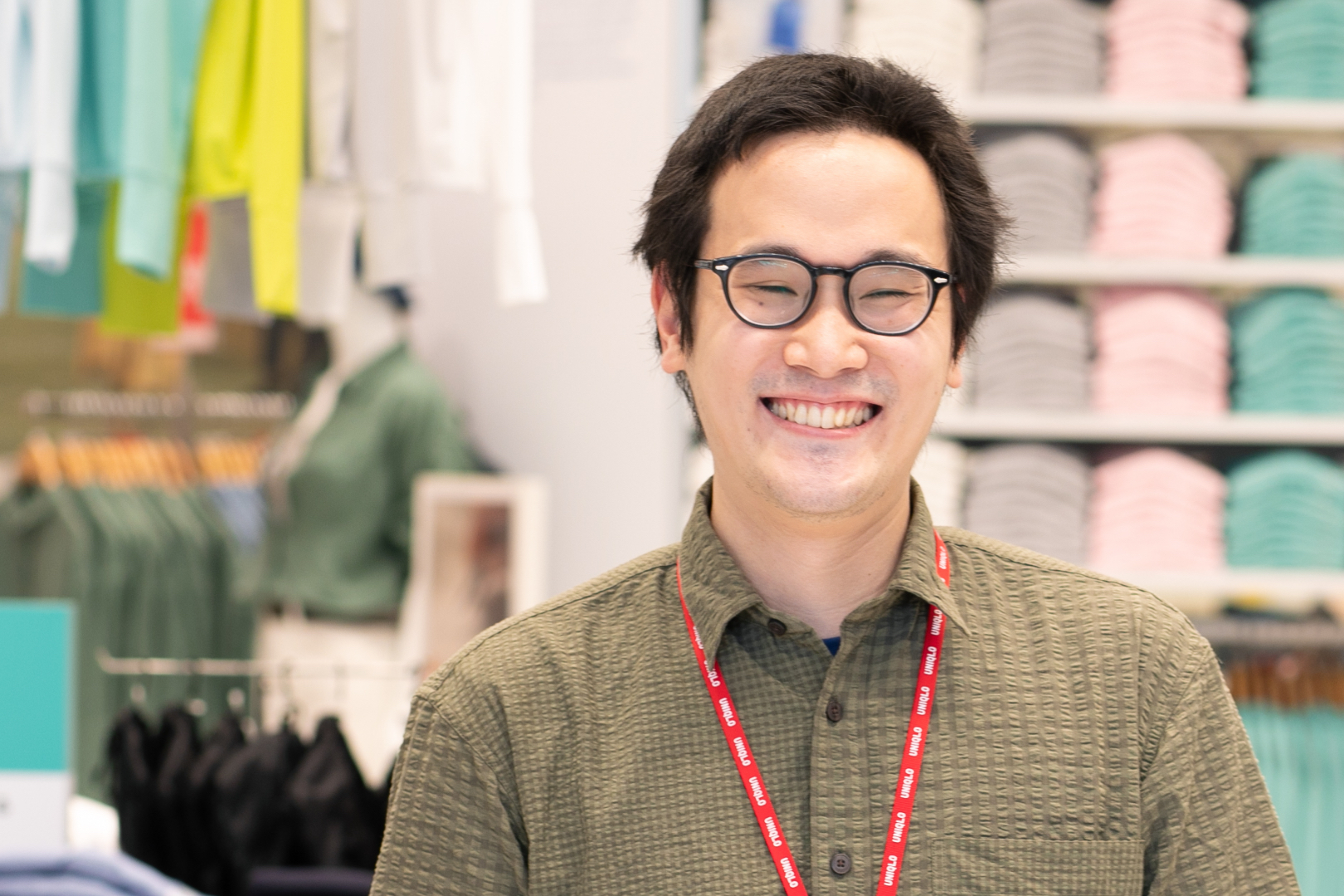 Working to Bring More Happiness to Every One of Our Diverse Customers
Tadamasa Ito UNIQLO Gizna Store in Japan
UNIQLO Offers LifeWear, Clothing for Everyone
UNIQLO offered me a great opportunity to work while I was attending a school for persons with vision loss. It started with an internship program where I assisted with backroom operations in a store. It was really exciting.
Every single day was a joy. I was happily handling the amazingly colorful and fashionable items for customers. Whenever I completed a task, I was looking forward to the next one, thinking "what color fabric will I be handling next?" It was such a wonderful experience.
When I left the school, I decided to join UNIQLO. Now, I am working at the Ginza Store in the heart of Tokyo. The store is always lively and busy, with customers visiting from around the world. It is one of the very few UNIQLO global flagship stores in the world.
I am partially sighted and cannot see as clearly as other people. But I can feel, see and appreciate the richness of UNIQLO items very well. That's why I can say with confidence that UNIQLO LifeWear offers amazing comfort and pleasure and can enrich lives. The colors are genuinely wonderful. They inspire and energize you with a strong feeling of happiness.
Global flagship stores are significant because they play a big role internationally. Customers from all over the world visit us to see the store as well as shop. We hope to make them happy by delivering the best shopping experience. We do that by offering the charm and appeal of UNIQLO. I am so proud and happy to work here. I feel the great responsibility involved.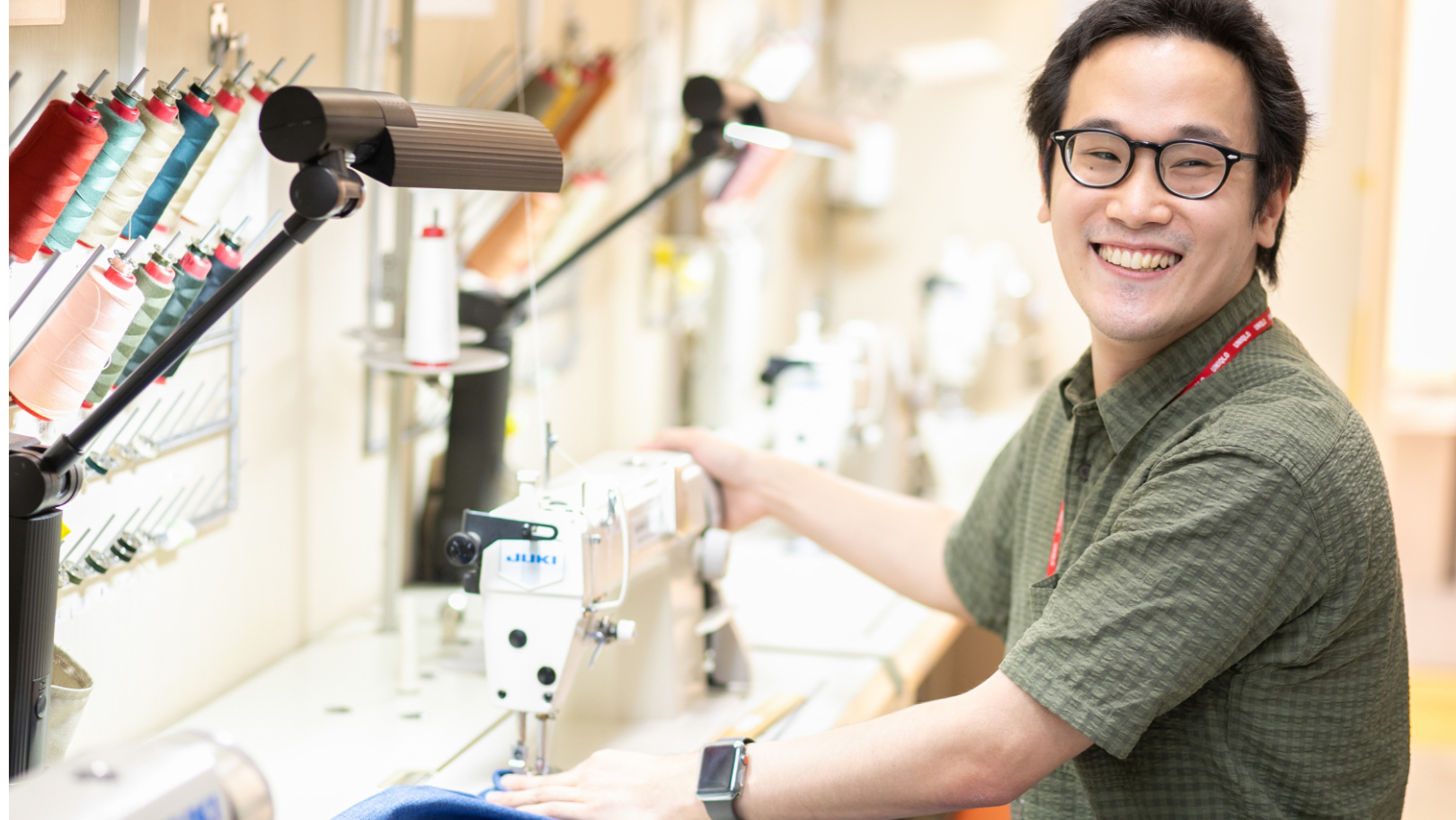 The more customers are satisfied with my service, the happier I am
At the Ginza Store, my main job is altering pants. I used to work in the backroom, but my manager and other senior staff took my disability into consideration and thought of me in a different role. They offered me an opportunity to work for the alteration service.
I enjoy the job enormously because I can be creative. Pants are made of various materials such as denim and stretch fabrics. A variety of colors needs to be matched skillfully. Each assignment demands the greatest care, and I look to find the best solution for the customer. Each satisfied customer brings me greater happiness.
We all work hard, and I think customers appreciate that. Our store has a reputation for offering fast and immaculate alterations, but I am not easily satisfied. I want to become much better. Personally, I even visit other stores and try out their alterations to learn from them. Every day is a new day to improve my skill and abilities.
Working for UNIQLO has changed me. I noticed that I am becoming more capable of doing things that I couldn't before. I am more confident and optimistic. I think I can achieve more and achieve better quality. My role is expanding. In addition to an alteration specialist, I am also actively helping customers as a sales assistant.
I want to offer the best shopping experience to every one of our diverse customers
One day, I encountered a customer who was dissatisfied. She seemed a bit angry. I listened to her sincerely and offered my service with the utmost care. This was nothing special, it's just how I engage with people. Her mood gradually softened and when she left, she told me warmly "Thank you so much!" It's a minor story, but this sort of thing happened more and more as I gained experience.
I observe every customer closely and carefully when I serve them because all customers are different. They are diverse. Each customer is looking for different items and wants to know different information. Serving a customer with much greater attention allows me to feel what they want and offer them the best shopping experience.
Perhaps I am more sensitive to people's voices and their feelings. I may not be able to see the minute detail of the customers' expression, but according to my colleagues, I am serving customers as well as anyone else.
I hope to work with my daughter at UNIQLO in future
My career is developing fast. Just recently, I did on-the-job training to operate a check-out counter. I started as a backroom assistant and moved on to become an alteration professional. On top of that, I now work as sales staff and potentially also a cashier in the future. I am working like my colleagues who serve multiple functions such as a salesperson and a checkout operator.
My career opportunities have expanded because I work hard. I think my teammates and my manager appreciate my strong commitment to serve customers better. I do my best and then I try to do more. In turn, UNIQLO treats me with great fairness, open-mindedness and an inspiring team spirit. I enjoy this environment.
UNIQLO offers every member equal opportunities to succeed in their career. Chances and responsibilities are offered equally to everyone regardless of any personal circumstances or disabilities. What matters is having the mindset that you can do anything and working with your team. In this kind of positive atmosphere, you'll find yourself offered more demanding tasks or positions if you are willing. Naturally, you'll have to work hard to meet the high expectations that come with them. In other words, you can lift your career upwards according to your dedication and resourcefulness.
The most important thing is that you can expand your own potential as you work better. You work for your own future. Your every effort counts. That's why I am very motivated and excited by the working culture of UNIQLO.
I have a daughter in elementary school. I hope someday, my daughter and I can work together at the Ginza Store. Why? Because you can change and improve your own future here.
Joining UNIQLO significantly broadened my horizons. There are so many things you can learn and absorb in this store. It enables you to accomplish what you want to achieve with your life. Once you start to make progress, you'll become more capable and confident.
I seized these opportunities through my own efforts, and my potential expanded. The whole process has been really uplifting and rewarding for me. I hope my daughter can also participate in this exciting voyage of life.