What Diversity Means to Us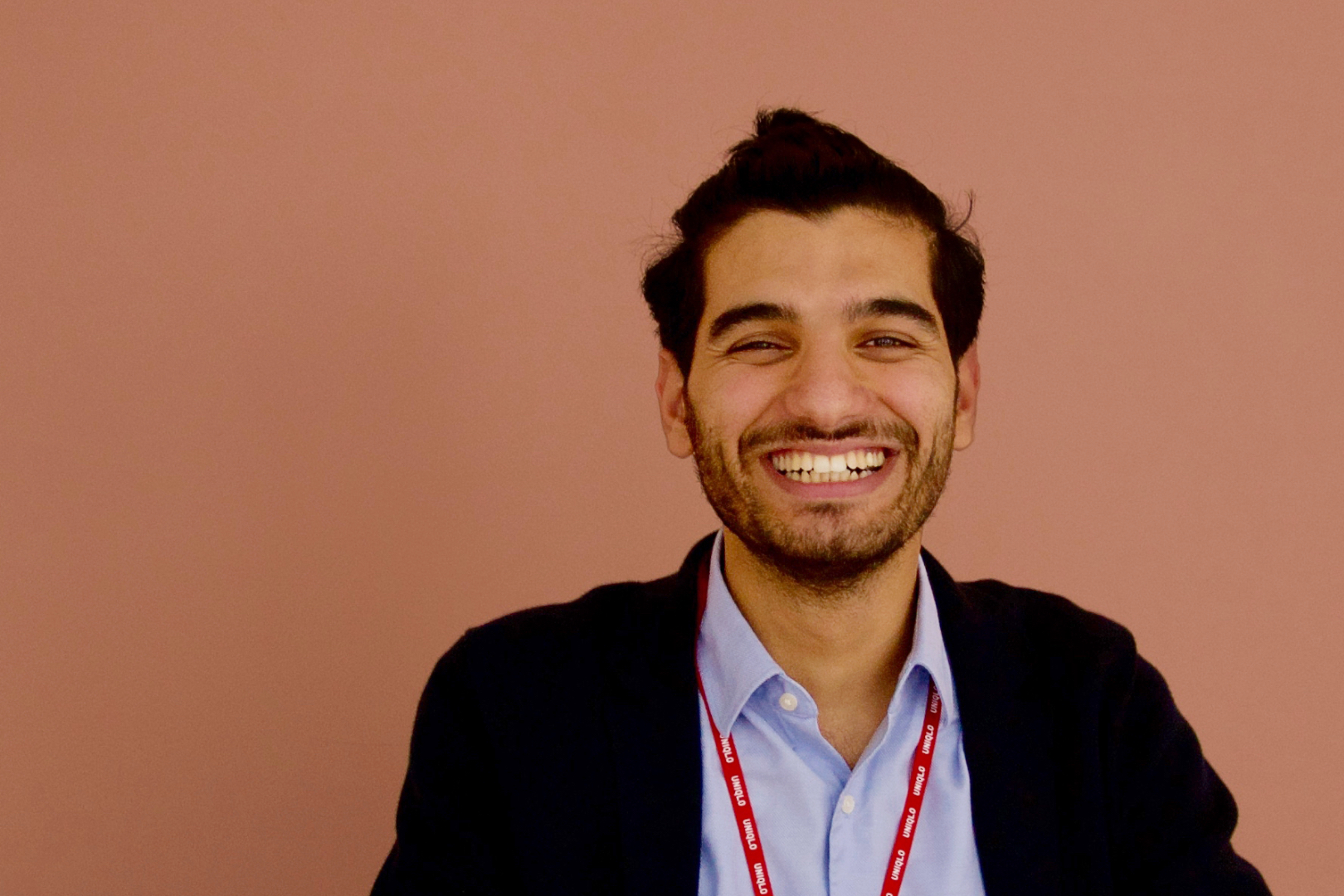 Fleeing from Syria and Realizing Hopes of a New Life in Germany Working Actively and Happily at UNIQLO, and Meeting Someone Special
Abdul UNIQLO TAUENTZIEN, Germany
Escaping Syria Walking 3,400 km to Germany
I escaped from my home country Syria with my brother and arrived in Germany in 2015. The war and fighting were getting worse in Damascus when we left there. We walked almost the whole distance of 3,400 km. On rare occasions we were lucky and able to ride trains or buses.
We passed many cities and towns on our way, but we were not permitted to stay in most cases. Each country is different about how they think of refugees and how they treat them. It was only in Austria and Germany that we managed to stay without having many worries.
It was an incredible journey. What determined my destiny was just a sheet of paper that I read in Syria by chance. It contained important information for refugees about Germany, such as possible routes, cost of the journey and the organizations accepting displaced people. I read it with excitement. We decided to seek asylum in Germany.
Fortunate Encounter with a Kind German Couple Who Dramatically Changed My Life
In Germany, my life changed dramatically when I met a married German couple. They were very considerate and understood the challenges and difficulties faced by displaced persons. They invited us to stay in their adjoining house, simply out of goodwill, and they taught us German whenever they could find the time.
It was this couple who also presented me the opportunity to work at UNIQLO. One day, they told me "It's going to be very cold here in Germany" and gave me a present. It was HEATTECH made by UNIQLO. I was so surprised and delighted. Happily, I told them that I used to work in a shop selling maternity clothes in Syria. In response, they said "Our daughter works in a UNIQLO store in Berlin. Apparently, they offer employment opportunities for displaced people. Why don't you contact them? They may be interested in you."
HEATTECH warmed my heart. I was very surprised with the incredible Japanese technology when I wore it. It's so light and thin. And yet, it makes you feel very warm. So, I bought UNIQLO Ultra Light Down with my own money. The designs are excellent. They are very functional. I began to feel much closer to them and I wanted to know more about UNIQLO. Soon I contacted them. The company's decision was fast, and they employed me almost immediately.
Working 4 Years with UNIQLO in Berlin and Promoted to a Supervisor of the Women's Floor
It's been four years now working for UNIQLO. I am very happy here because all my colleagues in the store are great. Many of them offer to teach me German, as we work together daily. I am so grateful for their kind patience in encouraging me to become an active member. After work, I attended a language school to improve my German. I successfully achieved the B2 level, which is an upper grade.
Currently, I am a supervisor responsible for the daily operations of the women's floor. You can succeed in UNIQLO regardless of origin or background. It is a very diversified working environment, and our customers are diverse too.
More and more Arab customers started to visit our store, and they are pleased with my service of offering useful information in Arabic. They are fascinated to hear about the excellent quality of the clothing and the amazingly comfortable sensations you experience when wearing them.
Also, I have been very happy that I can fulfil my responsibility as a citizen of the local community. I can pay tax from the salary I earn by utilizing my talents and efforts for UNIQLO and our customers, and that makes me happy.
Talent and Abilities Rewarded with an Exciting Career Path. Building a Future through My Own Effort
Only the other day, I married a German lady who works with me in UNIQLO. I have been full of hope for the future, both at home and at work since I became a UNIQLO member.
In Syria, I was studying accountancy in college when I left the country. Currently, I am interested in business studies, especially in retailing. There is a proverb in Syria, "People of Damascus have merchant's blood running in their veins." Damascus is an ancient major business center dating from long before the Common Era and business continued to prosper there before the civil war.
I was born there and grew up watching the lively stores and appreciating the energetic and enterprising spirit of the store owners. As my father was also a business owner, I also have the blood of a business person in my veins. That's why it may be natural for me to aspire to be successful in retail. I am doing that as an active member of UNIQLO.
There are many advantages to working for UNIQLO. It is a leading global retailing company with many stores located around the world. You can expand your career potential by working hard and successfully. In other words, you can increase your possibilities of moving on to different locations and changing the types of work you do. It all depends on how well you can contribute to the company, and there is a company culture that promotes members with talents and abilities.
Great opportunities are given to all staff equally, and I feel very motivated to work for UNIQLO. In the past, I learned French for twelve years and English for four years. In the future, I am hoping that these skills and my continuing efforts will enable me to work in the UNIQLO store in Marseilles, France.
A displaced person such as myself loses everything they had in their home country. They must start from zero in their host country. My parents could not leave Syria and we are far apart. I am hoping that they can come to Germany without restrictions in future.
Lastly, I wish to express my sincere feeling of gratitude to my kind colleagues and the caring people who accepted me in Germany. To all of you, I say, "Thank you for being so kind to me. I pray from all my heart that you will be as happy and successful as ever".