UNIQLO Manager Candidate
Our Uniqlo Manager Candidate program is a year-long intensive retail master class, designed to equip you with the skills to qualify as a Store Manager on successful completion of the programme.
We believe that to be an effective Store Manager, you have to start with the basics, and earn the confidence of the teams you will later go on to manage. You will be learning the Japanese standard of customer service, cleaning and professional organization. As a team player, you will be working alongside your team during morning and evening shifts, on weekends but also through holiday periods.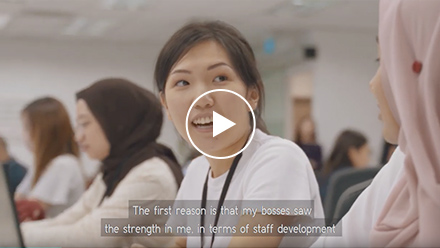 Become a Business Leader
As a high calibre store manager, you will become a key player in Uniqlo's expansion; responsible for growing the business and managing and developing your team members. You will also be building strong relationships with our headquarters, the "Store Support Centre", giving feedback on local marketing, merchandising, HR and E-Commerce activities.
Development as UMC
The salesfloor is your training ground and our Fast Retailing Management and Innovation Centre will support your learning needs with regular classroom training to top up your knowledge and competencies.
It is not for those afraid of challenges; it is a rigorous introduction to life on the salesfloor. Upon completing the program, many candidates move progressively towards larger store management roles in their own country or globally. This UMC experience sets the stage for unrivaled opportunities where you carve your own career and your achievements are limited only by your effort and abilities.
SELECTION PROCESS TIMELINE
STEP 1

Online Application

STEP 2

Resume Screening

STEP 3

Online Aptitude Test

STEP 4

First Interview

STEP 5

2-Day Store Internship

STEP 6

Occupational Personality Test

STEP 7

Final Interview
Offer of Employment
HOW WE HIRE
Things move quickly at FAST RETAILING. That means we try to hire great people, regardless of the job. Jobs can change, but having great people is always a priority. We look for people who match our company values and who above all, aspire to be true business leaders. We're looking for people who are good for FAST RETAILING - not just for now, but for the long term.
This is the core of how we hire. The path to getting hired usually involves a series of interviews with our management team. But there are a few things we've added along the way that make the hiring process at Fast Retailing a little different.
We'll want to know about your ability to be a business leader ? more specifically four abilities: Your Ability to Lead a Team, Earn a Profit, Change and Pursue an Ideal.
We look for people with ambition and a clear sense of mission. We'll want to know what you want to do here and how you'll go about doing it.
We want to get a feel for what makes you who you are. We also want to make sure this is a place you'll thrive, so we'll be looking for signs around your comfort with ambiguity, your bias to detailed action, and your collaborative nature.
Recruiting Events
UNIQLO accepts applications for our new graduate positions year-round. To apply for a position, please simply submit your resume and application online. Our team will be in touch with you.
We also hold recruitment events at various local institutions throughout the year. Please check with your institution's career center to see when we'll be on campus.