HIGHLIGHTED POSITION
UNIQLO Manager Candidate (UMC)
Our UNIQLO Manager Candidate (UMC) position will prepare you to take on the journey to thrive your career in apparel retails industry from the core position of our business – Store Manager, whom have the ability to manage stores to high global standards from multi perspective: customer service & satisfaction, sales & profit, human resources development as a business leader, to help drive our sales and become the world's #1 most favorite brand.
As an UMC, you will get the opportunity to join and immerse yourself in an international working environment with proactive, professional, diversified, and driven people. This is a unique chance for you to accelerate your career to have the full skill set and knowledge to be a Store Manager and further. Not only will you experience accelerated growth, but you will be part of a company that is committed to making the world a better place.
Many candidates move progressively towards larger store management roles, either in their own countries or worldwide. Wherever your interests are, the UMC experience will set the stage for unrivaled opportunities.
Your personal growth, responsibility, and achievement are limited only by your effort and abilities.
Fast-track your career to be store manager in around 2 years and Area Manager/Star Store Manager level within 5 years. Then further managerial position in Store Operations, Headquarters and Global in later stage of career
Develop comprehensive skills to be a Global Leader
Grow in a global environment of a leading fashion & retail company in Vietnam
Attractive benefits package that commensurate with your talent
UNIQLO will provide the best education and communication opportunities for those who share our philosophy and values as well as making efforts to develop themselves to be a manager. Moreover, people who join hands with us to influence and improve society through the power of clothing are much appreciated.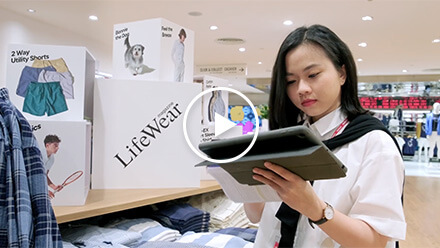 CAREER DEVELOPMENT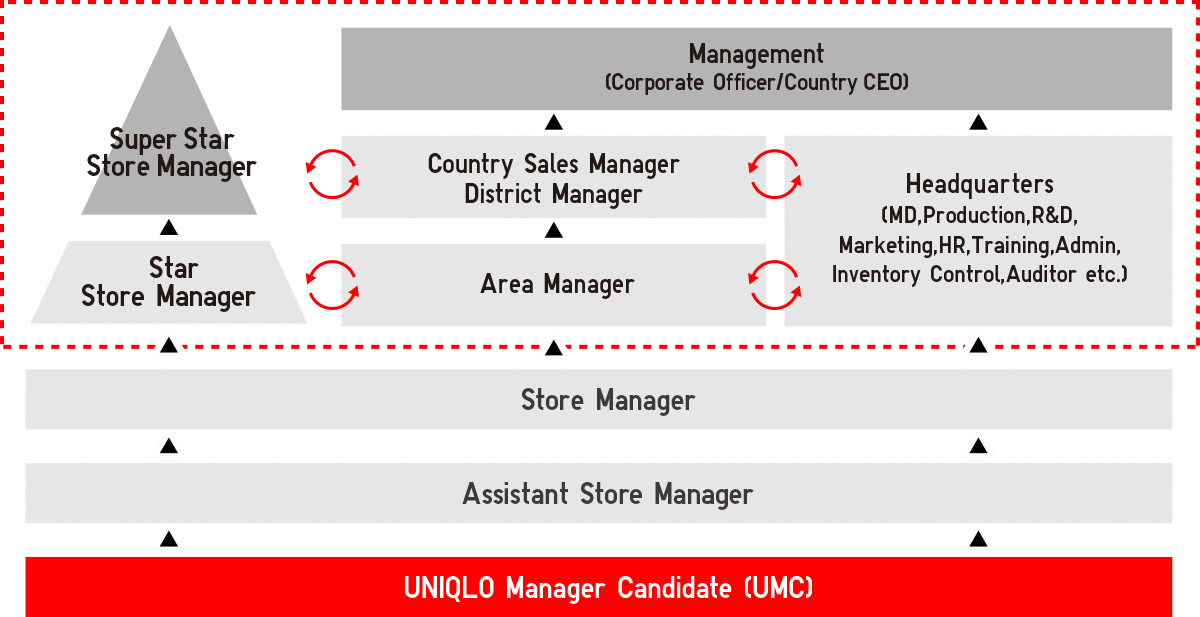 SELECTION PROCESS TIMELINE
STEP 1

Online Application

STEP 2

Screening And Aptitude Test

STEP 3

Company Information Session

STEP 4

First Interview

STEP 5

1-Day Store Experience

STEP 6

Final Interview
Offer of Employment
HOW WE HIRE
We're looking for people who match our company values and who above all, aspire to be true global business leaders and good for FAST RETAILING - not just for now, but for the long term. This is the core of how we hire. The path to getting hired usually involves a series of interviews with our management team. But there are a few things we've added along the way that make the hiring process at Fast Retailing a little different.
We'll want to know about your ability to be a business leader – more specifically four abilities: Your Ability to Lead a Team, Earn a Profit, Change and Pursue an Ideal.
We look for people with ambition and a clear sense of mission. We'll want to know what you want to do here and how you'll go about doing it.
We want to get a feel for what makes you who you are. We also want to make sure this is a place you'll thrive, so we'll be looking for signs around your comfort with ambiguity, your bias to detailed action, and your collaborative nature.
Interviews will likely be short and to the point – often only 30 minutes! We won't spend a lot of time with small-talk – we'll jump right in.